There's not much I'd rather see than a heavy volume breakout in a consolidating stock within a strong industry. Enter Atlassian Corp (TEAM). Some traders let their guard down when a stock consolidates, and it's easy to do because consolidation normally leads to relative weakness. Money constantly rotates in the stock market. Your stock, no matter how strong it is, cannot lead its peers every day, or even every week or month. There will be down periods. The more important signal relates to price support. Find the key support and keep that leading stock on your radar as long as price support holds. Let's look at TEAM: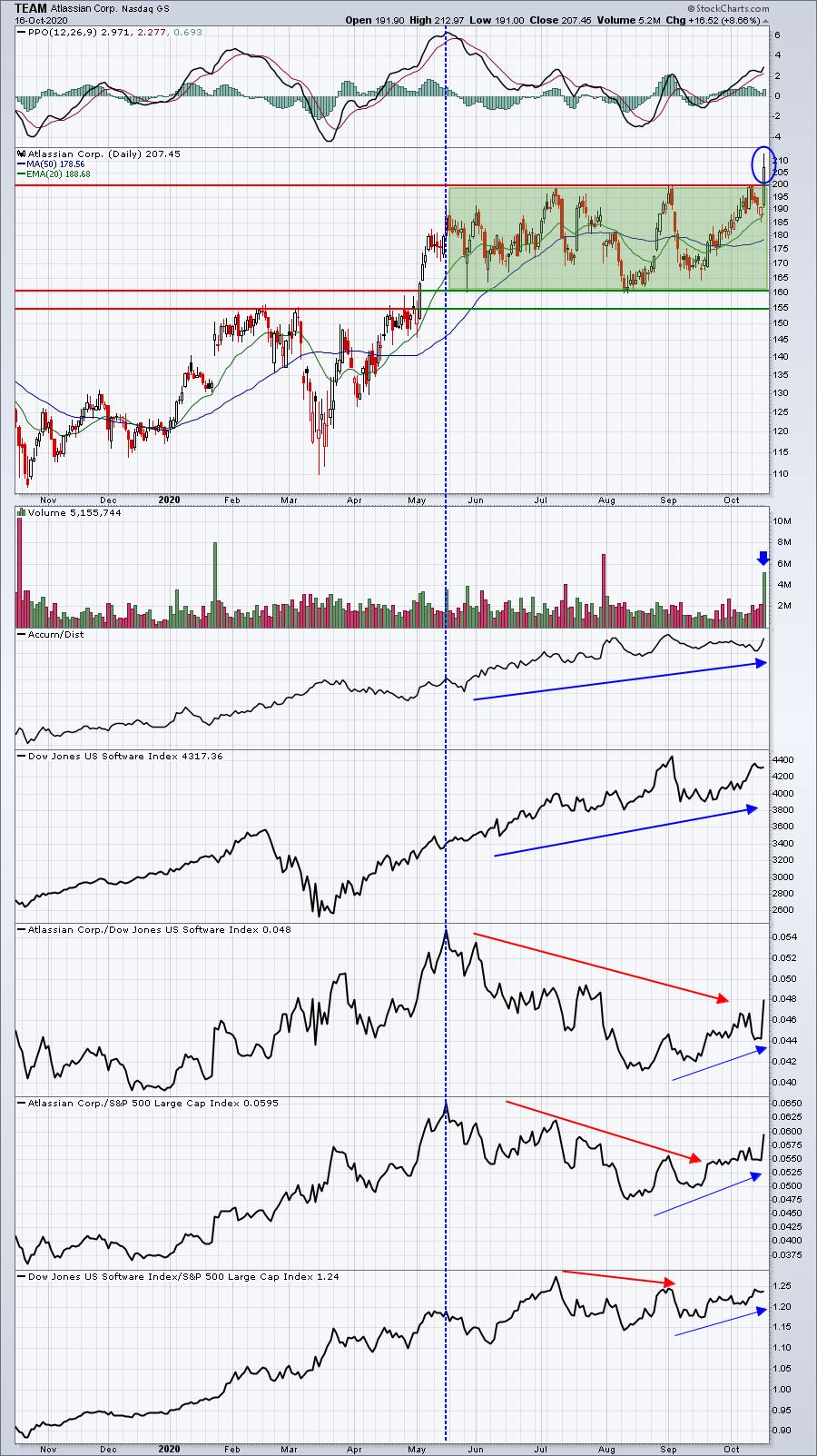 It's really important to study this chart and how the relative strength tails off for a period. Why? Because it happens all the time and traders grow impatient. We need keep a stock like TEAM alive on our Watch List. TEAM is on our Strong AD ChartList (AD = accumulation/distribution) at EarningsBeats.com. Look at that AD line above. It's continued moving higher despite the stagnant price action. That's not a guarantee, but it certainly would make me feel more confident in its ability to lead again. There was one other bullish signal to consider just before the breakout. If you've studied consolidation patterns like these, you know that moving averages play a very limited role during the consolidation phase. Price action tends to move up and down, above and below key moving averages, with little reaction. That changes as the new uptrend begins. Look at Thursday's candle. It looked like we were moving back down below the 20 day EMA, but instead printed a bullish hammer, holding that key moving average. It was a bullish signal that needed breakout confirmation. We saw that on Friday. I would now view that rising 20 day EMA as key support as I believe a new uptrend has begun.
On Monday, I'll be featuring one of my favorite stocks in one of the most rapidly improving industry groups in our FREE EB Digest newsletter. I publish this education- and trading-oriented newsletter 3x per week, on Mondays, Wednesdays, and Fridays. It's a great way (and did I mention it's FREE?) to learn more about our EarningsBeats.com approach at no cost. There is no credit card required and you may unsubscribe at any time. To get started and receive that stock on Monday, CLICK HERE and simply enter your name and email address in the areas provided.
Happy trading!
Tom