One of my favorite stocks throughout this pandemic has been Zoom Video Communications (ZM). It's been wildly volatile, but also extremely profitable – if you can hang on through all the ebbs and flows. Bulls' patience is currently being rewarded as ZM absolutely flies into its earnings report, which will be released on Tuesday after the market closes. I believe the numbers will be blowout. But the big question in my mind is…..how much of the blowout is already built into price action? After all, ZM has gained 33% in just the last three trading sessions and is now up nearly 100% since the S&P 500 bottomed in March. Is there more in store? I think so, but let's see how big these numbers are tomorrow first.
A little over a month ago, I wrote about ZM in the ChartWatchers newsletter. In my article titled, "Zooming In On A GREAT Investment….or 5….or 20", I laid out the case for owning ZM. It's a solid case in my view, but the volatility in ZM makes it difficult to stomach for risk-averse traders. A 25%-35% decline in a matter of a week or two has happened twice in just the past two months. But the flip side is a stock that absolutely explodes with volume to new highs. Wall Street loves ZM and so do I. Here's the current chart: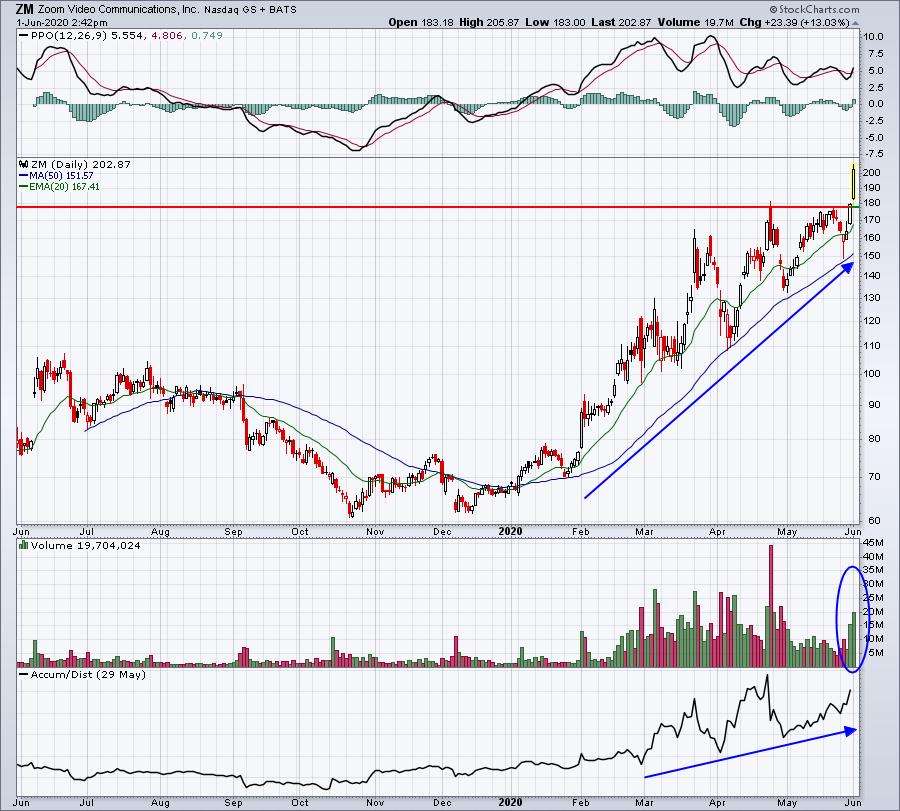 The volume is exploding on this breakout. In addition to a lot of technical buyers jumping on board, there are short sellers that have very difficult and emotional decisions to make. Short selling means unlimited risk to the upside, so when a stock like ZM begins ascending like this, short sellers must think about covering. That simply adds more buyers to an already frenzied uptrend. ZM's number of shares short has gone down considerably in the past couple months, but there's still short shares totaling more than 6% of its float. Those have to be nervous shares heading into tomorrow's earnings report.
Later today, at 4:30pm ET, I am hosting a "Short Squeeze" webinar, detailing our Short Squeeze Chart List – these are stocks that have very high short interest. When stocks on this ChartList make a breakout, it can be a truly powerful advance as short sellers panic and cover. This webinar is open to the public and you can access it simply by CLICKING HERE to be directed to our website at EarningsBeats.com. From our home page, you'll find room instructions to join our webinar AFTER 4:00PM ET TODAY.
For all those joining the webinar, we'll also add you to our free EB Digest newsletter if you're not already a free subscriber. The EB Digest is published 3x per week on Mondays, Wednesdays, and Fridays.
Happy trading!
Tom