It's been proven that strong earnings are the number one driver of a stock's upward advance. With earnings season under way, there's no better time than now to vet the next set of stocks poised to trade much higher.
So far, over a quarter of companies in the S&P 500 having reported their results for the 2nd quarter. Of those, 81% have reported an EPS well above estimates. The next set of outperformers will be among these companies, and below I've highlighted two candidates that have reported very strong earnings.
Each name is in the Consumer Discretionary sector, where surprising strength is being shown among companies that sell big-ticket items normally purchased during a period of economic expansion. Call it retail therapy, but Americans are buying Automobiles and Houses as if we were entering a golden age of growth, not a recession.
DAILY CHART OF AUTONATION, INC. (AN)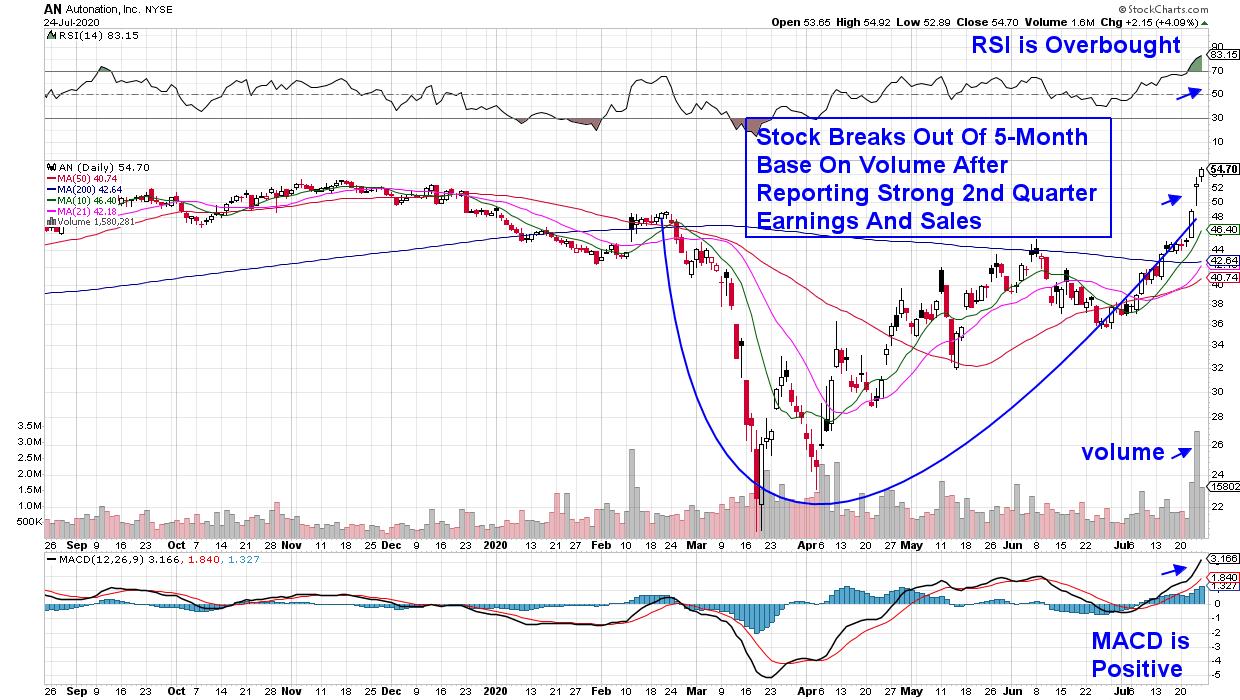 First up is the country's largest car dealership, who reported 2nd quarter results this week that were 280% above estimates. In addition, management is very bullish for their company's prospects going forward as they build out another 20 used-car dealerships over the next 3 years.
The surprise results pushed the stock out of a 5-month base, and it may well be on its way to a 2-½ year base breakout very soon. As you may know, the longer the base that a stocks breaks out of, the longer the advance out of that base. And while the RSI is in an overbought position on its daily chart, the stock appears poised for further near-term upside, given the high volume on its breakout and positive MACD. A quick look at AN's monthly chart shows a historical precedence of a bullish recovery out of the 2009 recession.
DAILY CHART OF MERITAGE HOMES CORP. (MTH)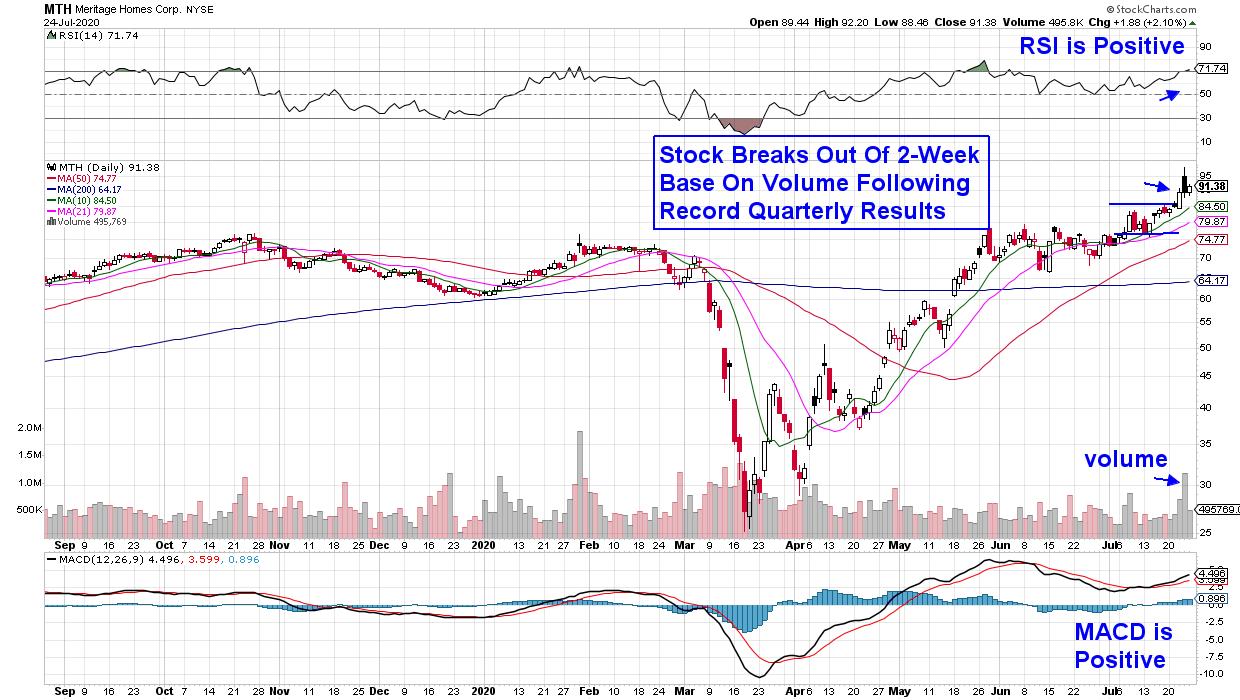 Next up is homebuilder Meritage Homes Corp. (MTH), which reported a record 2nd quarter last week with sales driven mostly by first-time buyers. The company is seeing demand being driven by historically low mortgage rates amid a need for homes that can accommodate entire families working from home.
The stock broke out of a 2-week flat base on volume following the strong report, with both a positive RSI and MACD that points to further upside for this stock. Today's economic report of new home sales surging in June to its strongest rate in 13 years is bullish for MTH and other home-building stocks.
The one constant in the stocks mentioned above is a move into digital sales, which played a role in the record reports for both companies. And, of course, these new homes will need to be furnished, which will boost the strength already being seen in select online home improvement stocks as this new economy in the face of a historical pandemic continues to take shape.
With earnings season picking up even more next week, we can expect to see other select stocks show uncommon strength. If you'd like to be alerted to high-quality stocks poised to greatly outperform the markets, trial my bi-weekly MEM Edge Report for 4 weeks for a nominal fee. You can check out our track record using that link!
We're entering a period of uncertainty for the markets, and the MEM Edge Report will alert you to exit strategies for stocks on our Suggested Holdings List as well as the broader markets.
Warmly,
Mary Ellen McGonagle
President MEM Investment Research