I think most market participants would agree that the past 19 months, which has included 2 cyclical bear markets, have been trying, to say the least. At the time our Model Portfolio was created on November 19, 2018, the S&P 500 stood at 2690.73. At Thursday's close, this benchmark index had risen 15.78%. Given the ongoing trade war with China and the COVID-19 pandemic, I'd say U.S. equities have handled these two issues quite well. But our Model Portfolio hasn't merely beaten the S&P 500's performance, it has CRUSHED it! EarningsBeats.com members that have been with us for these last 19 months have witnessed wickedly-strong results. In just a little over a year and a half, our Model Portfolio is up 92.69%. That's almost a double.
We don't have any secret sauce. It's all about better-than-expected quarterly revenue and EPS results and relative strength. We only consider leading stocks in leading industries that post great quarterly earnings results. Since November 19, 2018, the return has been +93% vs. +16% for the benchmark S&P 500. Year-to-date, the S&P 500 was down 3.42% as of Thursday's close, while our Model Portfolio is +28.54%. I'd say that's solid outperformance and we're extremely proud of these results.
How do we do it?
First, we do our homework. That involves quite a bit of fundamental research to establish our Strong Earnings ChartList (SECL). Every Model Portfolio stock MUST come from this ChartList at the time of portfolio selection. In other words, if a company didn't beat Wall Street consensus estimates in its latest quarter as to both revenues and EPS, it won't be included in our Model Portfolio. That is absolutely RULE #1. Currently, there are 307 companies on our Strong Earnings ChartList, and this ChartList can be downloaded by our EarningsBeats.com members into their StockCharts.com account. They must be at least Extra members or above (at StockCharts.com), however, in order to download our SECL. If you're not an Extra member (or above) at StockCharts, you can still view our list of stocks one at a time, but you won't be able to download them.
Quarterly, we reassess the market, which industry groups are leading, and which stocks are leaders in their industry groups. Of course, any stock selected MUST also be on our Strong Earnings ChartList. We select 10 stocks (equal-weighted in our portfolio) from 10 different industry groups and we hold them until the quarter ends, no exceptions. We don't use stops. We treat them from a "buy and hold" perspective. We don't try to trade them. But the caveat is that the portfolios are re-selected every three months. So you're money is always invested in fundamentally-sound and relative strength winners. The results speak loudly for our process.
In our latest quarter (May 19, 2020), we selected 10 stocks and our top two performers thus far have been Zoom Video Communications (ZM) and Tesla, Inc. (TSLA), which are up nearly 40% and 24%, respectively. The S&P 500 is up around 7% for this same one month period. Our Model Portfolio is up 14.75% as it tries to beat that benchmark index for the 6th time in the last 7 quarters.
Before I show you the ZM and TSLA charts, if you'd like to see our entire Model Portfolio and our Strong Earnings ChartList, you can do so as a trial member at EarningsBeats.com. We have a fully-refundable $7 30-day trial so you'll have no financial obligation to try our service and see if it's right for you and your trading/investing style. CLICK HERE for more information.
ZM: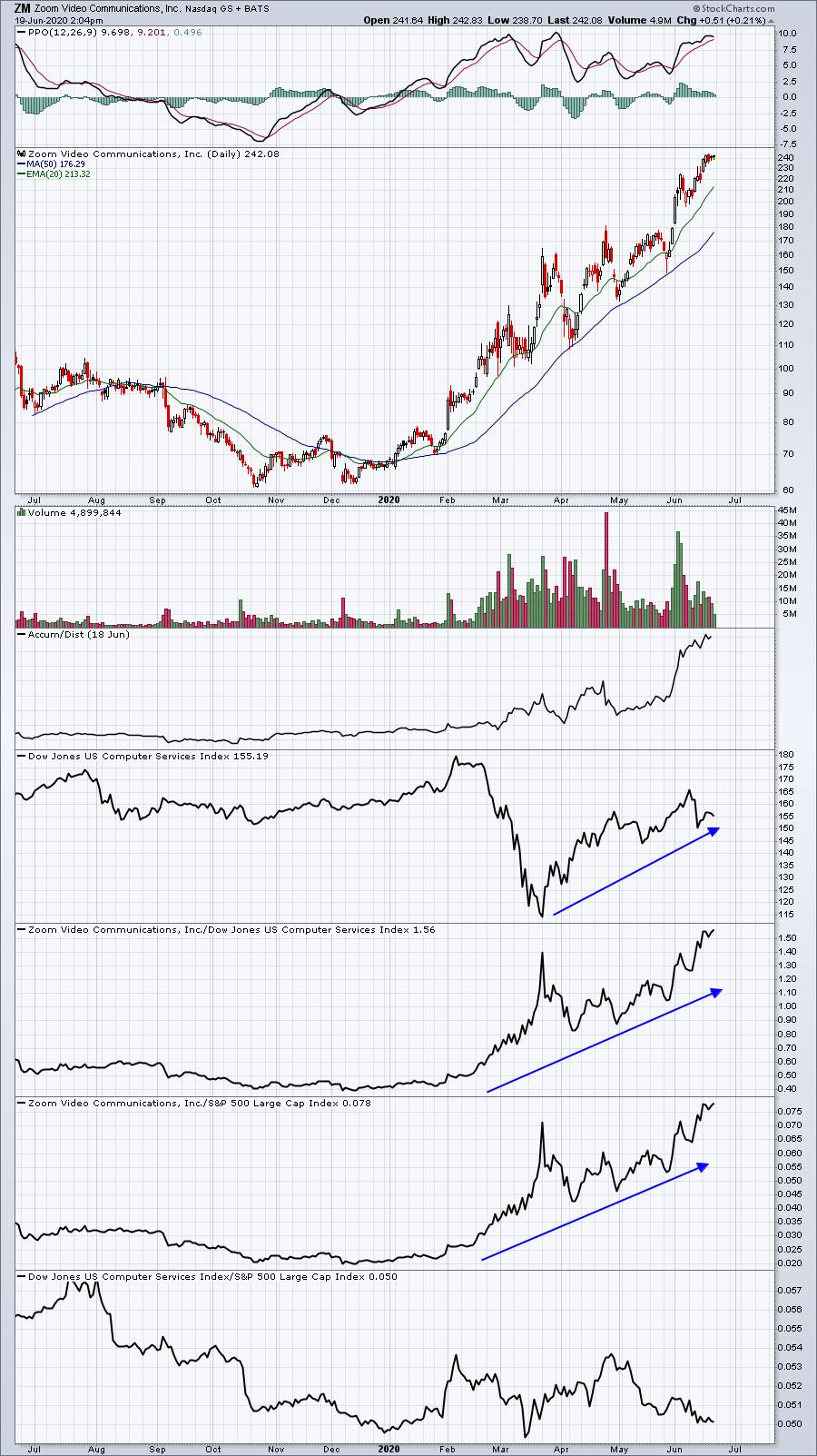 TSLA: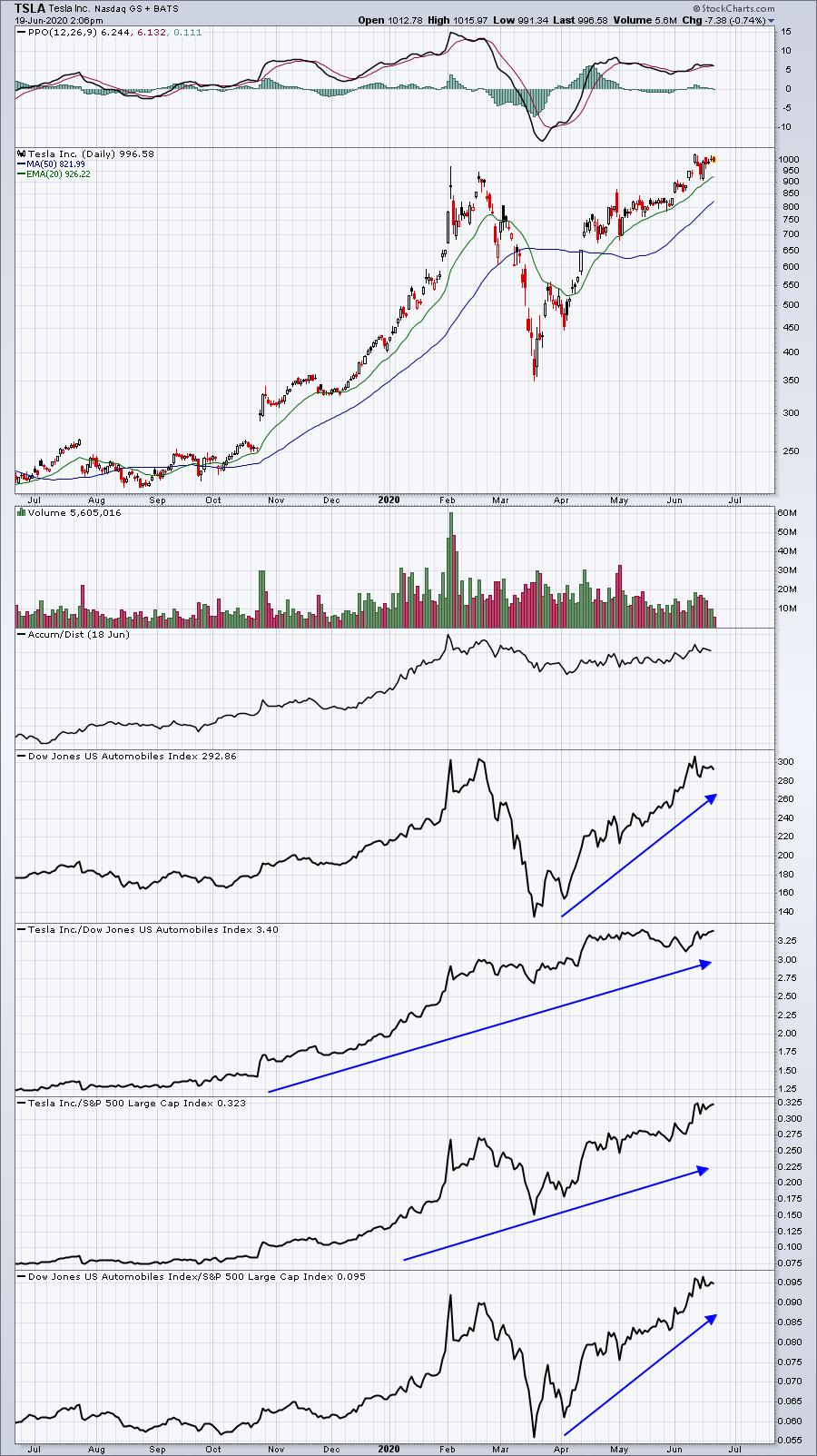 Both of these stocks are overbought and due for a pullback, but they illustrate why we need to stick with leaders. I expect we're going to see major blowouts in earnings reports among many of the leaders simply based on how they're trading. Wall Street is accumulating shares in these companies and there's one reason why. They've met with management teams and they like what they're hearing.
If you'd like to see the rest of our Model Portfolio's composition, CLICK HERE and join us!
Happy trading!
Tom