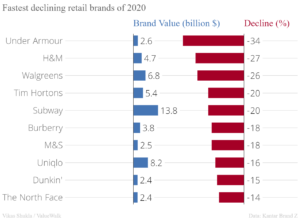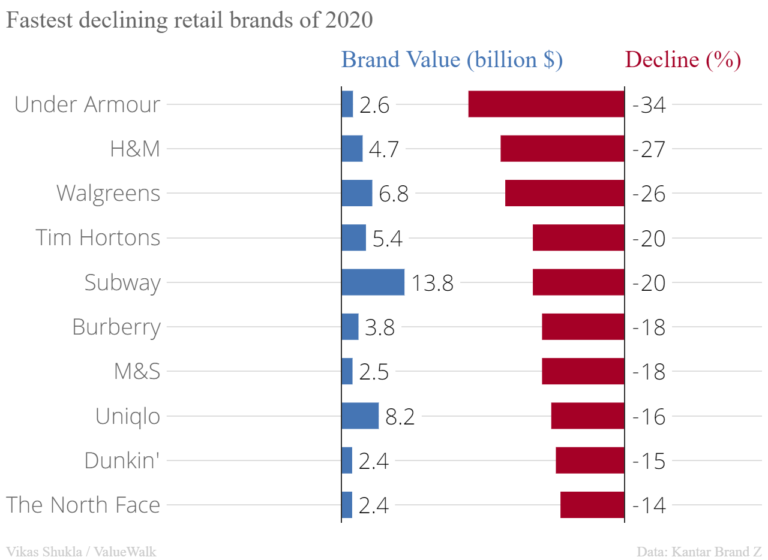 Brand value is one of the biggest strengths of a company. It influences consumers' purchase decisions, builds customer loyalty, and boosts profits. The COVID-19 pandemic has disrupted the retail sector worldwide. Many companies are struggling to manage their supply chains. Customer traffic in physical stores has declined significantly. Some retail brands have turned the coronavirus-induced crisis into an opportunity. Others have been forced to make tough choices to ensure their survival. Here we take a look at the top 10 fastest declining retail brands in the world.
Q1 2020 hedge fund letters, conferences and more
The ranking is based on data from Kantar's annual Brand Z report. The latest report sheds light on the changes in value of the world's leading retail brands in 2020 compared to 2019. The Brand Z report took mid-April as the cut-off date for the financial information. Given the timing of the cut-off, the latest brand values reflect the impact of the coronavirus pandemic.
For the uninitiated, brand value is the estimated monetary amount that a brand contributes to the total business value of a company. Strong brands command premium pricing, greater customer loyalty, and influence the purchase decisions of consumers.
Fastest declining retail brands of 2020
Dozens of companies across the globe were already struggling, and the COVID-19 pandemic has only worsened their situation. Baltimore-based Under Armour has built a loyal fan base worldwide. But its brand value declined a steep 34% to $2.6 billion. It was followed by the Swedish apparel retailer H&M with 27% decline in brand value.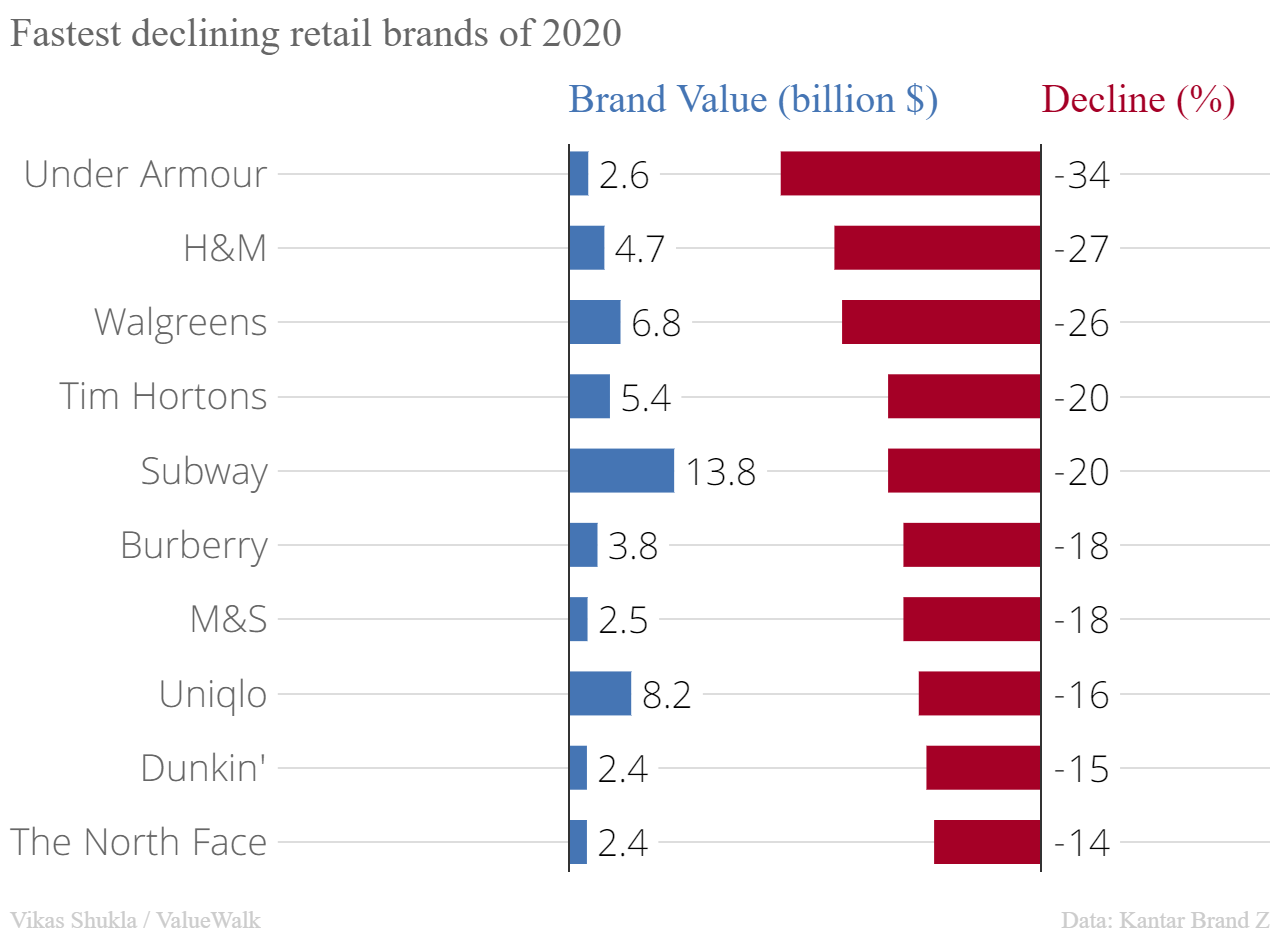 Walgreens' brand value has fallen 26% since last year. It operates more than 13,000 retail pharmacy stores across 25 countries. Canadian fast food restaurant chain Tim Hortons saw its brand value decline 20% YoY to $5.4 billion in 2020. Tim Hortons specializes in baked goods, fresh coffee, and home-style lunches.
The value of American fast food restaurant chain Subway has also taken a hit amid the coronavirus-crisis. According to Brand Z, its brand value fell 20% to $13.8 billion this year. Subway operates more than 44,000 restaurant chains worldwide.
British luxury fashion giant Burberry saw its brand value decline 18% YoY to $3.8 billion. Another UK-based retailer Marks & Spencer (M&S) witnessed an 18% drop in its brand value compared to last year. Marks & Spencer operates 1,423 retail stores selling clothing, food and home items.
Japan's Uniqlo was named the 8th fastest declining retail brand in the world. Uniqlo operates more than 1,300 stores around the world. Its brand value dropped 16% YoY to $8.2 billion. Dunkin Donuts occupied the 9th spot with a 15% drop in its brand value. The Canton, Massachusetts-based company operates more than 11,000 fast food outlets worldwide.
Rounding out the top ten was The North Face, whose brand value dropped 14% to $2.4 billion in 2020. California-based The North Face makes outdoor recreation products including clothing, footwear, and outdoor equipment.
Fastest growing retail brands of 2020
If you were curious about the fastest growing retail brands of 2020, here they are. Topping the list for the second consecutive year is the Canadian apparel giant Lululemon. Its brand value jumped 40% YoY to $9.7 billion. Lululemon makes and sells yoga, running, and training apparel worldwide.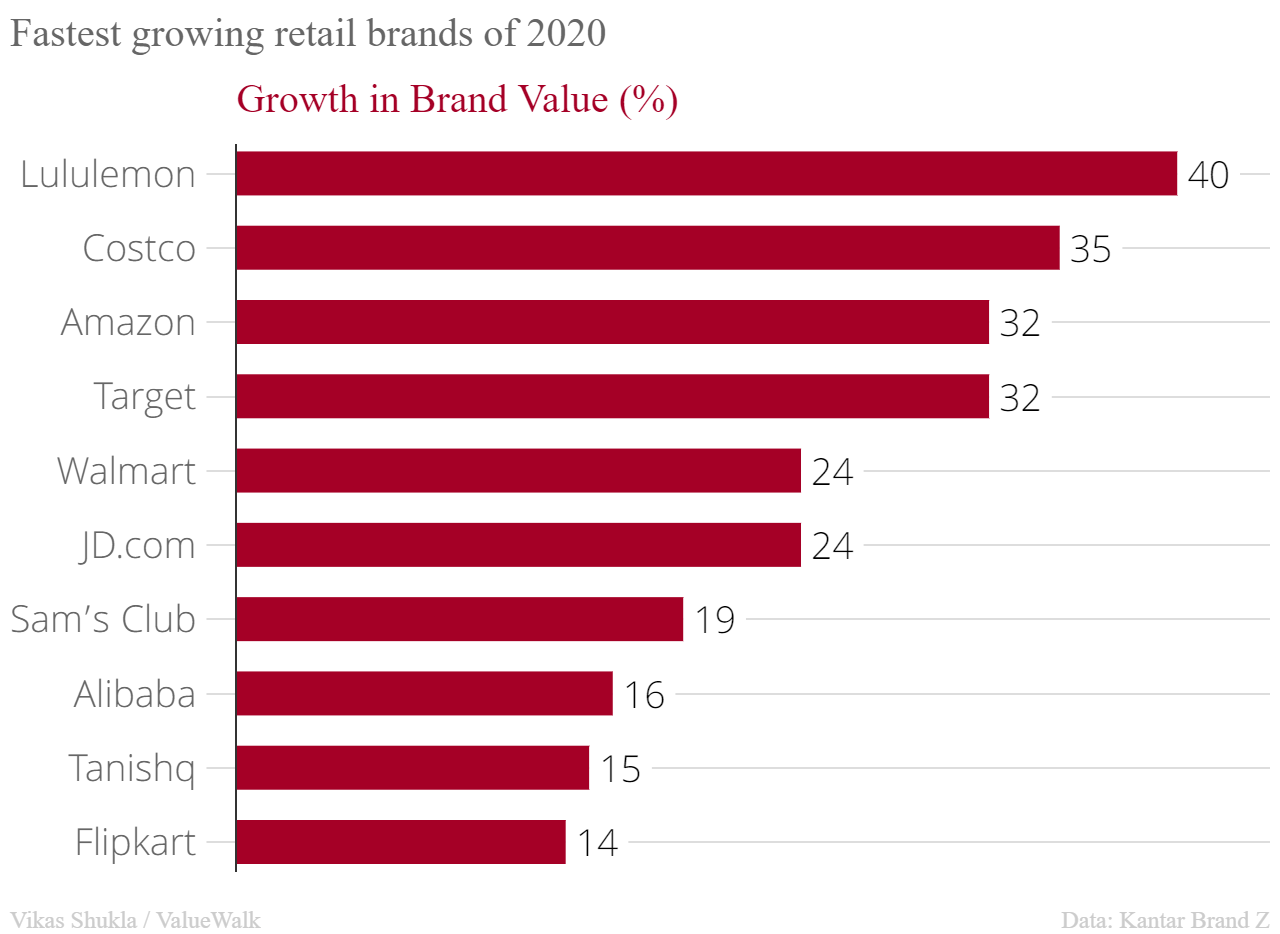 Costco emerged as the second fastest growing retail brand this year. Its brand value rose 35% to $28.6 billion. Costco is a warehouse-style retail club that sells goods at discounted rates to members who pay an annual fee. It is also investing heavily in e-commerce. Amazon occupies the third spot as its brand value jumped 32% to $415.8 billion.
Notably, three out of the ten fastest growing brands are owned by Walmart. Walmart's brand value has risen 24% to $45.8 billion. Its other brand Sam's Club saw its brand value grow 19% to $6.8 billion in 2020. Walmart also owns the Indian online retailer Flipkart, whose brand value increased 14% to $4.7 billion. As if that wasn't enough, Walmart also owns 12% stake in Chinese online retailer JD.com, which is the sixth fastest growing retail brand.
Another Indian brand Tanishq, which operates more than 300 jewelry stores, has also made it to the top ten. The brand value of Chinese online retail behemoth Alibaba jumped 16% to $152.5 billion.
The post Top 10 fastest growing and declining retail brands in the world appeared first on ValueWalk.