Trading earnings-related gaps is what I like to do. It's what we do at EarningsBeats.com. Well, we do lots of things at EarningsBeats.com, but doing our homework and preparing our members to trade earnings-related gaps is certainly high on our list. It always amazes me to see traders jumping into a stock after they report strong earnings – right at the opening bell. From experience, I can tell you that, at best, you're flipping a coin. Quite honestly, if you're chasing those opening gaps higher, you're probably losing more often than you're winning. Market makers set traps. Often. The opening gap is one of the sneakiest and most frequent traps, because market makers know the human psyche and LOVE to profit from emotional traders. So the market makers set the trap with bait (gap) and watch traders jump on board at the opening bell. Ka-Ching!
Trust me, there's a better way.
If you really like a company that's just reported earnings, put that company on a ChartList here at StockCharts.com…..and wait. Then wait some more. More often than not, a stock gapping higher will come back to a better reward-to-risk entry point. Let me give you an example.
Check Point Software Technologies (CHKP) reported excellent quarterly results before the market opened on Wednesday. Revenues were reported at $505.6 million, well ahead of the estimated $487.7 that Wall Street was looking for. Earnings per share (EPS) came in at $1.58, easily topping the $1.42 forecast. And CHKP is part of a the exceptionally strong software group ($DJUSSW). CHKP proceeded to open at 129.63 on Wednesday, a gap higher of 5.27, or roughly 4%. I realize the news was solid, but that doesn't mean we should buy at any price!
First, look at the chart of CHKP from yesterday: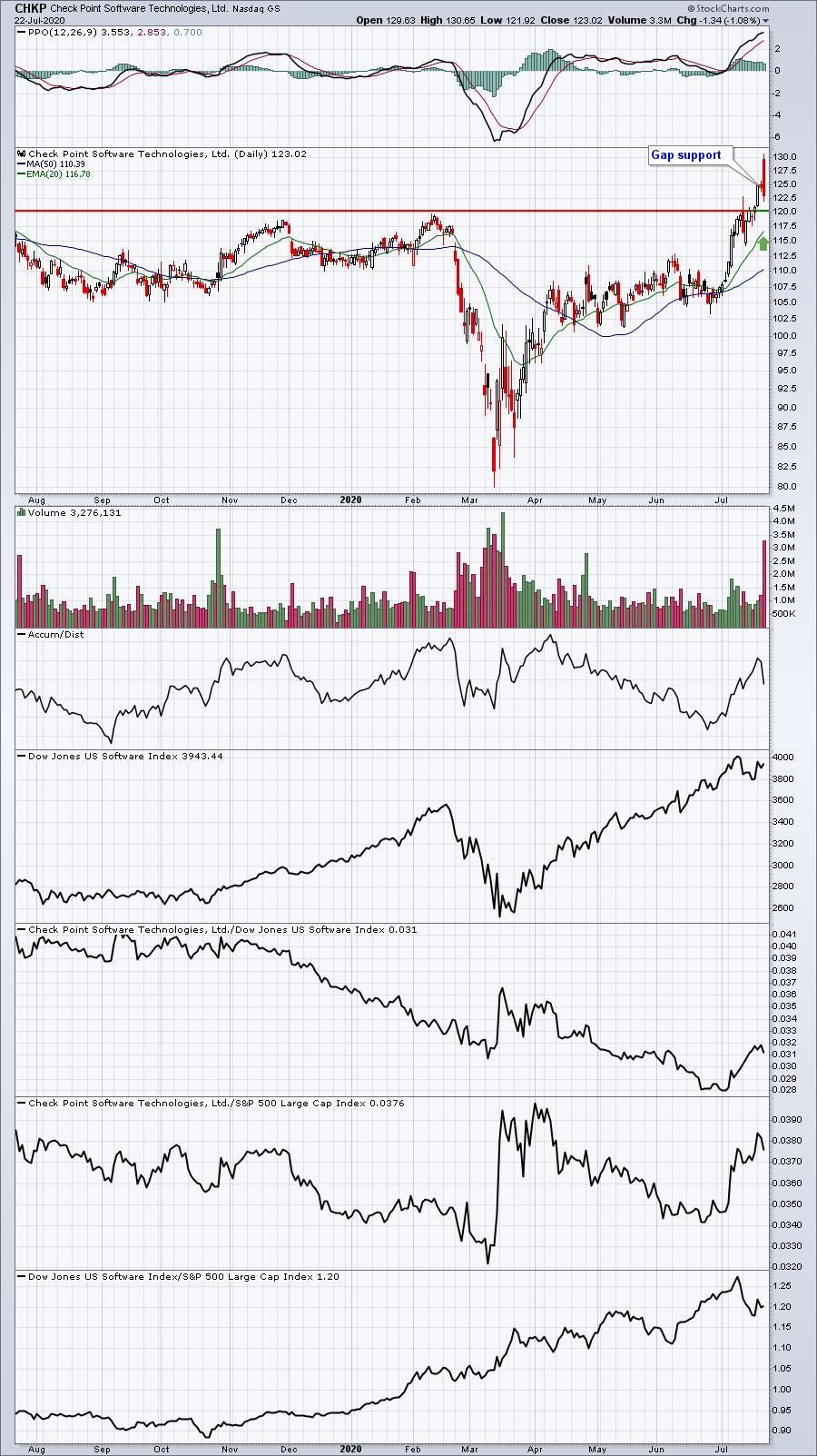 We're beginning to see relative strength from CHKP and this may just be the beginning of a significant uptrend. But that doesn't mean we should join the herd and chase a stock like CHKP at a higher open. A normal 20 day EMA test would result in a 10% loss on paper if we bought at the opening gap higher. Do you see the benefits of waiting? I discussed this exact stock yesterday in real-time during my Trading Places LIVE show at EarningsBeats.com. Check out this video. To save time, you can start at the 33:00 mark as I begin to discuss CHKP during my popular "3 You Must See" segment:
The point here is that patience truly is a virtue, especially in stock trading. Avoiding the temptation to chase that opening gap on CHKP at 129.63 would have saved you approximately 5-6% on the trade. And you might be able to buy it lower today. If you catch yourself reacting and buying stocks impulsively, I'd suggest to consider a better alternative. Market makers feast on impulsive buyers.
If you'd like to check out all of our research work, which now includes 10 different ChartLists, you can get more information and sign up for a fully-refundable $7 30-day trial HERE.
And be sure to subscribe to our YouTube channel!
Happy trading!
Tom