Small Cap stocks were the best performers last week and it's of great interest to me to see them continue to outperform this week. A quick look at the Russell 2000 Small Cap Index will show that last week's bullish break above its 200-day moving average is continuing to be supported.
DAILY CHART OF YETI HOLDINGS (YETI)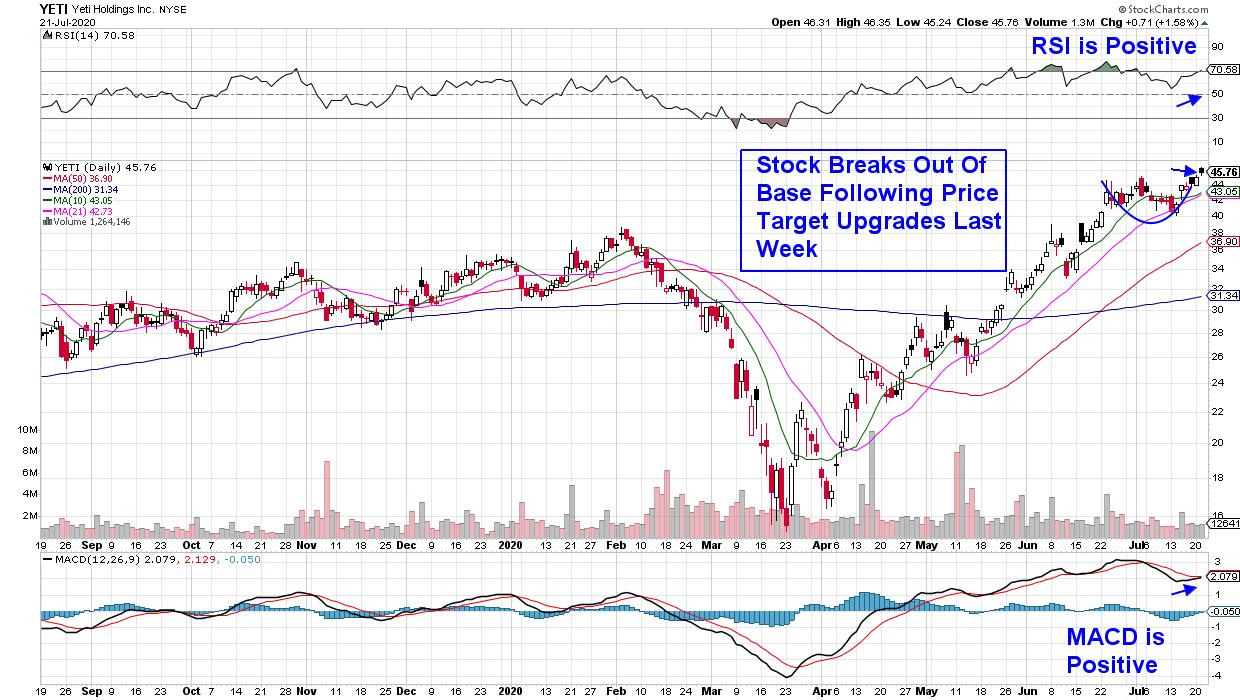 Above is Yeti Holdings (YETI) which is a gear maker for outdoor enthusiasts and the company has seen increased demand for their products as lock-down mandates are keeping adventurers closer to home. Last Friday, 2 major Wall Street firms raised their price target ahead of Yeti's earnings early next month. YETI bullishly broke out of a base today.
Leisure-related stocks are one of many areas that are pushing the Russell 2000 higher with a closer look showing a broad based mix with every sector participating in the rally. My most recent MEM Edge Show highlights 4 other high quality names setting up as well and as you'll see, these smaller stocks can move quickly.
Money flows into Small Cap stocks is the hallmark of a bear market recovery and an appetite for these historically riskier stocks is very encouraging for the broader market's prospects. In addition, YETI is one of several recent new buy candidates added to my top performing MEM Edge Report.
If you'd like to be kept on top of the rotation taking place in the markets as well as have access to top stocks poised to trade much higher, take a 4-week trial of my bi-weekly MEM Edge Report for a modest fee. If you sign up now, you'll receive your Sunday report as well a copy of my most popular course "The Ultimate Guide To Simple Moving Averages" ($69 value). (Current subscribers can email me for their copy!)
This course is an absolute must-watch in the current market environment as it provides entry and exit guides for this volatile period.
Warmly,
Mary Ellen McGonagle, MEM Investment Research