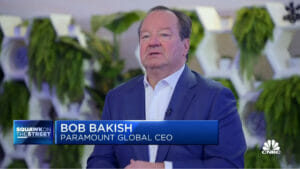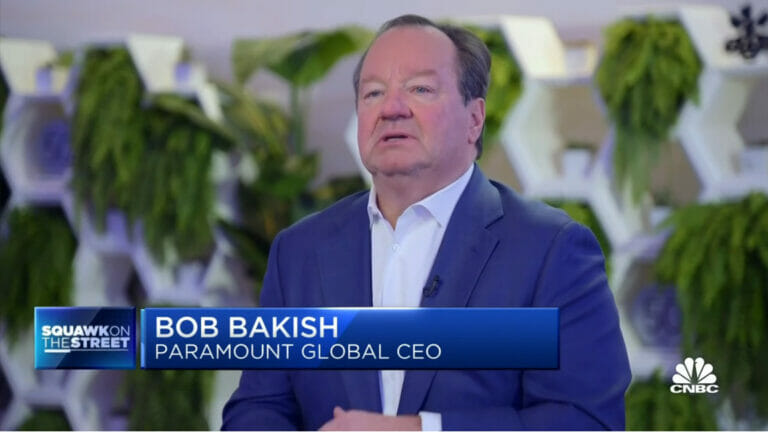 Following is the unofficial transcript of a CNBC exclusive interview with Paramount Global (NASDAQ:PARA) CEO Bob Bakish on CNBC's "Squawk on the Street" (M-F 9AM – 11AM ET) today, Wednesday, December 7th. Following is a link to video on CNBC.com.
Q3 2022 hedge fund letters, conferences and more
Paramount CEO Bob Bakish: We're not seeing improvement in ad market as hoped
Part I
DAVID FABER: The story in the market yesterday was the continued tumult in the ad market having an impact on all the stocks that you see there. Over the last week, I mean take a look at some of the losses. The latest, you know, we had Jeff Shell of course who runs NBCU talking about a weak ad market at a UBS media conference.
Then yesterday, about 11 o'clock eastern, Bob Bakish, CEO of Paramount, also coming out and saying, essentially, hey, you know what, the fourth quarter is not going to be better than the third quarter.
Why was that important? Well, you know, I sat down at a Goldman Sachs conference in the middle of September in which Bakish had been relatively positive in his thoughts about the future ad market. And so I asked him, what changed?
BOB BAKISH: We're just not seeing that improvement that we had hoped. And so as a result today, I indicated the fact that we're going to come in a little lighter in the fourth quarter than we did in the third quarter. We said we'd be about comparable performance.
The market values certainty, so they don't like uncertainty. And there's a lot going on in the broader economy in media and transition and TV versus streaming. And so people don't like that in general. And when they don't like that, in general, they err on the side of conservative versus aggressive.
Part II
FABER: I did sit down with Mr. Bakish yesterday at the UBS conference at which he spoke. And of course, he took a lot of time talking about all the good things going on at his company. Take a listen.
BAKISH: November was a new record mount for Paramount+ and it wasn't just a record, it was a record by significant double digits on net subscriber additions, on active viewers versus, you know, total subscribers on percentage and on hours of content consumed globally.
So that's great. And I also said the fourth quarter is going to be the most the strongest quarter in Paramount+ history and that's on the back of a content slate.
FABER: Alright, measuring just in terms of just subscription ads?
BAKISH: Net subscriber additions, yeah.
FABER: Where are you going to end the year?
BAKISH: We've historically talked about 75 million total subscribers for DTC adjusted for Russia. I'm feeling very good about that number, and we haven't changed our guidance but I'm telling you, November was a record and December our momentum is incredible, driven by content, driven by things like Walmart+, etc. And as I looked at '23 frankly, it's going to continue. The content slate's very strong.
FABER: There's no doubt you've had a very good year in content, even your competitors will concede that to you because I've spoken to a few of you guys have done well, and that obviously does drive things.
That said, I'm curious about the performance of Paramount+ overall in terms of what you're seeing on ad supported versus non. How's that split going? How is the success of the ad supported product looking right now?
BAKISH: So, as you know, we're a believer in ad supported streaming from day one that really goes all the way back to Pluto and why we did that deal in the time—
FABER: That's why I ask. Everybody's followed you in now. So you probably have some datasets that are a little more constructive, or at least instructive.
BAKISH: Yeah. So, Pluto, that was our first step Paramount+ when we did that we included Paramount+ essentials, which is the ad supported tier at $4.99. Our subbase is pretty 50/50 net exactly but the ad supported piece is material. We believe consumers would want optionality pay less and watch ads for $4.99 or pay more don't watch ads $9.99 And that's—
FABER: And that's 50/50 almost.
BAKISH: Yeah within—
FABER: What's the churn like Bob? Is it, is there less churn for the ad supported?
BAKISH: Churn overall is something we continue to be very happy with. Churn overall improves quarter to quarter and year to year for us and so we really like a trendline. I don't have a specific number.
FABER: I just wonder if fewer people churn off ad supported because it's a lower price point. It just doesn't make as big a difference in their monthly budget.
BAKISH: I actually, there's not a major difference between the two because the product overall is sticking and people do again it comes down to consumer taste. Some people don't want to watch ads and are willing to pay more. Some are willing to watch ads and pay less but it doesn't really affect the churn that significantly.
FABER: Right. Right. In terms of the price point, do you have a sense as to sort of what's enough. Everybody is raising price. You discussed it as well. You know how much room is there?
BAKISH: Oh, there's plenty room. Streaming represents an enormous, an incredible value proposition for consumers. There's no question that price is gonna go up and some of our competitors have raised price including multiple times. Our pricing relative to theirs, we're value priced. That makes sense.
We didn't enter the market first so we didn't want to go in at a high price point. We will most certainly raise price. We will probably raise price on the premium product before the ad supported product such that if anyone does have price sensitivity they can churn down.
I will also say that in all the analysis we've looked at with respect to price increases, you actually don't see a material impact in churn particularly if where you see the impact is with subscriber addition. But you can manage that through promotional pricing, because again, you gotta get him in the door. But if they've been there for three months, they're gonna stay.
FABER: Back to the big picture question, you and I have discussed many times now over the years, which is the ultimate profitability of this business. Has your view changed at all? We continue to see content spending at a very significant amount for you and many of your competitors.
Wall Street is now asking those harder questions about the long-term profitability of this business. It's real return on invested capital. Have you changed your view?
BAKISH: In a word, no. I mean, we've always built our plan in streaming not just on a top line basis, but with an eye towards profitability and building a real business, if you will. We've characterized that as TV media like margins. We are very much on that trajectory.
FABER: What about costs? You know, we started off this interview, the ad market is less than robust right now. We're heading into an uncertain year next year. Do you have to focus even more on cost? Your free cash flow is not particularly strong right now and I think your dividend payment may even exceed it next year Bob.
Does that concern you at all? Do you have to do more on cost as many of your competitors Disney, Warner Brothers Discovery are focusing on as well?
BAKISH: So, a couple points. One is we've always said that 2023 will be our peak investment year in streaming and that is still the case. That hasn't changed. Two is clearly the macro environment's a little bit more difficult.
And we've talked about that, but one of the things we're doing is using that as a catalyst to accelerate changes we intended to make anyway that have both economic benefits (i.e. costs) and strategic benefits.
Examples of that is what we're doing with Showtime. We've consolidated networks on the cable side for six years. Now we're folding Showtime into that. Clear economic savings there.
FABER: And finally, again, the subject we've discussed, well not in more recent interviews, most recent, scale. You said you're gonna get to 75 million maybe exceeded in terms of DTC. Can you be big enough with the assets you have right now, though, in terms of reaching the goals that you have?
And I mention it because there's always that discussion of my parent company, for example, and the benefits that would potentially accrue as a result of NBCU and Paramount being somehow brought together as difficult as it would seem to execute a deal like that given divestitures and anti-trust. Is that something you guys still think about?
BAKISH: So look, it's a popular question. People always say you need to be bigger, etc. And I my answer continues to be the same, well, what is the incremental benefit scale? Right now, sitting here today, I got the number one broadcast network, which is beating all the other broadcast networks in the fall season.
Point 1. Point 2 is I've got the number one fast service in Pluto TV, which continues to have extraordinary momentum on the consumption side. Sure, it's impacted a bit by the current ad market. I've got one of very few Hollywood studios, which by the way, is firing on all cylinders and has an incredible slate for '23 and beyond. And I got one of the fastest if not the fastest growing SVOD services. So I look at it, like what piece am I missing?
FABER: Well, you can save a lot on cost. I mean, that's the basic assumption at least. The cost synergies of putting the companies together conceivably would be significant in an environment where obviously cost is—
BAKISH: You can always save cost once but the question is, how do you drive long term business and we have what it takes to continue to lead and take share in traditional media, which we very much have been doing in broadcast and cable and film, and create a scale asset in streaming which we very much have been doing in both free with Pluto and pay with Paramount+.
So I feel great about all that. Will we think about opportunities that emerge? Of course we will we're stewards of shareholder value. But fundamentally, this company has tremendous momentum, is executing well, and by the way, we've put to rest one of the questions of two years ago, where people say, yeah, but your content engine is not that great. I don't think so.
FABER: And finally, I'll end with Berkshire become your largest shareholder. Have you talked to whoever it is that's behind that, that decision of Berkshire to to own so much of Paramount?
BAKISH: So we're very pleased that Berkshire has seen the value of owning a position in our equity. And as you know, they bought stock three times. They're now our largest shareholder and own 15% of the company. They do, as you know this, they do their own work, and, and that's what they've done to get here.
FABER: Do you have any sense as to what it is that's behind their thesis?
BAKISH: I'd like to think that it's value opportunity, and they're about the strongest beacon in predicting value creation out there. So we're thrilled to have them as shareholders.