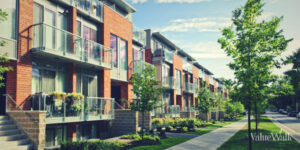 If you're ready to move out and find your own place, or perhaps looking to relocate, you might have come to the harsh realization that rent prices, almost everywhere, have significantly increased over the last few years.
Rents have risen by double-digit percentages across all levels, peaking in July 2022. According to a report by Realtor.com published last year, rent prices for studio apartments increased by 14.3%, one-bedrooms are up 12.2%, while larger two-bedroom apartments have seen prices jump by 11.7% to $2,103 a month.
Q4 2022 hedge fund letters, conferences and more
Single-family dwellings have seen even higher increases, with monthly rent now averaging at $2,495 a month, a 13.4% increase according to a report published by HouseCanary, a national real estate brokerage company.
Moving to a new place, or even finding something more affordable now seems impossible, to say the least. Growing demand and ongoing bid-wars have also caused prices in some major metropolitan areas to bounce upward, despite the once red-hot housing market showing signs of cooling down as interest rates keep climbing.
Yet, despite the possibility that renters might see prices ease in the coming months, a study from the Joint Center for Housing Studies of Harvard University found that around 10.9 million American renters spend more than 50% of their income on housing in 2018.
For low-income renters, finding affordable and suitable housing has been the biggest challenge, as prices keep moving upward, and the cost of living spirals, while wages remain stagnant.
Finding anything marginally affordable, let alone in line with your budget seems outright unimaginable. And for those of us living in some of the country's most expensive metros due to work or family-related responsibilities, moving or simply relocating isn't often part of the equation.
While all hope may seem lost, until recently, there are some tactics you can use that will help you find something budget-friendly, but still provides you with the amenities you require in your day-to-day life.
Know Your Budget
First things first, consider your budget and how much you are willing to pay for accommodation. If you've done some number crunching, and see you're able to set aside a sizable portion of your income towards rent, you will have a clear idea of where you can potentially move, and in which neighborhoods you can start looking.
Make an effort to get your budget on track, and review your monthly expenses to see where your money is going. Cut down on excessive spending, or unnecessary purchases, and undergo some lifestyle changes. This way you can improve your chances of finding something more suitable, but also save a little bit of extra cash every month.
Consider Your Accommodation Needs
What is it you're looking for in an apartment? Do you want a loft, with a lot of open space, or are you looking for something with more bedrooms and storage space? Maybe you want an open-plan area that connects both the kitchen and living room.
Aside from the physicalities of the place you're looking for, consider also things like public transportation, parks, recreational areas, distance from home to work, commuting, safety, and local attractions.
When you have an idea of what you want out of your living arrangements, you will be able to align both your budget and needs to help the search feel a bit less arduous.
Start Networking
Another way to start looking for more affordable housing is to start networking with other like-minded individuals either within your friends' circle, colleagues, or other renters.
You can join online forums, and community groups on social media, or see whether there are pages or profiles related to your search available online which you can become part of.
The more you network, and start talking, the faster you will get to know what is available in your area, where to look, and who to contact in case something opens up. Networking helps you to have eyes and ears almost everywhere, so make an effort to join the conversation where possible.
Consider Different Areas Or Neighborhoods
We've all grown to love our neighborhoods and communities, but sometimes it's simply not financially viable to remain in one place because of the local amenities or attractions.
If you've realized that rent prices in your neighborhood have increased tremendously in recent years, and you're unable to afford the cost of living, it's perhaps time to start looking outside of your general area for something a bit more budget-friendly.
There is no shame in leaving a place you once called home, or that you have become so acquainted with. Often the change is good, or even needed for you to find new opportunities elsewhere.
Before simply looking at other neighborhoods, take some time to consider the commute from home to work, and whether there's public transportation available in the area. Furthermore, safety is another priority, and you might want to talk to some of the residents in the area first to get a sense of what it is like living there.
Find A Roommate
The perks of living by oneself are unmeasurable, the freedom and joy of having your own space to yourself, and sharing it with whoever you want are almost unmatched. Unfortunately, recent economic events and financial hardships have made it almost impossible to cope with living alone and paying rent by yourself.
If you've tried multiple options, and nothing still works, consider getting a roommate, if your apartment is big enough for two people. If you're looking to relocate or move out, see whether there are apartments available that you can perhaps share with a friend or family member. You can also move in with someone else if a space becomes available.
It's important to first gauge the situation, to see whether or not you will be able to live with someone else, or if you are compatible with the person you're thinking of living with. If it's a complete stranger, take some time to get to know them better, or if it's a friend or partner, set some ground rules beforehand to avoid any potential grievances.
Approach Local Housing Authority Organizations
See if state and local housing authorities are operating in your area or city. These organizations offer assistance to renters and individuals from low and moderate-income levels.
Moreover, these organizations are community-oriented and have specific programs that can assist you with a varying range of housing needs. Usually, these organizations work to target specific needs in a given city, neighborhood, or community, so if you're in a position to afford your own housing, it's best to rather give up your position to someone who might be in need of assistance.
Additionally, you might want to take some time to read up about local programs and schemes to get a better idea of how they work and operate. Perhaps you can utilize some of their other services such as low-interest loans, brokerage services, or budgeting.
Negotiate With Landlords
If you're unable to find something that's within your budget, consider talking to your current landlord to see if you can slightly adjust your rent increase or current monthly payments.
Landlords are notorious for being stubborn, even unapproachable in some cases, but if you're able to muster up the courage to negotiate with your current landlord, see how you can meet them halfway.
Whatever changes you do agree on, it's important that you get it in writing, or make an adjustment to your current lease. You might want to add an addendum to your leasing contract that clearly states what changes have been approved by both you and your landlord.
Consider Downsizing
Do you need a two-bedroom single-family home in the suburbs if you're not fully utilizing the space properly? Perhaps you live in a sprawling city apartment, but could get away with having something smaller?
Downsizing can be something to get used to in the beginning, but in terms of financial stability and being more budget-friendly, finding a smaller place might be just the change you need right now.
If you're single or perhaps living with your partner, search for a space that meets your accommodation needs, and doesn't necessarily require you to make a lot of new compromises.
Monetize From Your Current Apartment
If you're in a position where you can monetize from your current apartment or house, see if it's possible to perhaps sublet or rent out your spare bedroom on sites like Airbnb.
This comes with a bit of planning, and you will need to ask for permission from your landlord or review your leasing contract to make sure you don't overstep any of your renter obligations.
Once you get the green light or find that you can rent your spare bedroom, start planning how you can make it work for you and your neighbors and those renting from you.
If you're thinking of renting it on Airbnb, take some time to read through the terms and conditions beforehand. Next, you want to make sure that the space is livable, and that you are in a position to welcome strangers into your home frequently.
Final Thoughts
It's become increasingly hard to cope with the rising cost of living, and having to deal with eye-watering rents alongside it. Moving to a different part of the city, or relocating somewhere else is often harder than you might think, but from a financial point of view, this could make more sense.
Taking some time to consider your accommodation needs, and matching it with your budget, looking through some local listings and networking will help you find the perfect place you can call home, only this time at a more affordable price.