Sometimes markets trend, sometimes they oscillate and sometimes they simply frustrate. I would venture to guess that trading since 2022 falls into the frustration basket. Trend following and momentum strategies are suffering because big moves are failing to extend and develop into trends. Mean-reversion strategies were doing well, but got hit with the regional bank crisis the last two weeks.
Recent selling pressure, however, was not limited to regional banks and the finance sector. In fact, selling pressure was broad enough to push our Composite Breadth Model into negative territory, which signals a bear market. A bear market signal does not always lead to an extended decline, but it does indicate above average risk for stocks and stock-based ETFs. With the environment for stocks looking shaky, today's commentary will focus on a risk-off ETF and a defensive ETF in a trading range.  
First, we have a non-stock ETF that reversed an extended downtrend with a big surge this month. The chart below shows the 3-7 Yr Treasury Bond ETF (IEI) with the Trend Composite turning positive this week. This reverses a downtrend signal from September 2021. With the March surge, IEI is on the verge of breaking its January-February highs. Also note that IEI was recently added to our All Weather ETF strategy because it was a high-ranking non-stock ETF.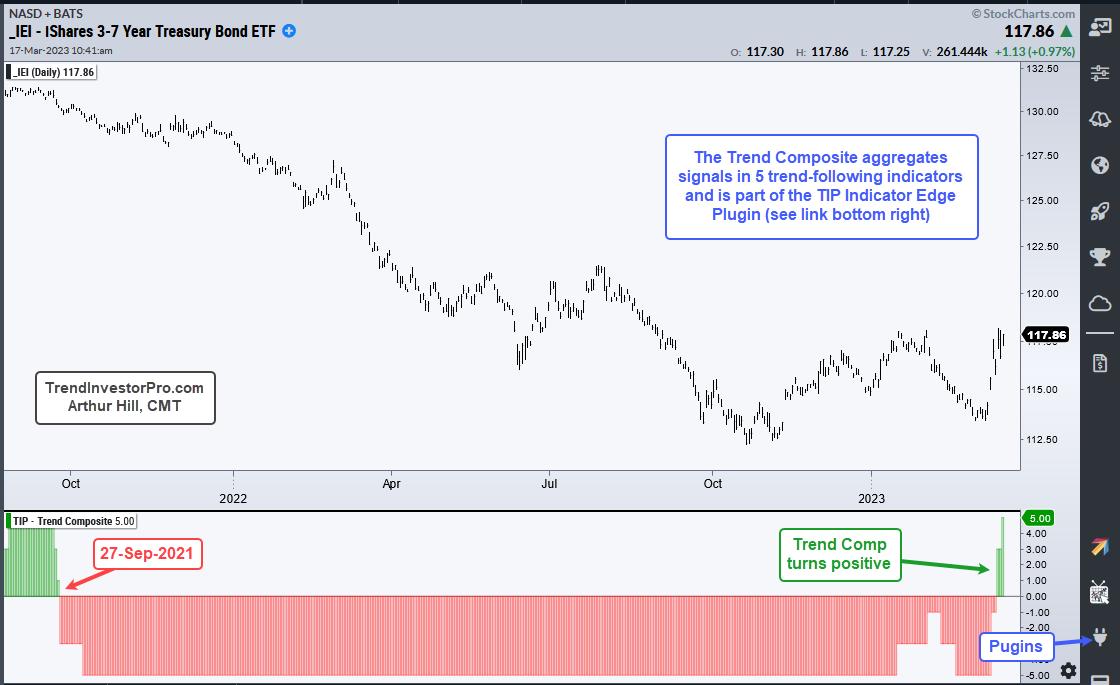 The next chart shows the Healthcare SPDR (XLV) with the Trend Composite. As with any other trend indicator, the Trend Composite does not work when prices oscillate (do not trend). The indicator window shows the Trend Composite whipsawing as XLV gyrates between 140 and 120. XLV is in a trading range so I will be watching the swings for signals, not the Trend Composite. The current swing is down with the early March high marking resistance. A breakout here would reverse the downswing.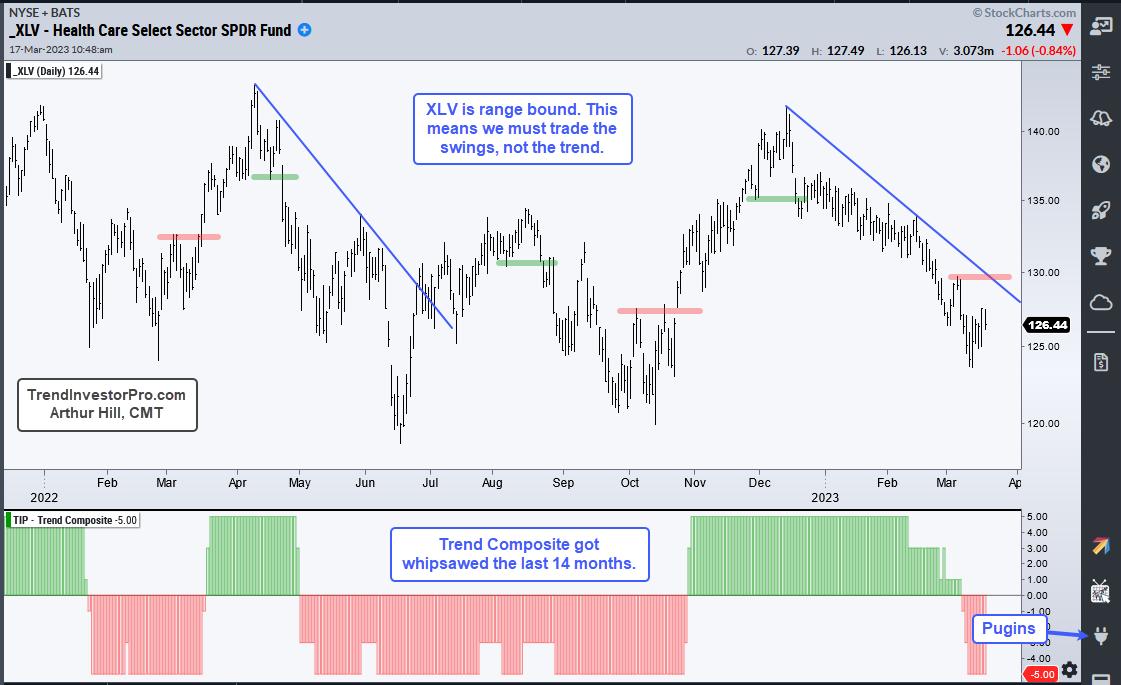 Looking for a more systematic approach to trading and analysis? TrendInvestorPro has three quantified trading strategies for ETFs. First, there is an All Weather Strategy that uses market timing to set the tone. Second, we have a trend-momentum strategy that trades the strongest stock-based ETFs in bull markets. And third, we have a short-term Mean-Reversion strategy that trades in any kind of market. Click here to learn more and get immediate access.
The Trend Composite, ATR Trailing Stop and nine other indicators are part of the TrendInvestorPro Indicator Edge Plugin for StockCharts ACP. Click here to learn more and take your analysis process to the next level.
————————————-