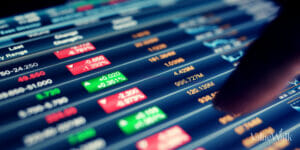 The Broad Market Index was up 1.53% last week and 51% of stocks out-performed the index.
With the Securities and Exchange Commission (SEC) financial statement update over 90% complete now, we have two slow weeks before the last companies with fiscal quarters ended October report their results at the end of November.
The numbers are not good with 80% of companies reporting lower sales growth, 60% of companies with lower profit margins and overall profitability down.
Q3 2022 hedge fund letters, conferences and more
Falling Corporate Growth
When growth is falling, the central banks respond. Interest rates commonly fall to cushion the valuation effect and goose demand. This time with inflation high and likely to persist, interest rates will need to rise further.
Higher interest rates and falling growth is a very negative scenario for stock prices. We will make sure that all our portfolio companies have rising growth attributes (a tall green MoneyTree in a golden pot).
With most companies reporting lower growth attributes, new buy ideas are few and typically extended in price. Still, it is important to buy everything we can within our rising growth constraints.
Markets will remain volatile and down for a while yet. Growth declines historically last 8 to 12 quarters peak to trough. Average sales growth peaked at 30% six quarters ago. We will expect to see evidence of improvement next year. Growth is broadly down but remains very high.
A very steep decline in growth is the bigger risk now. The best policy stance now is to create a steep recession, wring out inflation expectations and set up for lower inflation, lower interest rates and a recovering economy in 2024.
Look at highly leveraged companies in their acceleration phase, such as Livent Corporation:
Livent (LTHM): BUY This Poor Company Getting Better

Livent Corp (NYSE:LTHM) has been an unprofitable company with chronically low cash return on total capital of 6.4% on average over the past 5 years. Over the long term the shares of Livent have advanced by 332% relative to the broad market index.
The shares have been very highly correlated with trends in Growth Factors. A dominant factor in the Growth group is Sales Growth) which has been 73% correlated with the share price.
Currently, sales growth is 83.2% which is very high and higher than last quarter. The shares have been very highly correlated with the direction of sales growth.
The company is recording a rising gross profit margin and SG&A expenses continue to fall producing a leveraged acceleration in EBITD relative to sales.
Margins Are Up
Rebounding from a 2020 low, the company is now recording a high and rising gross profit margin. This is the 5th consecutive increase in the gross margin thereby putting an end to persistent decline.
Cashflow Is Also Up
As a percentage of sales, free cash flow measures the relationship between cash flow growth and capital expenditures. Lower capital expenditures have been supporting free cash flow for quite some time. The stronger gross margin and lower costs is producing an acceleration in the EBITDA profit margin thereby accelerating free cash flow growth.
More recently, the shares of Livent have advanced by 332% since the October, 2019 low.
The shares are trading at the upper-end of the volatility range. Despite the recently extended share price, the broad improvement in fundamentals provides a good opportunity to buy the shares of this evidently accelerating company.
The more stable the pot appears, the better the attributes. Green and gold are good. Red is bad and the more intense the red the more urgent the call to action.