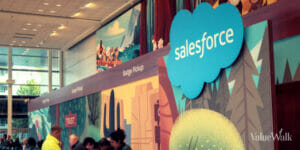 Shares of Salesforce (NYSE:CRM) are down more than 6% in pre-market trading Thursday after the software maker reported its third-quarter earnings. The results come after Salesforce slashed its year-end outlook for EPS and revenue in the prior quarter due to a weaker economic cycle. The company reaffirmed that forecast on Wednesday.
Q3 2022 hedge fund letters, conferences and more
Moreover, the tech company announced the departure of co-CEO Bret Taylor, which leaves co-founder Marc Benioff in full control of the company.
Job Cuts to Offset Slowdown
Salesforce posted Q3 earnings that topped consensus estimates. The software business reported adjusted earnings per share (EPS) of $1.40, beating the analyst consensus of $1.21 per share.
Revenue came in at $7.84 billion, up 14% year-over-year (YoY), and slightly above the estimated $7.82 billion. The subscription and support category, the company's key income source, reported revenue of $7.23 billion, up 13% from the same quarter last year.
Salesforce's operating cash flow in the quarter stood at $313 million, marking a YoY decline of 23%. The cloud-based software company also said it purchased $1.7 billion worth of its own shares during the three-month period.
Going forward, Salesforce expects FQ4 revenue in the range of $7.9 billion to $8.03 billion, with the midpoint of the range coming in below the consensus of $8.02 billion. The San Francisco, California-based company said it expects a $900 million hit in sales due to a foreign currency impact.
Earlier this month, Salesforce reportedly cut its workforce amid softer demand in some of the markets. The company reportedly laid off around 1,000 people, while a report in Protocol noted new layoffs could affect up to 2,500 employees.
Salesforce employed 73,541 people at the end of January. In August, it said its headcount increased 36% YoY to tackle the stronger demand.
"Our sales performance process drives accountability. Unfortunately, that can lead to some leaving the business, and we support them through their transition," a Salesforce spokesperson said.
The layoffs follow a previous announcement by Salesforce to slow the rate of hiring in 2022 amid more challenging macroeconomic and business conditions involving record-high inflation and interest rates. Several other tech companies have voiced similar plans in the recent period.
Improving Risk Sentiment Could Help CRM Stock
A mixed earnings report from Salesforce came just hours after Jerome Powell, Chairman of the Federal Reserve, said that the central bank could slow the pace of interest rate hikes in the coming months even though the bank has a long way to go when it comes to bringing down inflation.
The Fed boss reaffirmed statements and suggestions from other central bank representatives in November that the central bank is well-positioned to begin trimming the size of interest rate hikes as soon as this month. On the other hand, he also warned that the Fed's monetary policy is likely to remain tight for the time being until there are clear signs that inflation is fading.
"Despite some promising developments, we have a long way to go in restoring price stability," Powell said during his speech at the Brookings Institution.
He added that decisions related to monetary policy, such as interest rate hikes and trimming the Fed's bond holdings, typically take time to make an impact.
"Thus, it makes sense to moderate the pace of our rate increases as we approach the level of restraint that will be sufficient to bring inflation down," Powell said. "The time for moderating the pace of rate increases may come as soon as the December meeting."
A less forceful interest rate hike this month marks an important shift in the Fed's monetary policy after the central bank delivered four straight rate increases of 75 basis points (bps) to tame the 4-decade high inflation. But consumer prices have dropped in the past months, from 9.1% in June to 7.7% in October.
The stock market welcomed Powell's comments, with the Dow Jones Industrial Average (DJIA) gaining 2.18%, while the tech-weighted Nasdaq Composite rose 4.41% Wednesday. It could be that a pullback in CRM shares could have been much deeper if Powell's comments didn't help improve the overall risk sentiment.
Evercore ISI head of global policy Krishna Guha said the jump in stocks was partly a relief rally as investors were concerned that the central bank could "take a max hawkish sledgehammer to the recent easing of financial conditions … That overhang has now gone."
Before Powell's remarks, markets had been pricing in around a 65% chance that the Fed would slow the pace of its rate hikes to 50 bps in December, according to data by CME Group. After the speech, the possibility of a half-point hike jumped to 77%.
Hence, a combination of the improving risk sentiment surrounding tech stocks and a pullback in CRM stock could result in long-term investors coming back to Salesforce, given the company's track record of high revenue growth. Moreover, Salesforce guided for 2023 operating cash flow growth of around 16%, which could also help attract long-term investors.
Summary
Salesforce stock trades lower in pre-open Thursday after the company offered an outlook that reflects a weaker economic environment. Still, improving risk sentiment could help high-quality stocks, like CRM, to outperform from here given the beaten-down valuation.
Get Smarter on Crypto and Macro. Get the 5-minute newsletter that keeps investors in the loop. Five Minute Finance is an independently run newsletter covering the latest and most important trends in crypto, macro, and global markets.