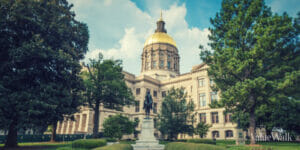 For someone who has lived almost his entire life in Brooklyn, I admittedly have some pretty strong opinions about the state of Georgia. But I did live there briefly in 1961 and in 1963.
My first stay was in Augusta, when I was stationed at Fort Gordon directly after basic training. A day or two after arriving, a bunch of white guys – all of us in uniform – boarded a bus in downtown Augusta, and found seats near the back. The driver stopped the bus and threatened to have us arrested if we didn't move to the front. To this day, I am still ashamed that we obeyed.
Q3 2022 hedge fund letters, conferences and more
---
Find A Qualified Financial Advisor
Finding a qualified financial advisor doesn't have to be hard. SmartAsset's free tool matches you with up to 3 fiduciary financial advisors in your area in 5 minutes.
Each advisor has been vetted by SmartAsset and is held to a fiduciary standard to act in your best interests.
If you're ready to be matched with local advisors that can help you achieve your financial goals, get started now.
---
The railroad station, which may have dated back to the 1880s, was bisected by a schoolyard fence. Both sides had men's and ladies' restrooms. There was a water cooler and newsstand on the white side, and a plain water fountain on the "colored" side.
Virtually every store had separate entrances for both races. The restaurants on Broad Street served whites only, although some might have allowed Black customers to get take-out.
Two years later, I got a job with what was then the U.S. Communicable Disease Center – and is now the Centers for Disease Control. We were all federal government employees. The few Blacks working there were janitors, clerks, and maintenance workers.
The neighborhood where my girlfriend and I resided – just blocks from Georgia Tech – was lily-white. One day, our landlady left me a note. The salutation read: "You damn negro-loving Jew." We moved out the next day, hours after we trashed the apartment.
There was a very popular barbeque restaurant downtown owned by Lester Madox, who would soon be elected governor. His ads always mentioned the axe-handles he kept at the ready for his patrons just in case "a n….." was foolish enough to enter the restaurant. I'm not sure if that included someone who was just getting take-out.
It's now almost fifty years later, and Atlanta is utterly unrecognizable. No longer a sleepy cow town with a minor league baseball team called "the Crackers" – I kid you not! – it's a relatively rich, sophisticated regional economic hub.
Georgia's Senate Race
Segregation is just a blot on the past', and Blacks have attained substantial political power. But don't be fooled. The fact that Herschel Walker is running virtually neck-and-neck with Senator Raphael Warnock is all you need to know about the true state of Georgia.
Walker's utter unsuitability to serve in the United States Senate – where admittedly, the bar is not set all that high – is quite astonishing. His sole political asset is that he would cast a reliable vote for the Republicans. Of course, he would often need to be told which way to vote.
All of this is not to say that Walker does not have his own ideas about the major issues of the day, such as climate change. While speaking at a political rally about two weeks ago, here is his own observation:
"Since we can't control the air, our good air decided to float over to China's bad air, so when China gets our good air, their bad air got to move. So, it moves over to our good air space. Then we got to clean that back up, while they're messing ours up."
What I find the most striking is the overwhelming support that Walker has among white voters – nearly all Republicans. I mean, this is a man who can barely put together a coherent sentence, and knows little, if anything, about the political issues that the next Congress will be taking on.
Of course, Warnock has the overwhelming support of Black voters. It's certainly not because he's Black, since Walker is too. But even in the redneck dominated rural areas of the state, the voters are coming out in droves to support a Black candidate with — to put it charitably — a rather dicey past.
These sanctimonious "prolife" religious bigots are flocking to the polls to support a guy who has pressured three women he impregnated to have abortions – and then have the chutzpah to claim he's anti-abortion.
A guy who has long berated absentee Black fathers, while estranged from his own four children? And someone who cannot put together a coherent sentence, and claims to have graduated at the top of his class at the University of Georgia where he barely scraped by for two years before dropping out?
Of course, not every white voter in Georgia – or her sister states of the old Confederacy – is a moron or a bigot, but the fact that so many of them are voting for Herschel Walker tells us all we really need to know.