In developing our Short Squeeze ChartList, which is a fancy name for doing our homework and organizing potentially explosive stocks into one ChartList for our members, we were looking for companies that traders are betting against. When traders believe a company is overpriced, for whatever reason, they sell that stock short. Short selling requires traders to "borrow shares" from their broker and sell them, with the requirement of buying those borrowed shares later and returning them to their broker. There are two keys to remember about short selling:
Borrowed shares MUST be repurchased at some future date
You have unlimited risk as a short seller, which can drive emotional buying in a rapidly-advancing stock
#2 is how you can benefit from short sellers if you enjoy stock trading. Breakouts in heavily shorted stocks can trigger frenzied, almost panicked, buying in a stock. This is referred to as a short squeeze. If you're on the long side of one of these, it's fun. In recent months, I've featured three short squeeze stock candidates, and all three have worked out very well. Here they are:
TSLA: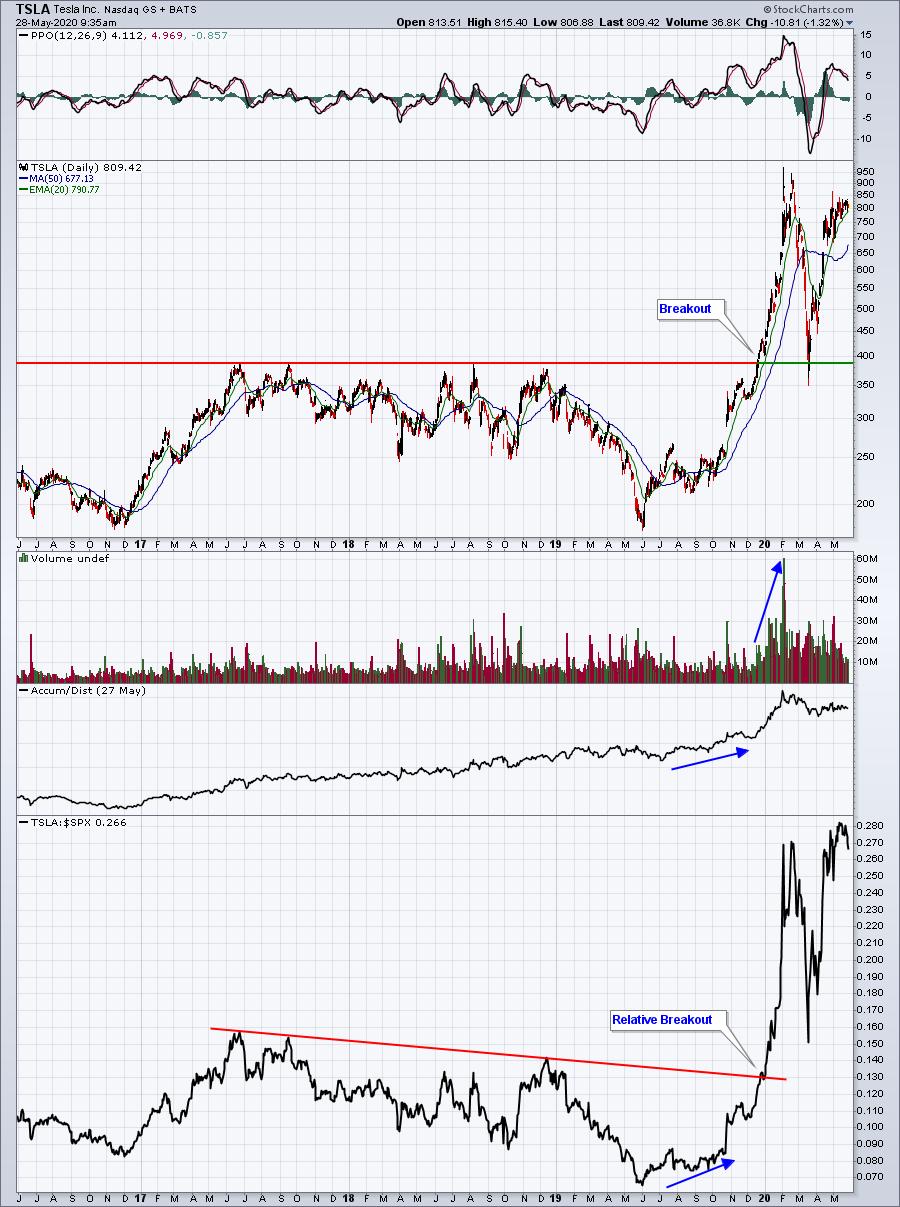 There were a lot of pieces to this TSLA short-squeeze puzzle. But note that prior to breaking out, TSLA was already beginning to show technical strength. Its accumulation distribution line was improving prior to breakout as was its relative strength line vs. the S&P 500. A MAJOR price resistance level was just below 390. When TSLA cleared that, technical buying began. Also at the time, TSLA had a "short percentage of float" above 20%, meaning that traders had borrowed 20% of the available shares and sold them short. TSLA breaking out above key resistance put the short sellers in a box. When do you buy back those borrowed shares? The best time would be on a breakout above 400, but many didn't cover (buy). Instead, TSLA began to steam roll higher. It hit 450….500….600….700….800….900 – all within about 6 weeks of breaking out! Finally, check out the massive volume that began pouring in. That TSLA chart is the poster child of a major short squeeze and the impact you can see from one.
PTON: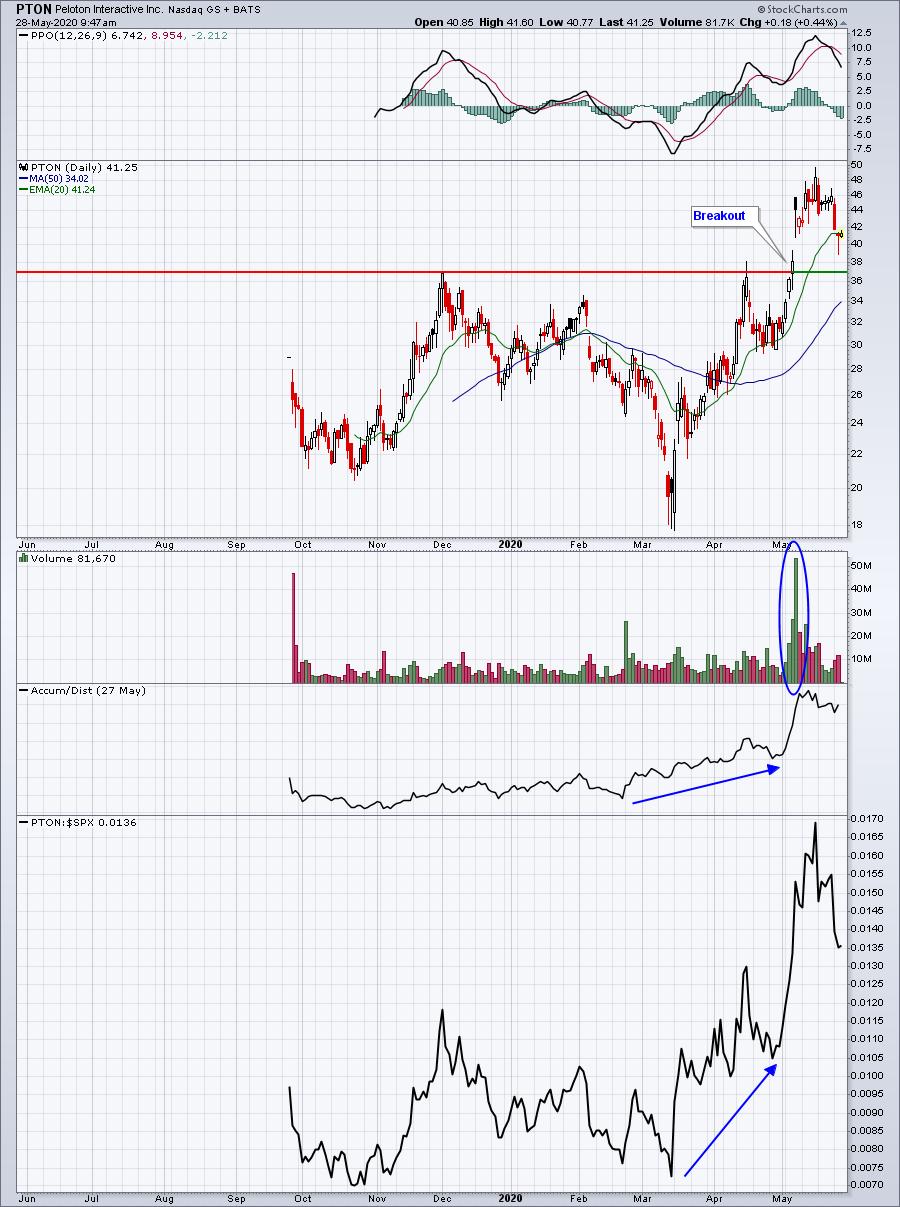 While TSLA's short percentage of float was 20%, PTON's came in at about 45%. That's a LOT of guaranteed buyers to benefit from on a breakout. Like TSLA, PTON was showing improving technical conditions prior to the breakout. But once the technical breakout buyers kicked in, short sellers were forced quickly to make a decision and the result was exploding volume and a rapidly-advancing stock.
OLLI: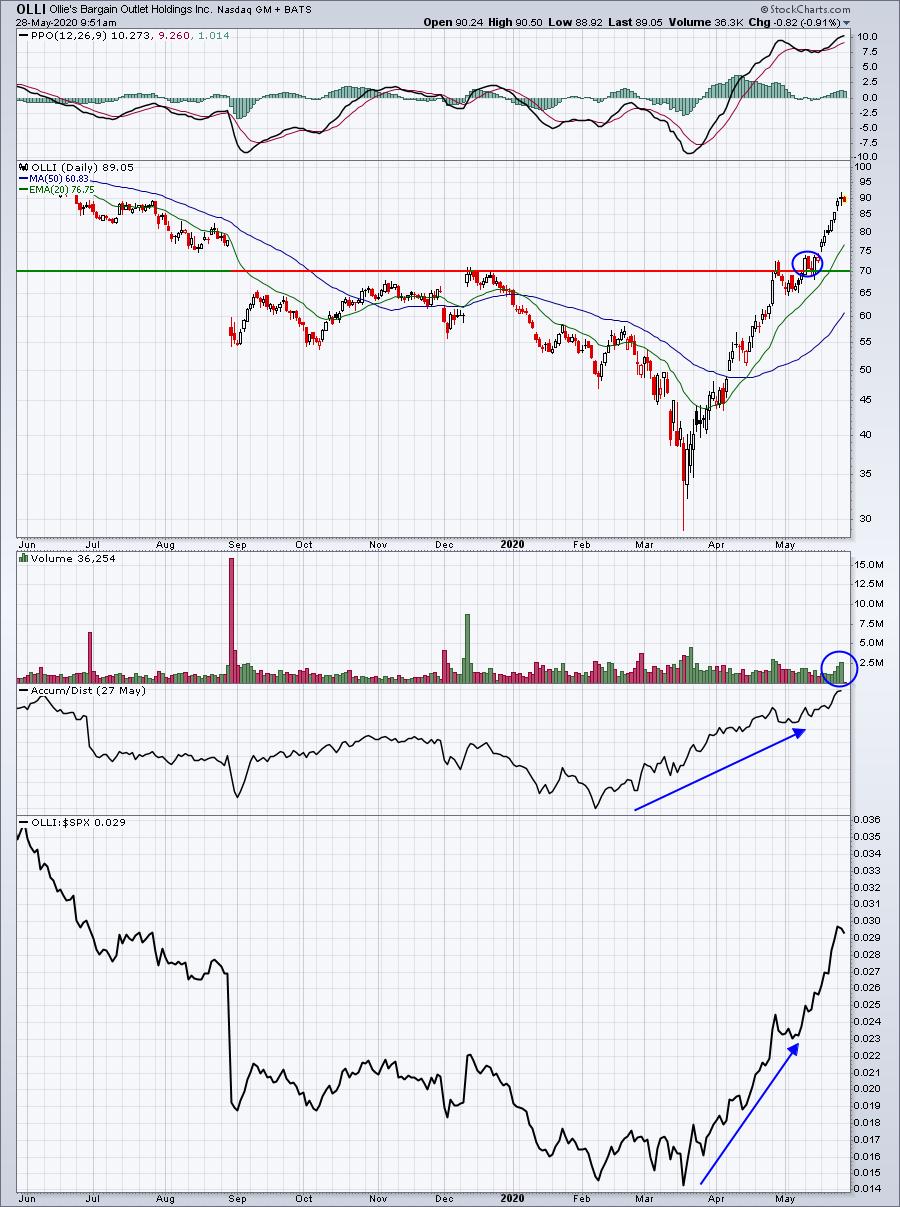 I wrote about OLLI's short squeeze possibilities at the time of its breakout right here in my Trading Places blog on May 12th, "Seeing A Short Squeeze Unfold Presents Huge Opportunities; Add This One To Your WatchList".
The interesting part about OLLI is that it's risen almost 25% in two weeks, but I don't believe there's been much short covering yet as volume has been rather subdued. It's begun picking up the past couple days. Don't be surprised to see a further surge in price here, especially if shorts begin to grow a bit more nervous. The long-term chart shows an all-time price high of 103.03 one year ago today. I'm looking for OLLI to reach that level and, should we see a breakout there, the move could truly turn explosive.
In my free EB Digest newsletter tomorrow morning, I'll be providing yet another Short Squeeze ChartList candidate that's just broken out. It's a leading stock in an improving industry group, so I expect that this breakout is going to put the short sellers on notice. If you'd like to receive my latest Short Squeeze pick, you can subscribe to my free EB Digest newsletter HERE.
If you'd like my entire Short Squeeze ChartList, you will need to be a member of both EarningsBeats.com and StockCharts.com (Extra member or higher to download ChartLists). We have a fully-refundable $7 30-day trial offer to become an EarningsBeats.com member with full privileges, including the downloading of multiple ChartLists. Let me do the homework for you, while you reap the rewards!
Happy trading!
Tom