Next week, the economic calendar will be dominated by reports providing more data on a leading area of growth. I'm talking about an industry in the U.S. that's seen solid expansion over the past 3 months with estimated growth expected to continue well into next year and beyond.
With quarantined workers and students seeking more space to work and live comfortably, Home Sales as well as Builder Confidence has soared to new highs which is leaving no doubt that housing is leading the current economic recovery.
The good news is, many stocks in this area have been consolidating and are just now poised to break out of bases while others such as the 2 we'll review below, experienced base breakouts last week. All this constructive action is taking place ahead of new data reports on new as well as existing home sales due out next week. In addition, the all-important Builder Confidence numbers will be reported on Monday.
TAYLOR MORRISON HOME CORP. (TMHC)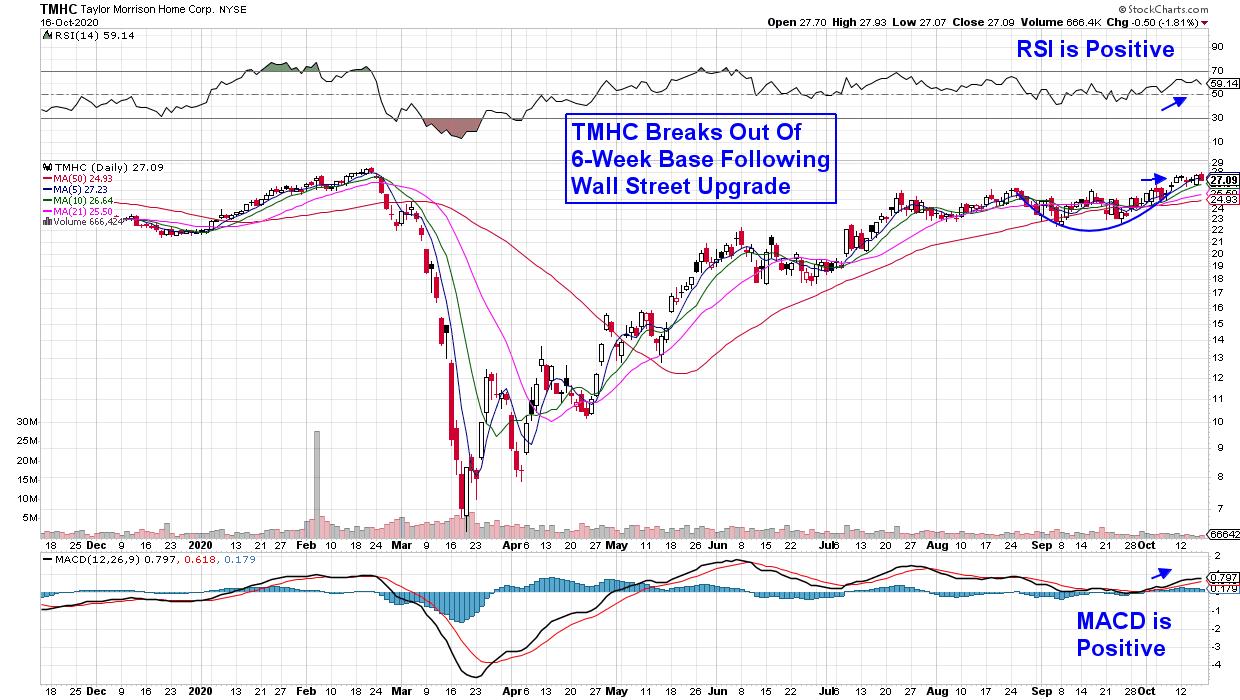 Above is a chart of Taylor Morrison (TMHC) who's the 5th largest homebuilder in the U.S. with its recent push into the robust Pacific Northwest helping them to expand. The company is benefitting from robust demand for both first-time and move-up homes and while earnings are expected to dip this year due to a recent acquisition, analysts are calling for 120% growth in 2021.
The stock is in a confirmed uptrend following last week's base breakout and a pullback to its upward trending 10-day moving average would be an ideal buy point. THMC is due to report earnings later this month and analysts are bullishly raising estimates going into the report.
DAILY CHART OF STERLING CONSTRUCTION CO. (STRL)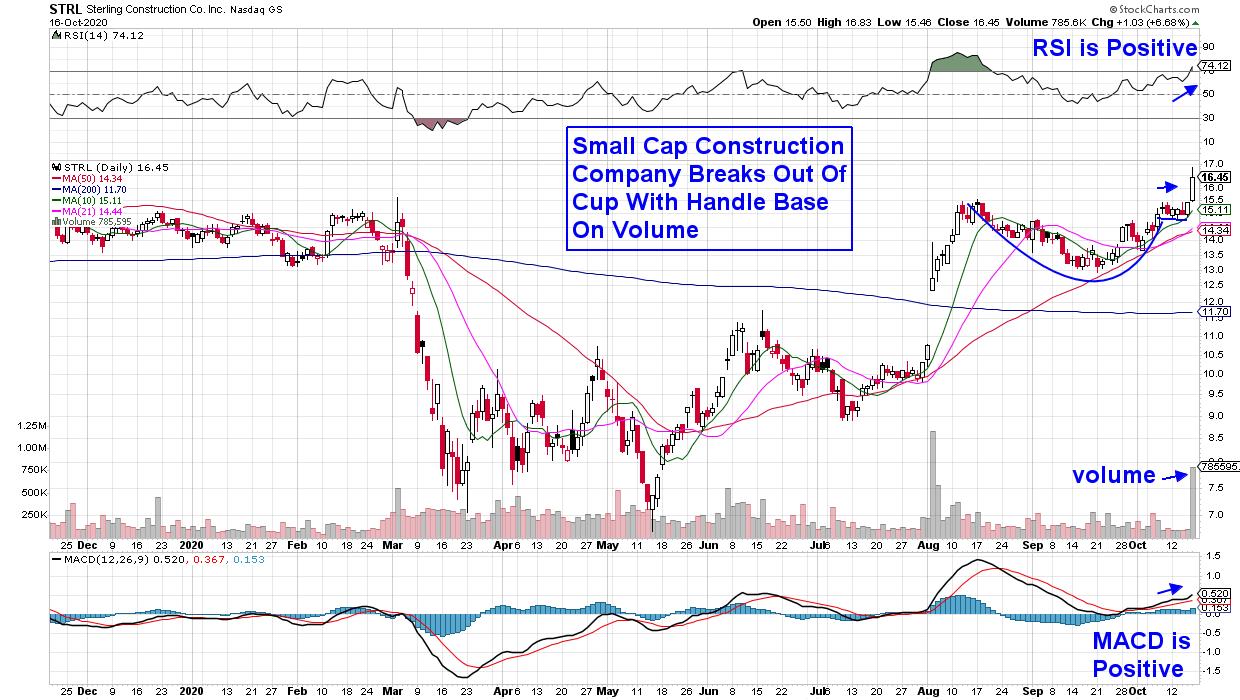 Texas based Sterling Construction (STRL) has a hand in many areas of building and an early slowdown in Residential construction at the beginning of the pandemic was sharply offset by civil and specialty projects where the company reported record backlogs. This translated to triple digit growth during their 2nd quarter of this year.
With growth in housing construction expected to add to their already strong other areas, analysts are raising earnings guidance for the remainder of this year as well as next year. STRL broke out of a 2-month base on huge volume last Friday and the stock appears poised for further upside.
DAILY CHART OF COMFORT SYSTEMS (FIX)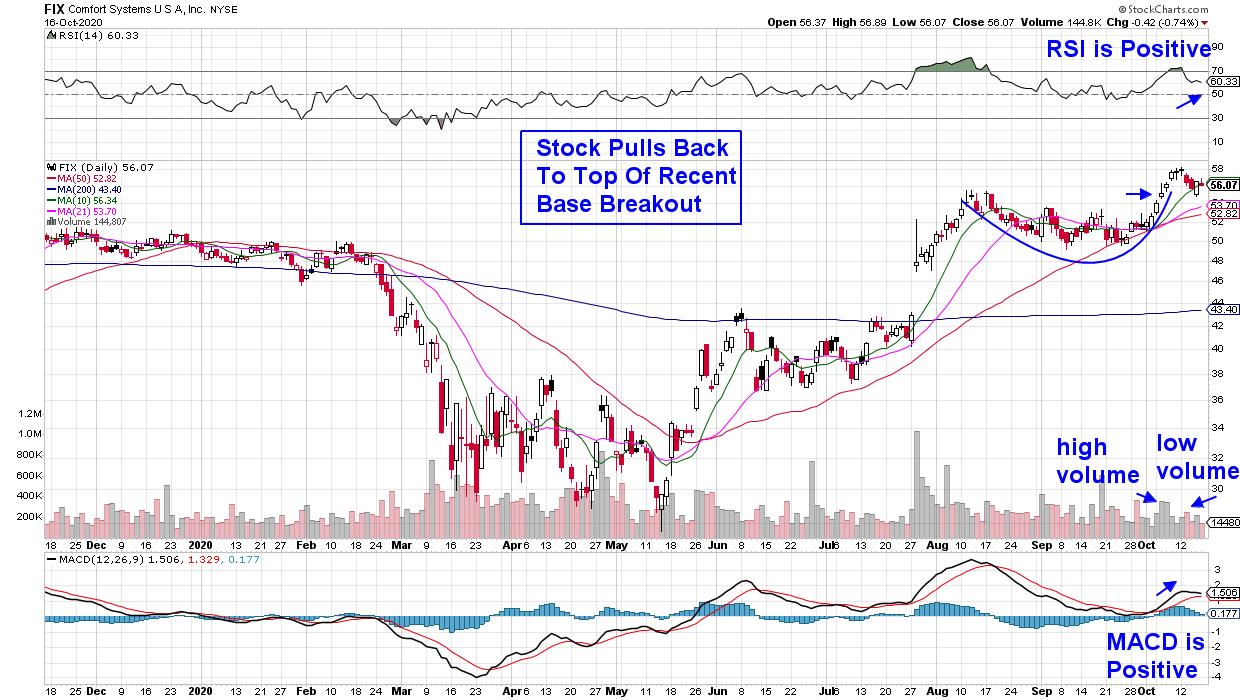 Comfort Systems, USA (FIX) is a multifaceted company that's involved in heating, ventilation and air conditioning systems for commercial as well as residential buildings. The company has seen demand for their installation and repair services grow to a record quarterly level after posting Q2 year over year growth of 137% in late July.
FIX is another Small Cap company where analysts are raising estimates going forward. The stock experienced a 2-month base breakout on volume earlier this month which pushed the stock into an overbought position. Last week, the stock pulled back on light volume to its upward trending 10-day moving average and into a buy zone.
While housing has been a leading area of the economy, my MEM Edge Report has identified several industries that are exhibiting even higher growth with stronger prospects . If you'd like access to my bi-weekly report that includes a list of leaders poised to trade higher, use this link here where you can access a sample report.
You'll also receive insights into the markets and each sector not found elsewhere. Be sure and take advantage of my 4-week trial at a nominal fee. We're in a tricky period for the markets and my MEM Edge Report will help you safely navigate it.
Warmly,
Mary Ellen McGonagle – President, MEM Investment Research