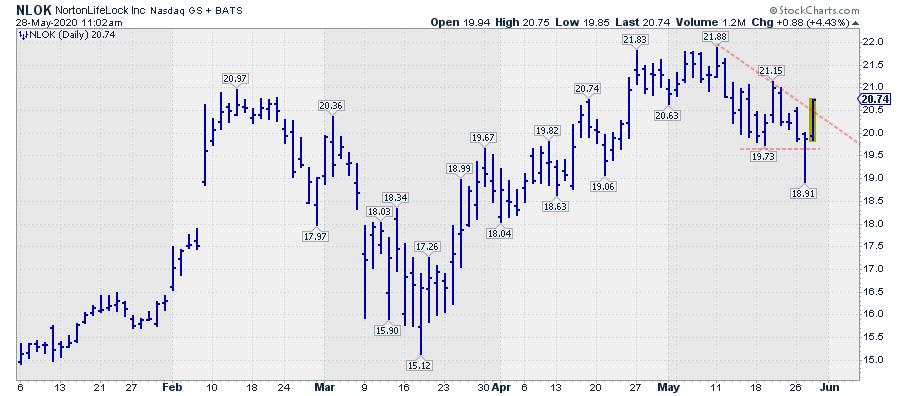 One of my alerts on Stockcharts.com is based on the "Turtle Soup" Strategy which was described by Larry Connors and Linda Raschke in their book "Street Smarts" in 1996!!
I like this setup because it looks for entries around potential tops and bottoms and is therefore a trend-ending setup as opposed to trend-following strategies. The fact that it still works today as it did 25 years ago makes it a very robust setup.
Be careful it is not a "complete" trading strategy but only an entry setup, with regard to the exit you're on your own which enables you to make it fit in your trading style and risk appetite.
I wrote about the setup in this old article : "Combining Relative Rotation Graphs and the Turtle Soup setup" and I have coded a scan to look for this setup on a daily basis and then combined this scan with an alert so I get a heads up via mail when candidates were found.
As the strategy looks for a (re-) test of a former low, you can imagine that I do not receive many e-mails when the market is flying and they start popping in when the market starts to consolidate or correct. The ideal situation is to get alerts for individual stocks while SPY continues to rally.
Yesterday after the close I got this e-mail:
Two names ticking all the boxes for the setup.
With SPY still on a roll, reason enough to check out these charts. I picked NLOK as the chart for this article as I feel it has more strength to it than NEM.
The low of yesterdays bar for example tested a support area between $18.50-$19.00 and we have a nice follow up today that seems to be breaking the declining resistance since early May.
Here is the hourly chart showing the dynamics and the setup for NLOK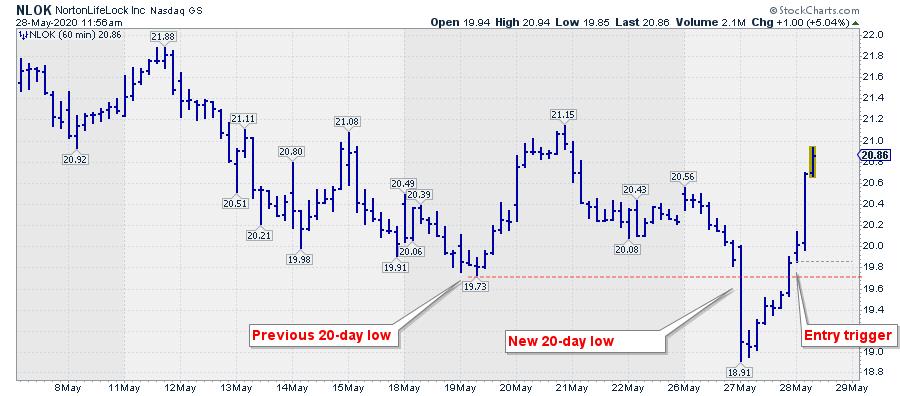 Had we followed the strategy "by the book" then the setup was triggered yesterday (5/27) at the opening when NLOK dropped below its previous 20-day low at $19.73 which was set on 19 May. The entry was then triggered when NLOK came back above this level. Let's say at the closing price of $ 19.85 with an initial stop just below yesterdays low ($ 18.91).
Obviously that opportunity is now long gone but I just wanted to share the anatomy of this setup with you as, IMHO, it is one worth keeping an eye on. And, nevertheless, despite the fact that the first part of the move may have been missed, the chart still looks to be strengthening.
The scan-code is in the linked article above and can be used to scan for setups intraday as well as EOD (like I have setup for my email alerts)
#StaySafe, –Julius
---
My regular blog is the RRG Chartsblog. If you would like to receive a notification when a new article is published there, simply "Subscribe" with your email address.