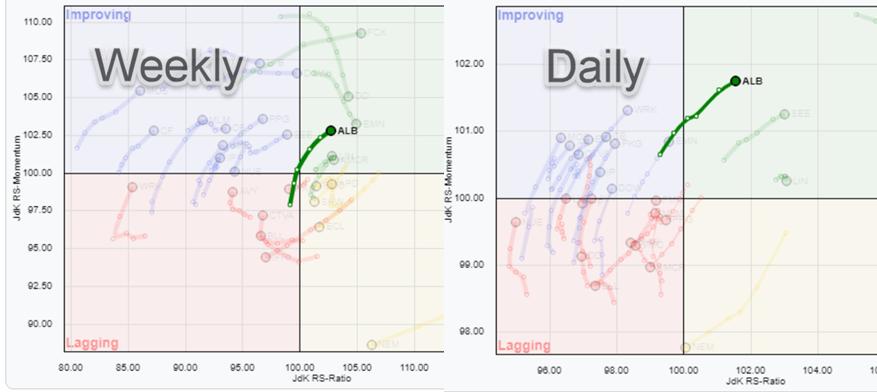 With the Materials sector (XLB) moving into the leading quadrant on the weekly RRG it makes sense to look for some individual stocks that may offer upside potential.
Using Relative Rotation Graphs we can do that by loading all members of the Materials sector and use XLB as the benchmark from the drop down box.
A stock that really attracts attention on both the weekly and the daily RRG is ALB, Albemarle. The two images above show the trajectory for the weekly tail on the left and the daily version on the right.
Both tails are rotating nicely into the leading quadrant at a positive RRG-Heading (0-90 degrees) which suggests that there is more, relative, upside potential for this stock going forward.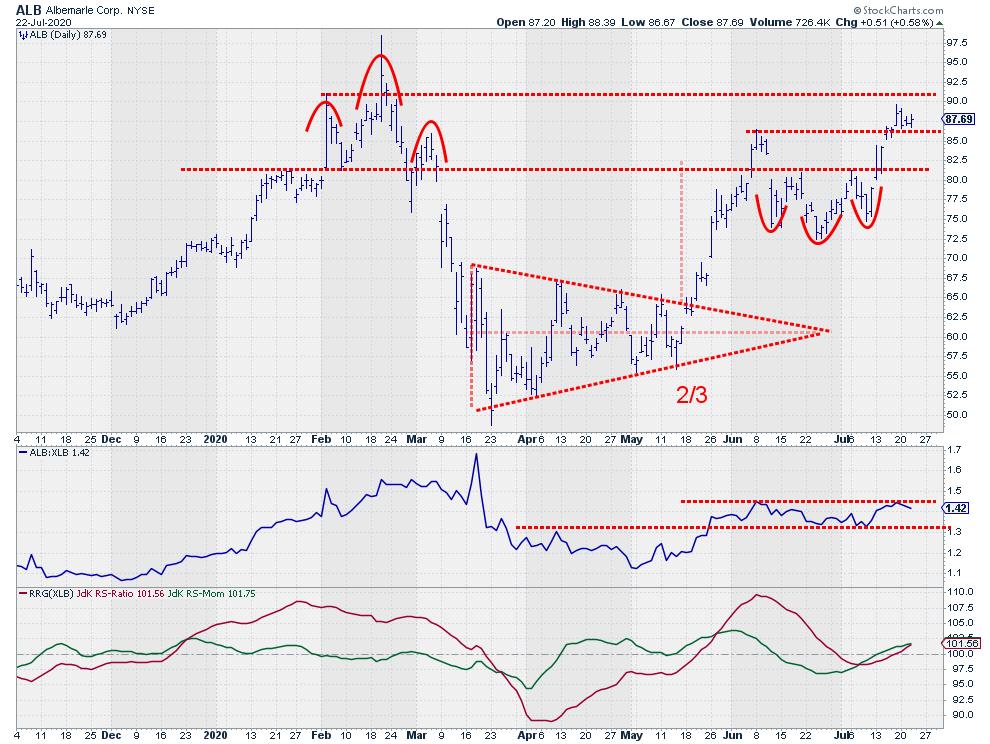 When I opened the price chart, I noticed some nice technical patterns that have worked for ALB so far this year.
First, in February of this year, the small H&S reversal pattern that completed after the uptrend that started in December 2019.
Then after the decline following the completion of that H&S formation an almost perfect symmetrical triangle formed. Four touch points on the declining resistance as well as four touch points on the rising support and an upward break around 2/3 of the base of the formation (they don't get much better than this). Followed by a nice rally that nicely meets, and slightly exceeds, the price target after a few weeks.
After the peak at $86.50 which was just above the expected horizontal resistance just above $ 81, ALB dropped back below this level and then had trouble getting back above it for about a month. During this time an inverted H&S continuation pattern formed which was completed with the break back above resistance/neckline around $ 81.
Currently the stock is working its way higher following that break and it has meanwhile taken out the high at $86.50 which adds to the positive outlook. The next hurdle is the horizontal resistance around $ 91*
*Or $98.40 depending on where you draw your resistance. I prefer to use the level where the "meat" of the price action has taken place. IMHO that is more in the area around $90-$91 than at the spike at $ 98.40. This observation gets even stronger when you add more history to the chart.
With both the weekly and the daily tails for ALB rotating into the leading quadrant I am watching for a break above $91 and a further move upward.
#StaySafe, –Julius
---
My regular blog is the RRG Charts blog. If you would like to receive a notification when a new article is published there, simply "Subscribe" with your email address.