Below is today's Daily Market Report (DMR) that I send to EarningsBeats.com members every day. Today's focus was definitely on health care (XLV). I've been waiting for a few months for its sideways consolidation to resolve and we're getting that now: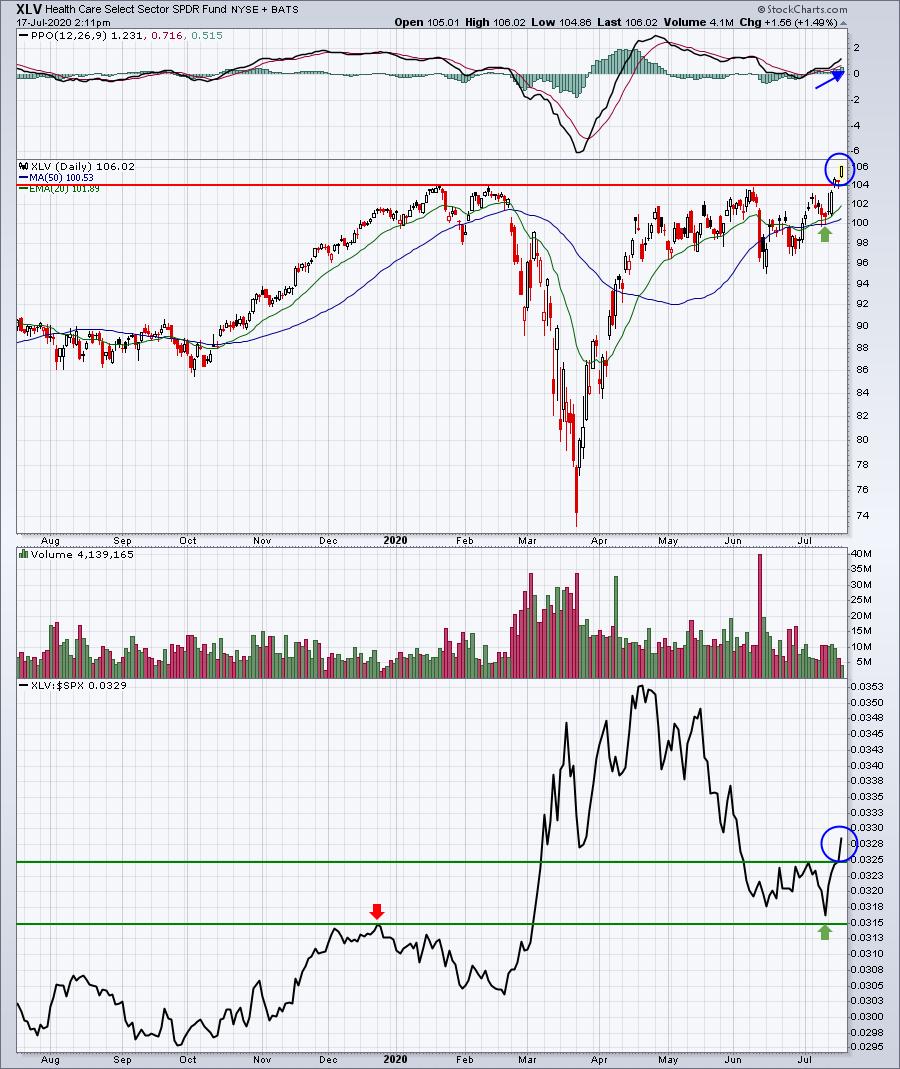 We're seeing breakouts in both medical equipment ($DJUSAM) and biotechnology ($DJUSBT), and it appears as if medical supplies ($DJUSMS) will be the next industry within this sector to break out.
If you enjoy the DMR below, please consider signing up for a fully-refundable $7 30-day trial. The timing is perfect as I'll be hosting a members-only webinar on Monday, July 20th at 4:30pm ET to discuss the best and worst stocks to own as earnings season kicks into full gear! For more information, CLICK HERE.
Executive Market Summary
Futures were higher this morning, despite a shockingly weak earnings report from Netflix (NFLX)
The 10 year treasury yield ($TNX) rises 2 basis points to 0.63%
Economic reports – housing starts and consumer sentiment – came in below expectations
Asian markets were mixed overnight, while European markets are mostly higher
Two key transports, JBHT (trucker) and KSU (railroad), missed revenue estimates, but beat EPS estimates
Transports ($TRAN) have reacted positively, which is good news for stocks
Health care stocks are dominating the S&P 500 leaderboard today
Utilities (XLU), health care (XLV), and real estate (XLRE) are leading U.S. equities higher
Energy (XLE) is the primary laggard
Netflix (NFLX) missed EPS estimates by a wide margin and issued soft guidance for its next quarter
Market Outlook
I've remained bullish health care stocks (XLV) despite their consolidation the past few months. They're making a nice breakout now. From a seasonal perspective, it's right on time. The biotechs ($DJUSBT), for example, have outperformed the S&P 500 75% of Julys over the past 20 years. The average July outperformance is 3.3% and we're seeing outperformance again this year: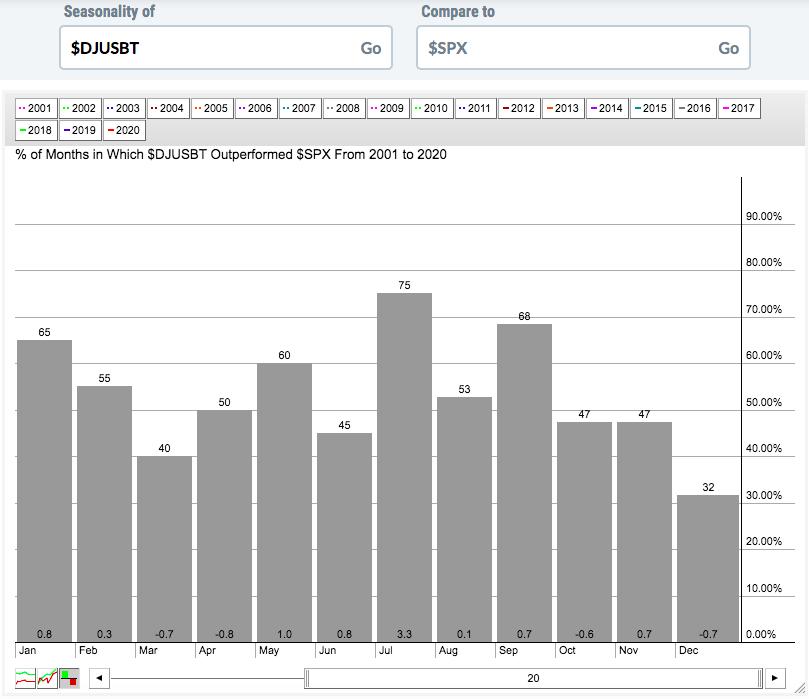 July, August, and September all have proven to be better-than-average months for biotechs. The same holds true for medical equipment: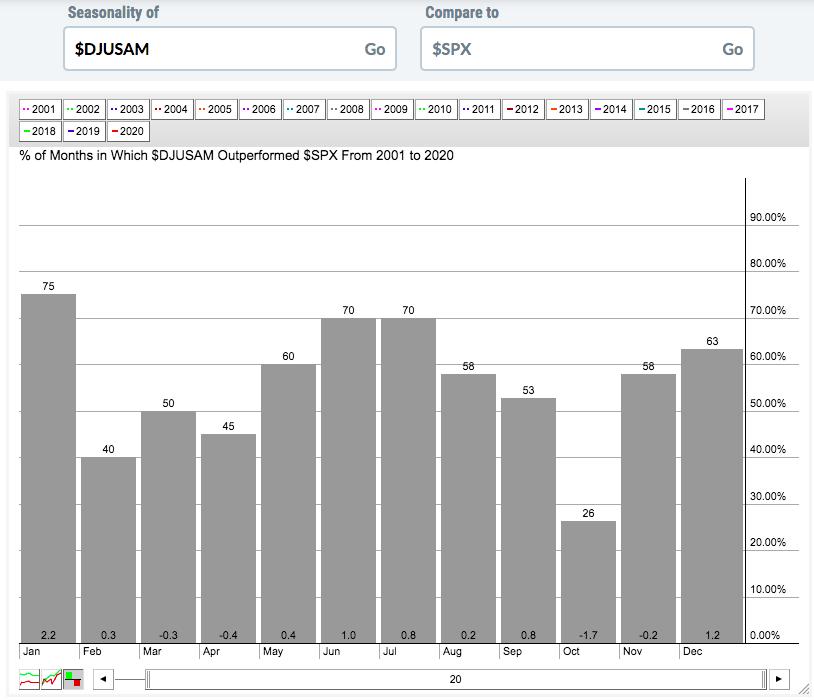 Tis the season for health care.
Sector/Industry Focus
I'm not done talking up this group, because I believe it's important. Health care stocks (XLV) have finally cleared resistance. The XLV is one of just three sectors that are higher today. Medical equipment ($DJUSAM) is leading the way and I expect will resume its longer-term relative uptrend vs. the S&P 500. Therefore, I am very bullish the medical equipment stocks on our ChartLists currently. Here's the latest chart on the DJUSAM: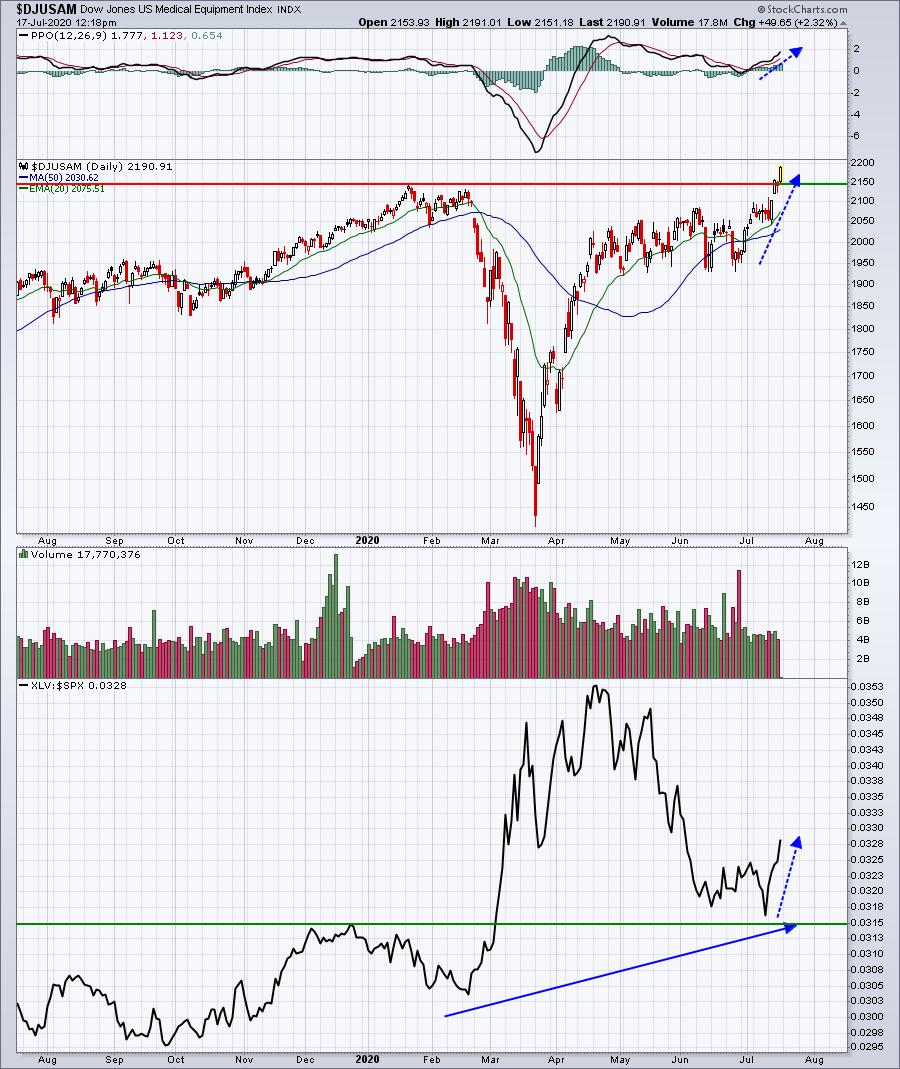 Biotechs ($DJUSBT) are also having another solid day. We've seen how far this group has advanced after its breakout. I'm expecting similar results from medical equipment stocks as all technical signs are pointing higher. Watch the rising 20 day EMA now on any pullbacks as I expect them to hold.
ChartLists
Let's start with the Short Squeeze ChartList (SSCL), which is producing some very nice winners of late. The key to working with the SSCL is to realize that these are not all great stocks to own. But they do all possess one important characteristic. A lot of traders are short and positioned to lose A LOT of money if their short position goes against them. Therefore, breakouts can trigger "short squeezes", which force those short sellers to cover (buy). Yesterday, SPCE broke out on its heaviest volume since February. Check it out: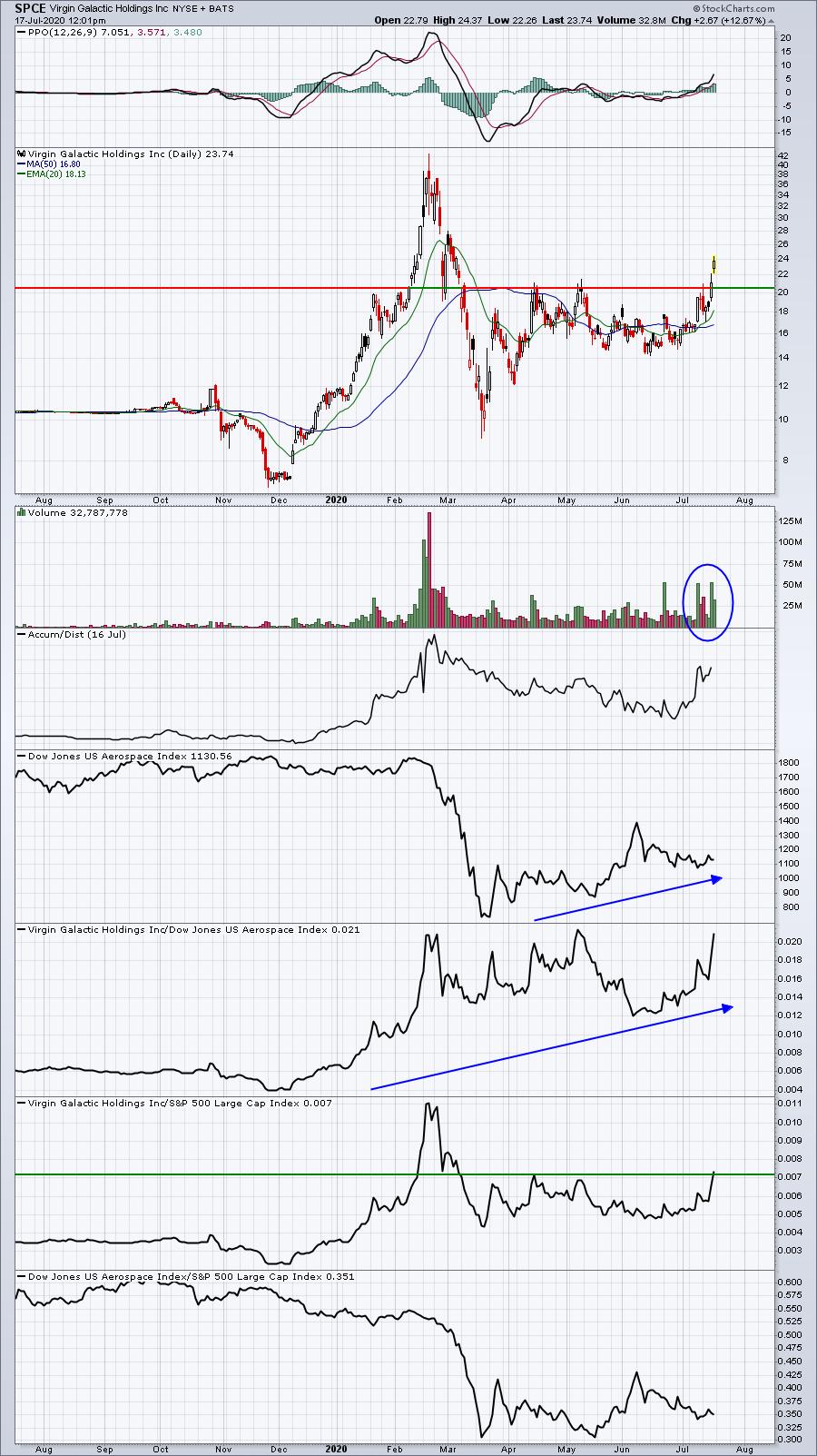 Look what's happened to OPK since clearing 2.90 resistance: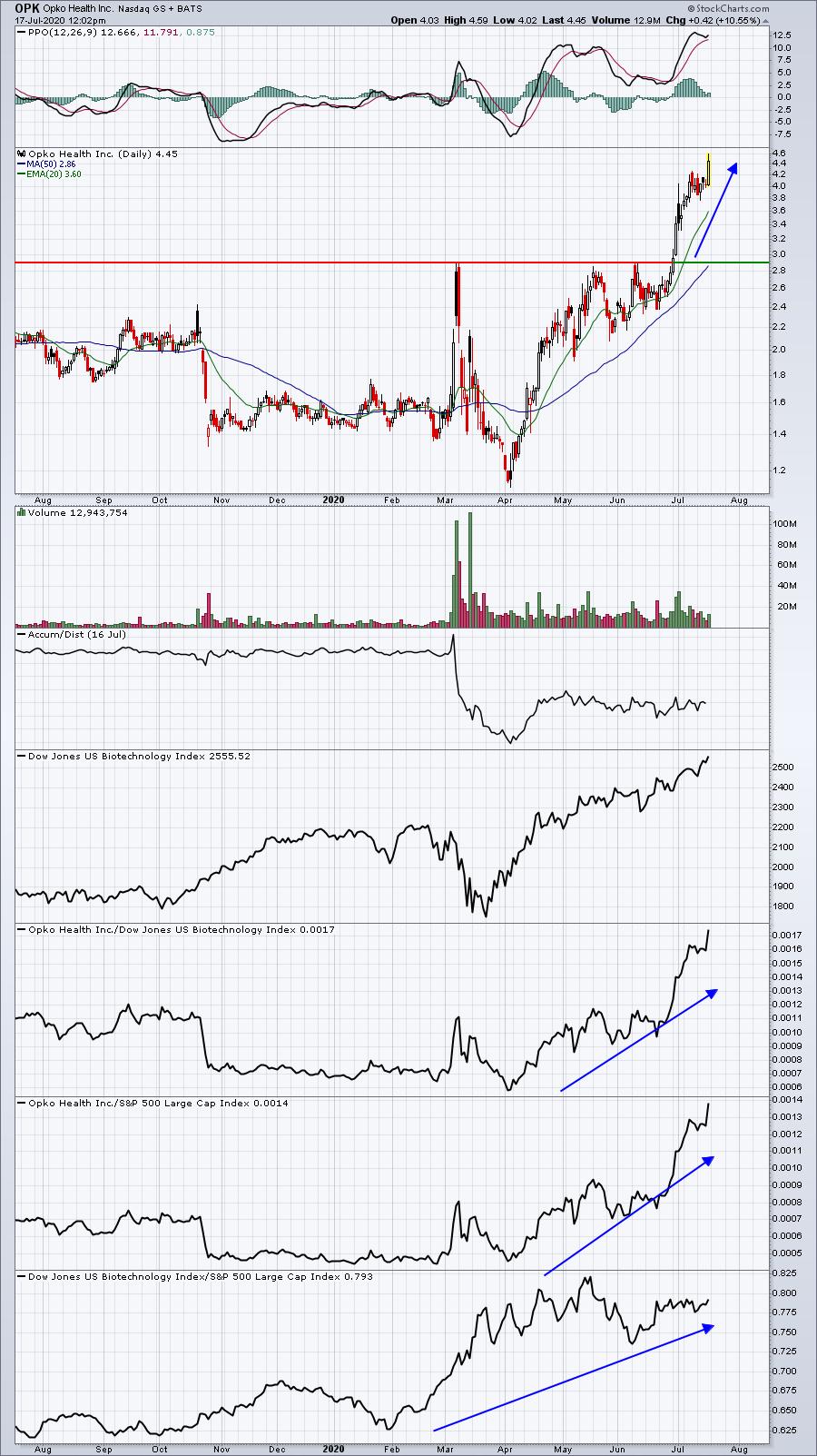 I've written several times about APT, but its surge the past two days has been on "short squeeze" type volume: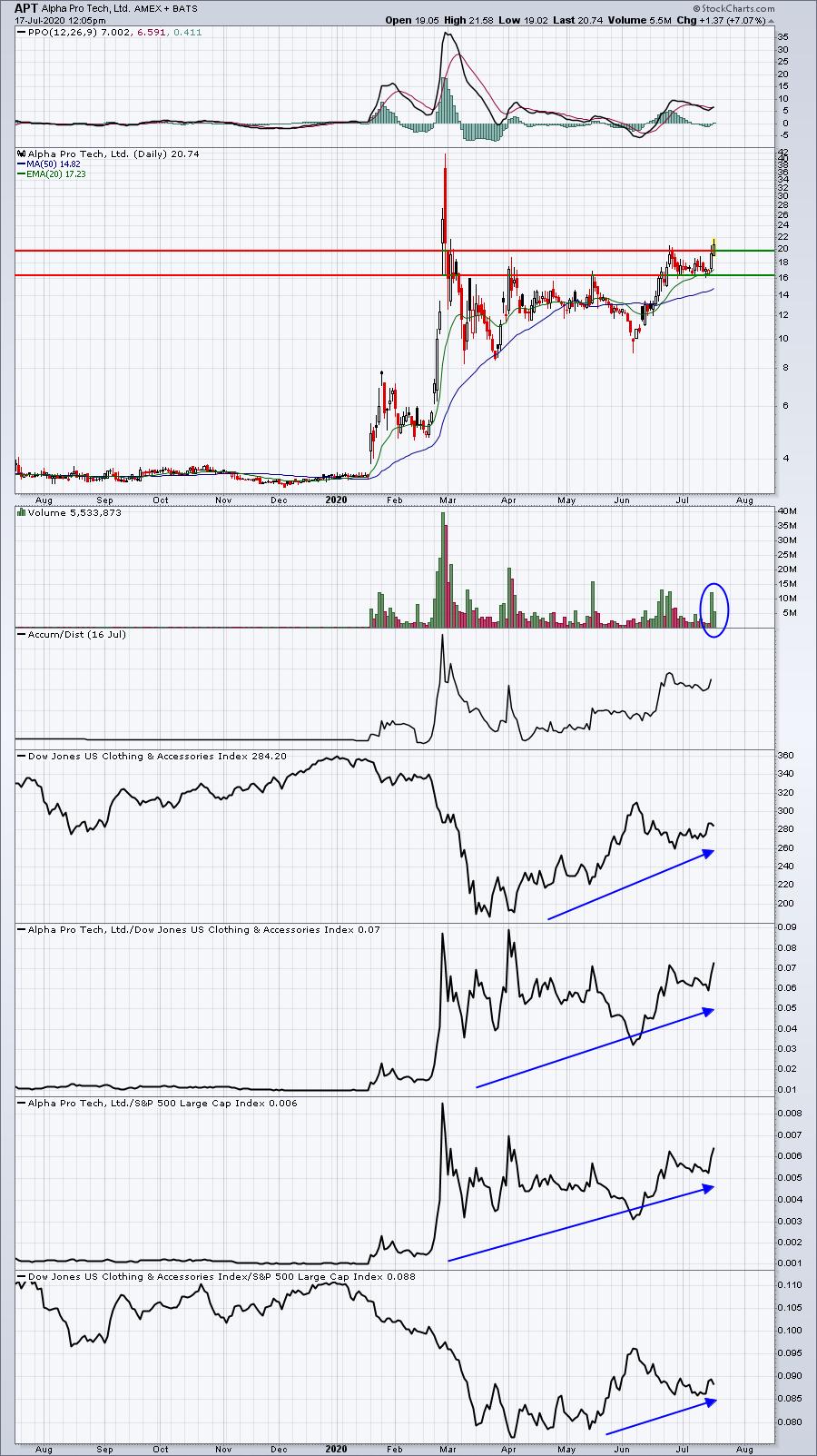 Another SSCL stock that appears to be squeezing the shorts is WTRH: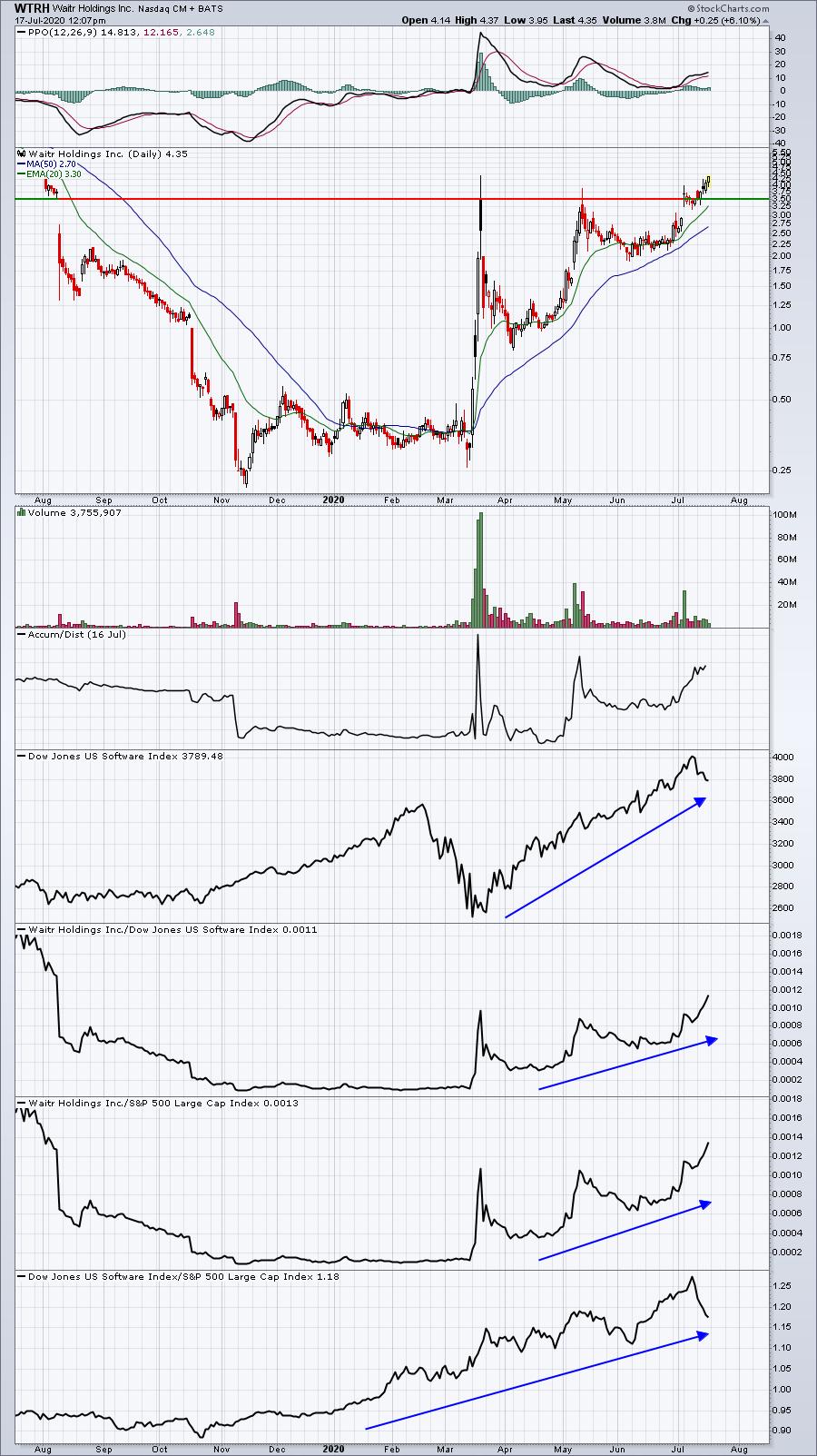 I talked a lot about medical equipment stocks earlier in this DMR, so it's only fitting that we take a look at a medical equipment short squeeze stock – PLSE: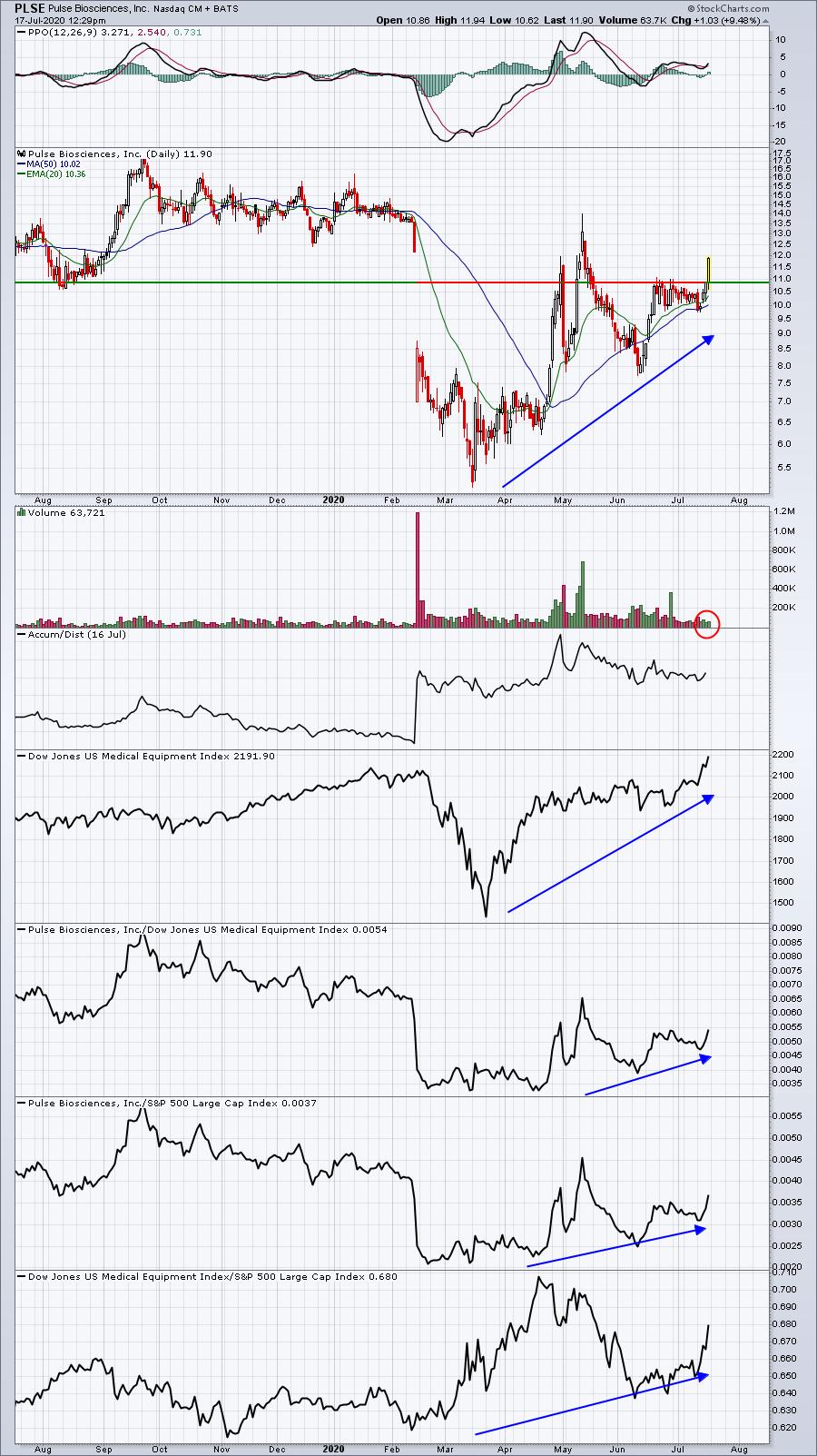 There are two caution signs to be aware of here. First, PLSE does not typically trade a lot of shares. That would keep me out of the stock, so I wanted to share it. Second, today's volume hasn't been explosive, at least not yet. For a short squeeze to truly begin to take shape, we'll need to see that volume expand considerably.
So let's consider other medical equipment stocks on our ChartLists.
NVRO: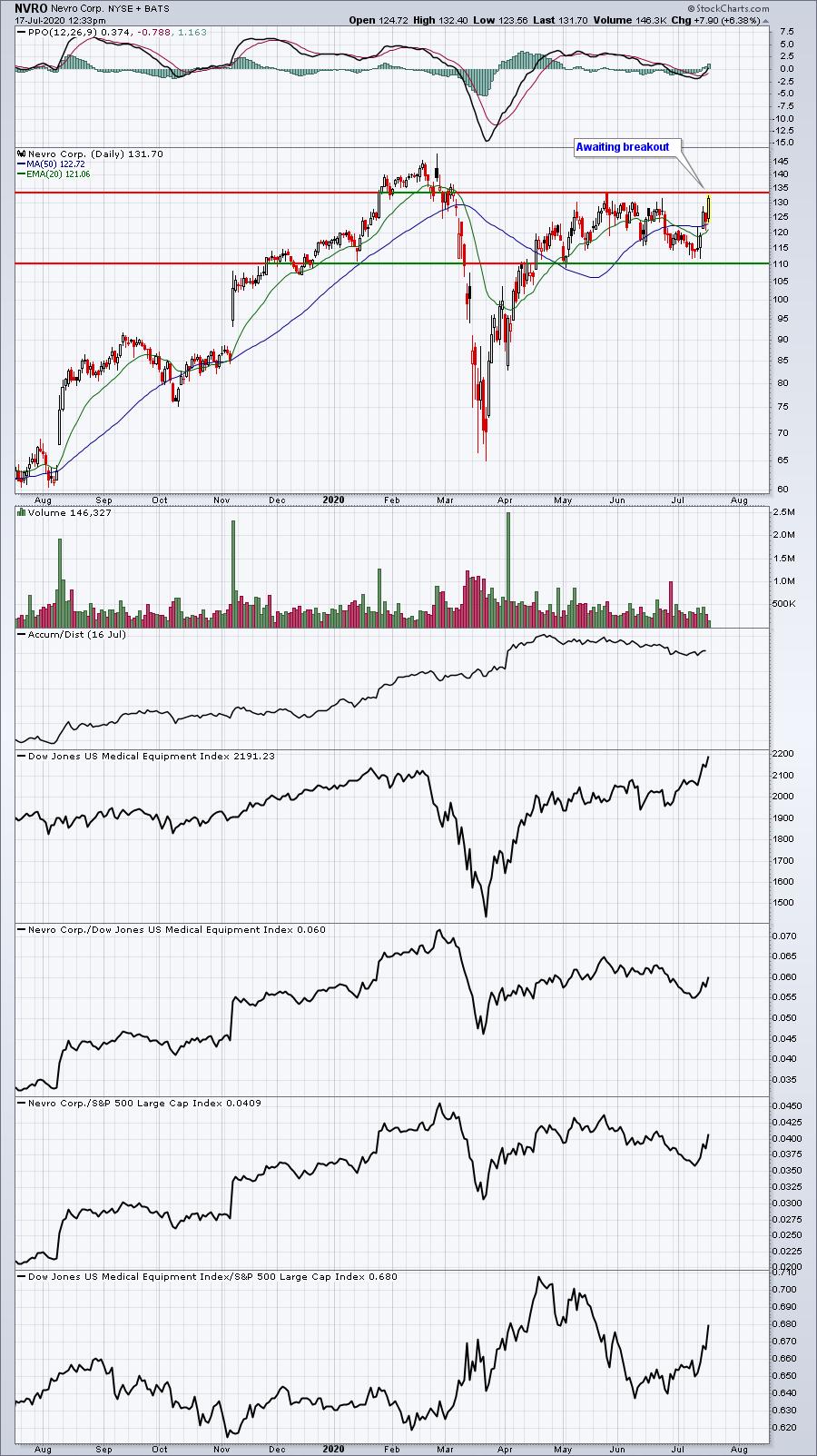 A: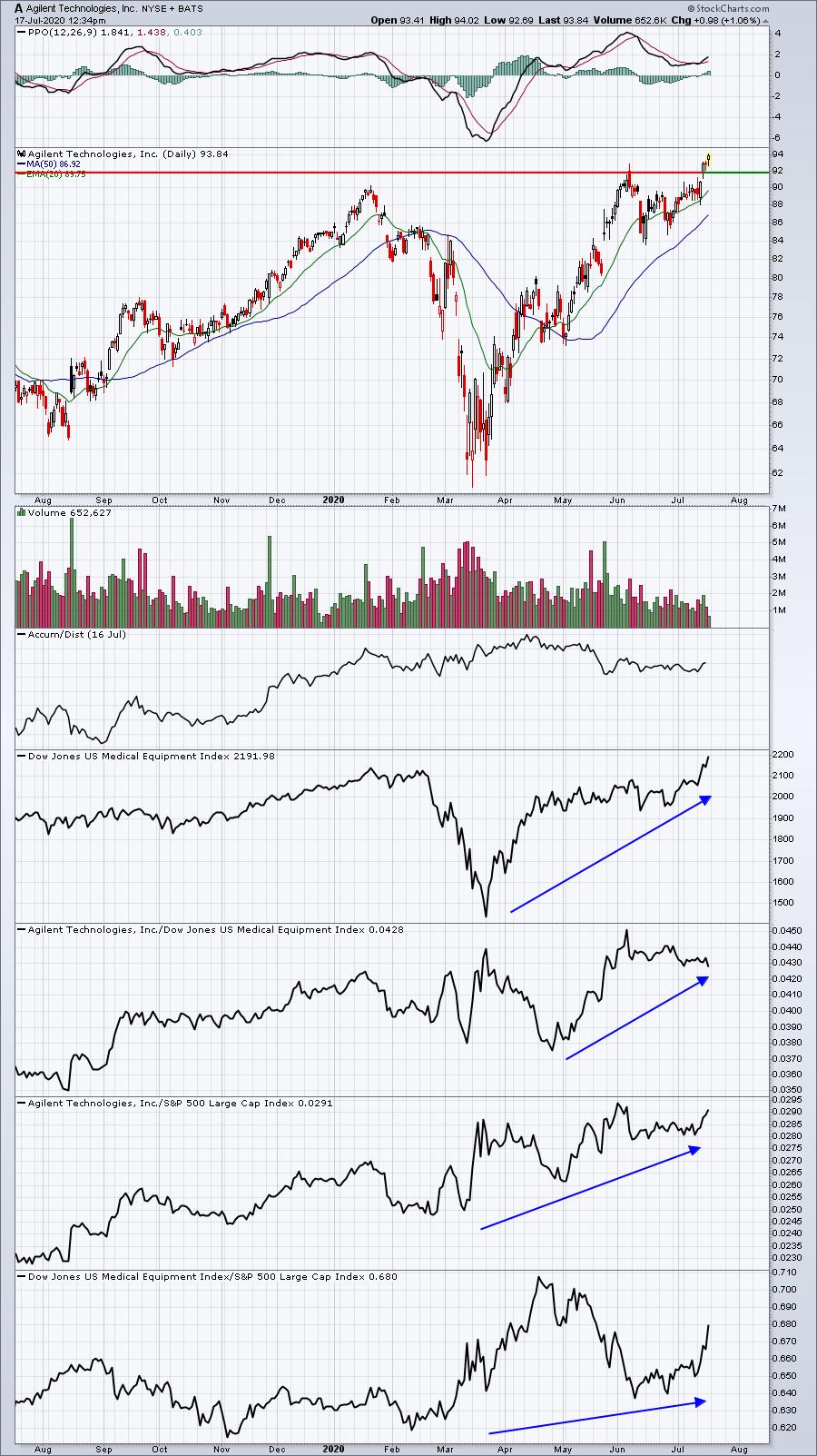 TNDM: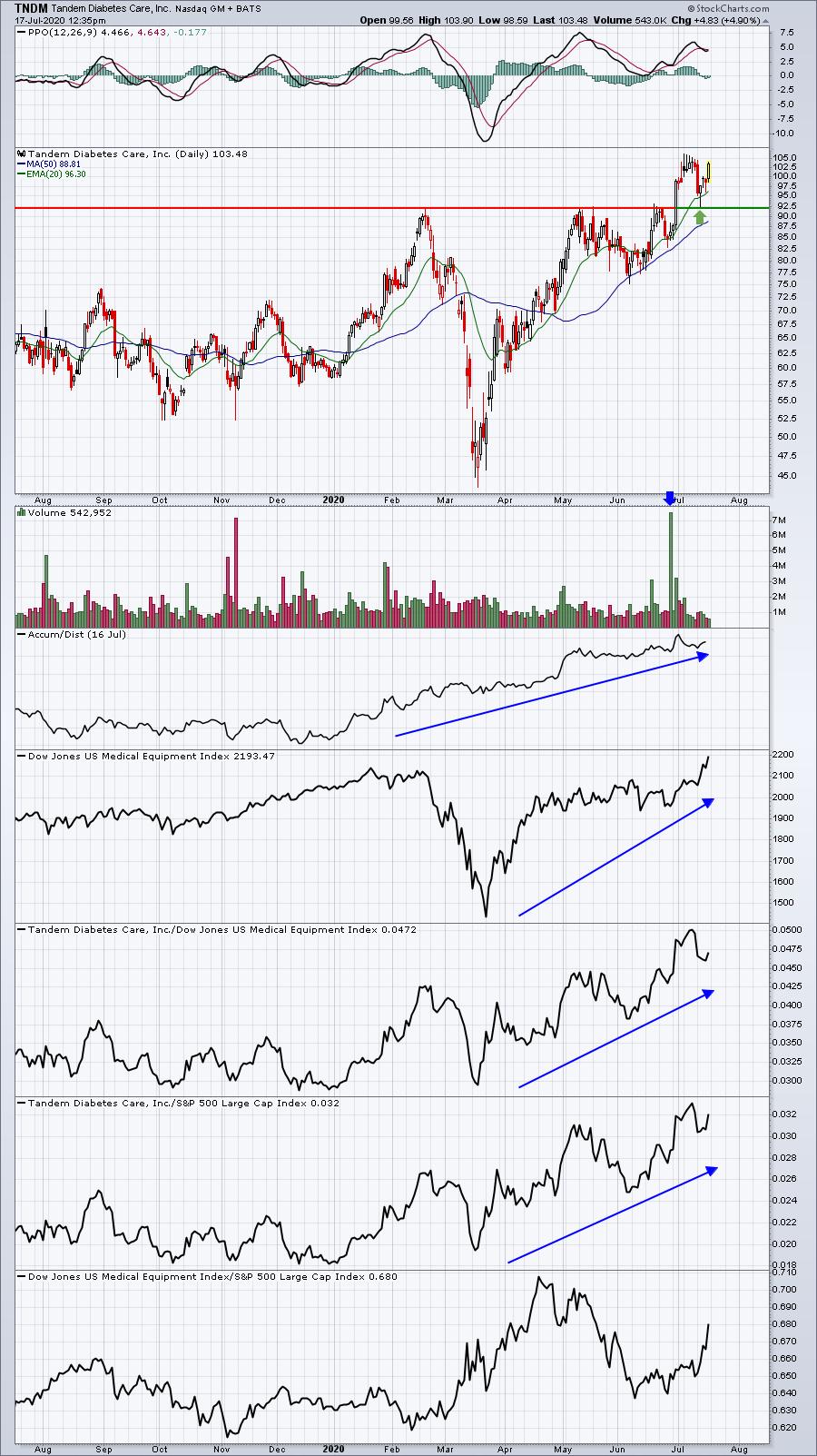 Of these last 3, A has been a great performer and recently broke out. But my favorite would be TNDM, which broke out on massive volume, held both price and 20 day EMA support on its latest pullback – which is indicative of a sustainable uptrend – and is a monster on a relative basis vs. its medical equipment peers.
Now let's take a different angle. I looked at the Downtrend Reversal scan, which picks up stocks that have printed lower highs for 5 days in a row…..until today. Today's high has cleared yesterday's high and COULD suggest a new uptrend has begun. From our Strong Earnings ChartList, here are the names:
DOCU, OKTA, TWLO (all software names). TWLO has already made a fairly significant move, so let's look at DOCU: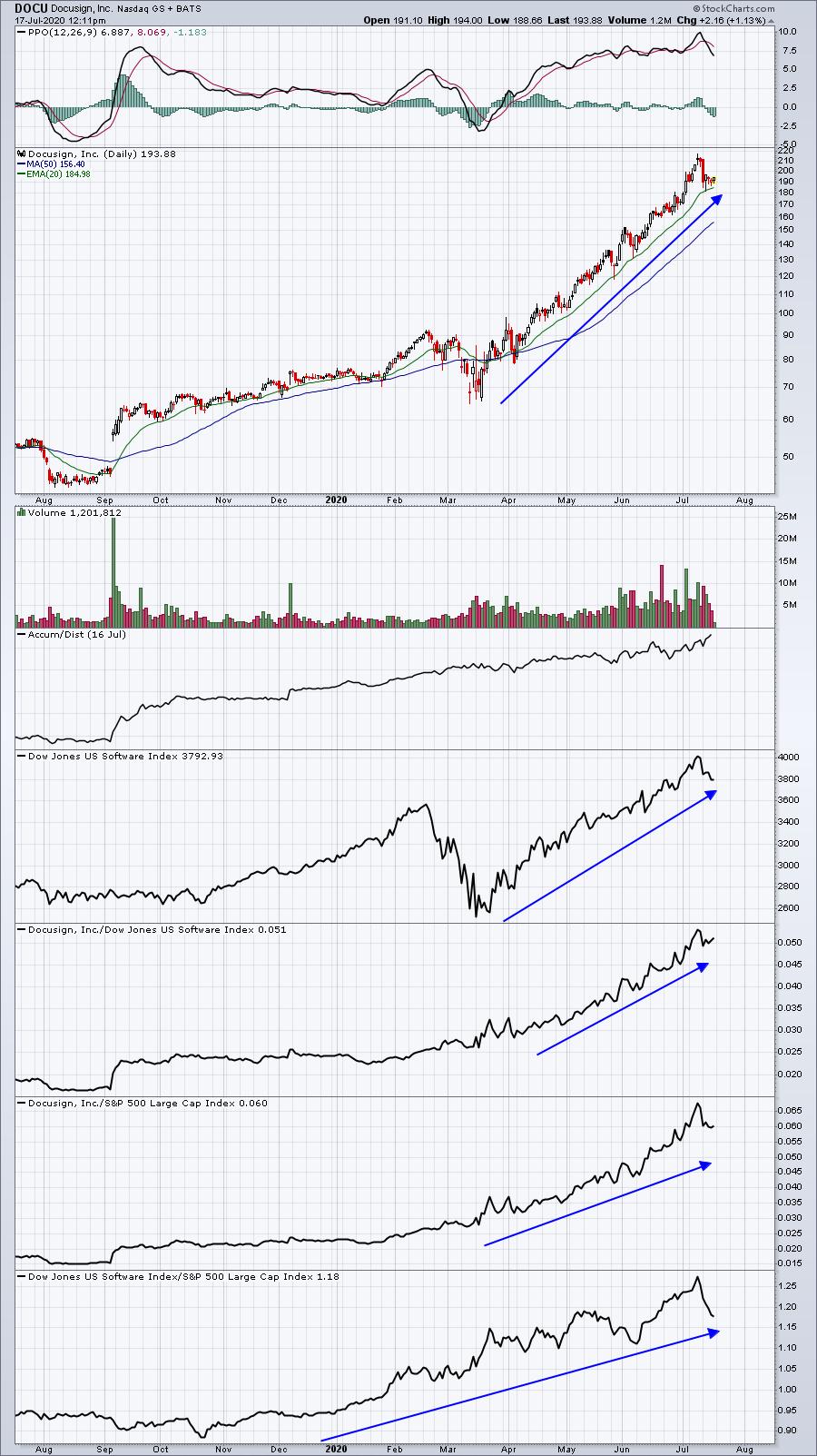 DOCU has held successfully on every 20 day EMA test since early-April. I'd be careful on a close beneath that level. Until then, however, DOCU remains in a powerful uptrend.
Earnings Reports
Here are the key earnings reports for today and tomorrow, featuring stocks with market caps of more than $10 billion. I also include a few select companies with market caps below $10 billion. Finally, any portfolio stocks (or active trade alerts) that will be reporting results are highlighted in BOLD. If you decide to hold a stock into earnings, please understand the significant short-term risk that you are taking. Please be sure to check for earnings dates for any companies you own or are considering owning:
Friday, July 17:
BLK, ERIC, STT, KSU, CFG, RF, ALLY, ALV
Monday, July 20:
IBM, CDNS, ELS, HAL, LOGI, LII, CCK, STLD, ZION, MAN, LLNW
Economic Reports
June housing starts: 1,186,000 (actual) vs. 1,195,000 (estimate)
June building permits: 1,241,000 (actual) vs. 1,298,000 (estimate)
July consumer sentiment: 73.2 (actual) vs. 79.0 (estimate)
Happy trading!
Tom