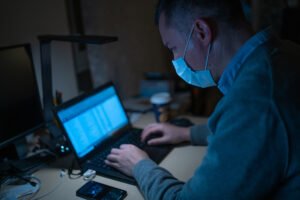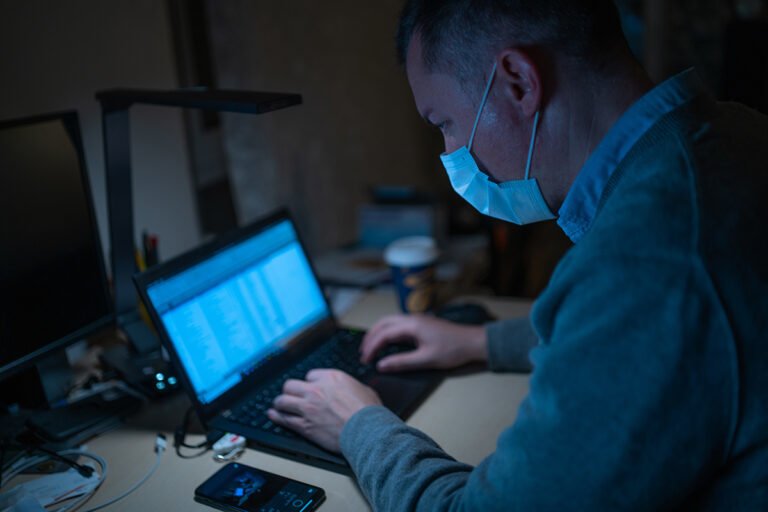 As our world is shaken in the most dramatic way imaginable, it is time for our global startup community to get closer, support, and learn from each other. Some of us remember the crash of 1987, the dot-com bubble burst of 2000-2001, and the 2007 financial crisis. With COVID-19, not only is the economic crisis sudden, the human impact is also horrific.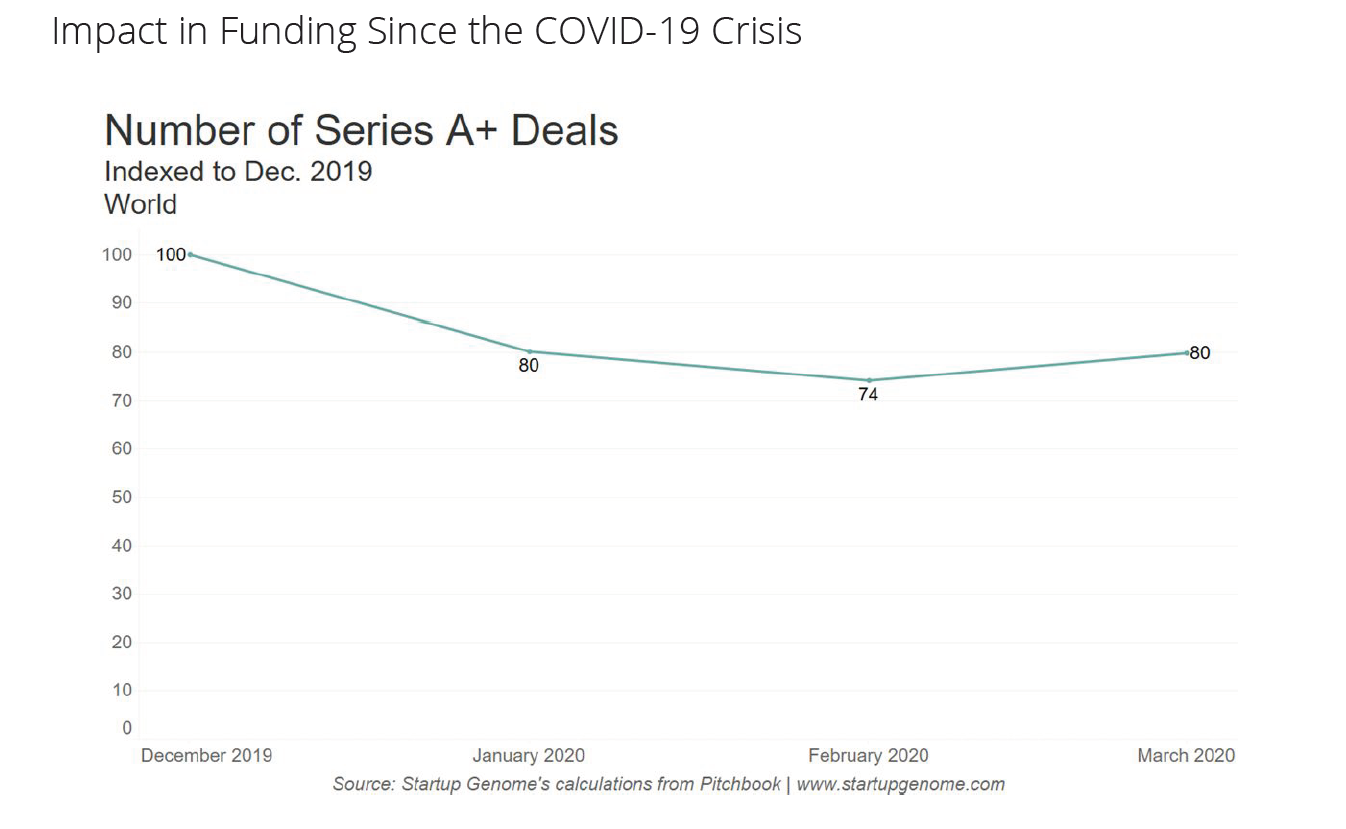 To better understand the impact of COVID-19 crisis on startup ecosystems and to help founders and policymakers get through the storm, Startup Genome has launched our COVID-19 and Startup Ecosystems Series, of which this is our first installment, as well as a Global Policy Database for governments to learn from each others' initiatives.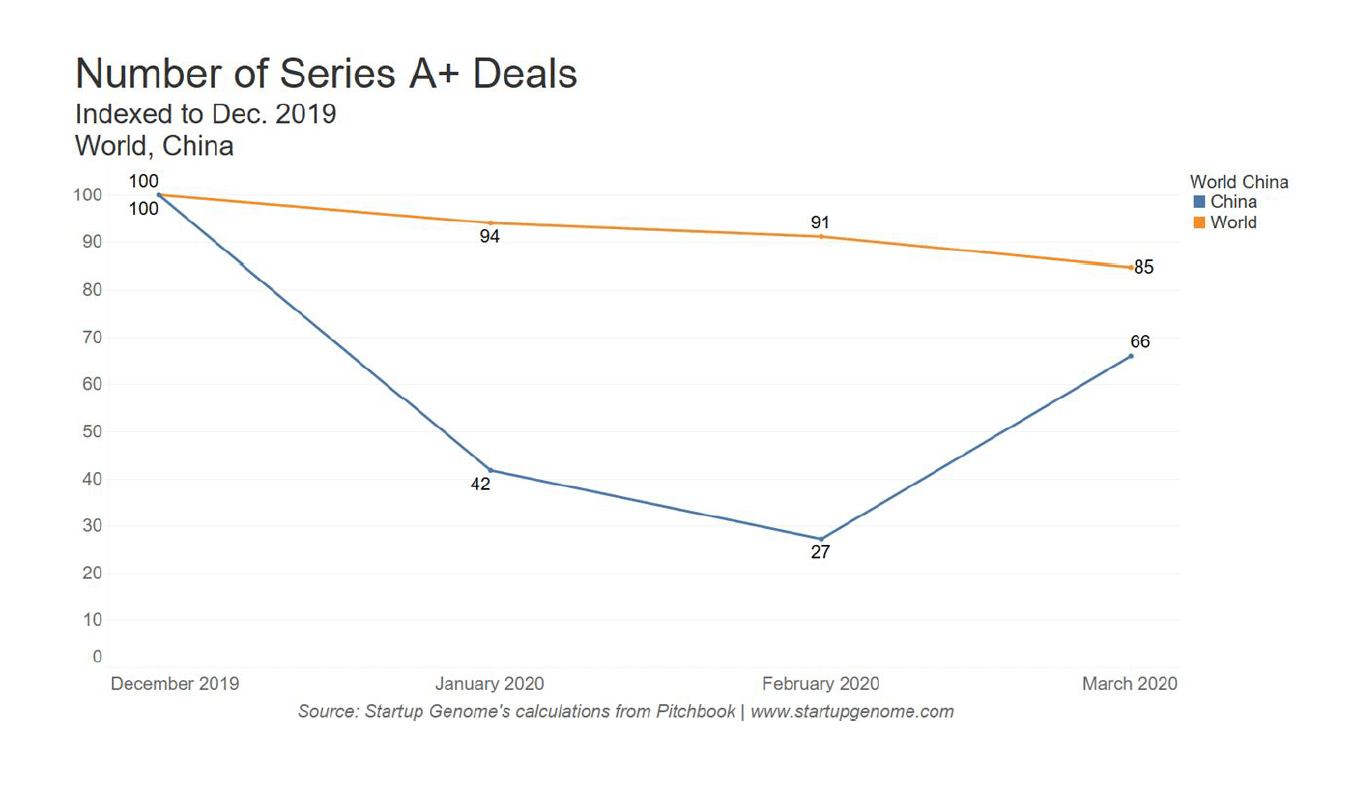 The Impact Of COVID-19 On Global Startups
In this briefing, the key findings are:
Global venture capital funding has dropped by about 20 percent since the onset of the crisis in December The drop, however, is far from evenly distributed.
China, the first country hit by the coronavirus crisis, had a drop of over 50 percent in funding relatively to the rest of the world in January and Nonetheless, China has seen a rebound in March, although with numbers still lower than pre-crisis levels. Asian ecosystems (excluding China) also saw a major drop beginning in January, with no rebound as of March.
On an initial look it seems like the United States has so far experienced only relatively small changes in startup funding since December: a drop of less than 10 percent by However, when we take into account the seasonality pattern from previous years, with January consistently showing more activity than December, the small drop between December and the beginning of the year means that every month of the first quarter of 2020 in the U.S. saw over 15 percent fewer deals than the same months in 2019.
European ecosystems only saw drops in funding activity starting in March, of about 10 percent compared to December — the last continent among all regions of the world to see an impact on number tech investment deals.
As we reported in our latest global startup survey results, 4 out of every 10 startups global are in what we call "red zone" — they have 3 months or fewer of cash runway. This means that if these companies do not change their cash flow situation and do not raise additional funds they will die. For startups that have raised Series A or later rounds, 34 percent have less than 6 months worth of cash — a danger zone in the current situation where fundraising is difficult.
The double whammy of the drop in demand (3 out of every 4 startups have had their revenue decline) with the capital crunch startups are in makes this global drop in venture capital particularly worrisome. For more insights from our global startup survey, please see our latest report on the topic.
Startups will be key to the economic recovery: they create most of the net new jobs in the economy, and are especially more relevant now as our society becomes increasingly digital. Yet, we are at a risk of a mass extinction event for tech startups. Governments need to act now to support these companies so that their digital innovation and economic recovery capabilities are not decimated. This is especially true for emerging ecosystems — those without the decades of experience and capital pool in places like Silicon Valley.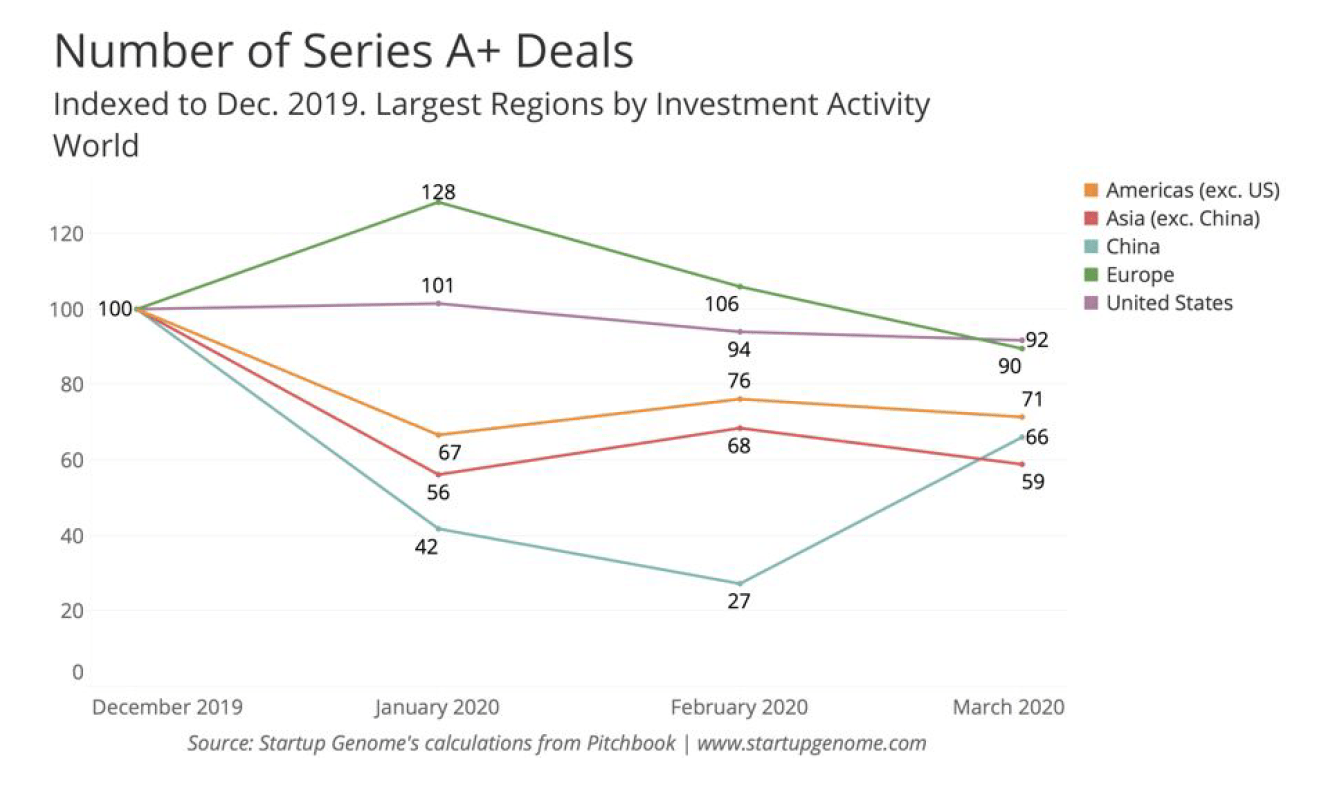 No data on startups is perfect and what we present here is no exception. For instance, funding rounds can take a while between the time they happen and the time they show up on the databases. To address this, we focus on Series A+ rounds — which have smaller time lags than Seed rounds — and target our analysis using global comparisons. In addition to presenting an extensive appendix of charts and analysis for the readers, we discuss more the question of time lags in funding data in the methodology section.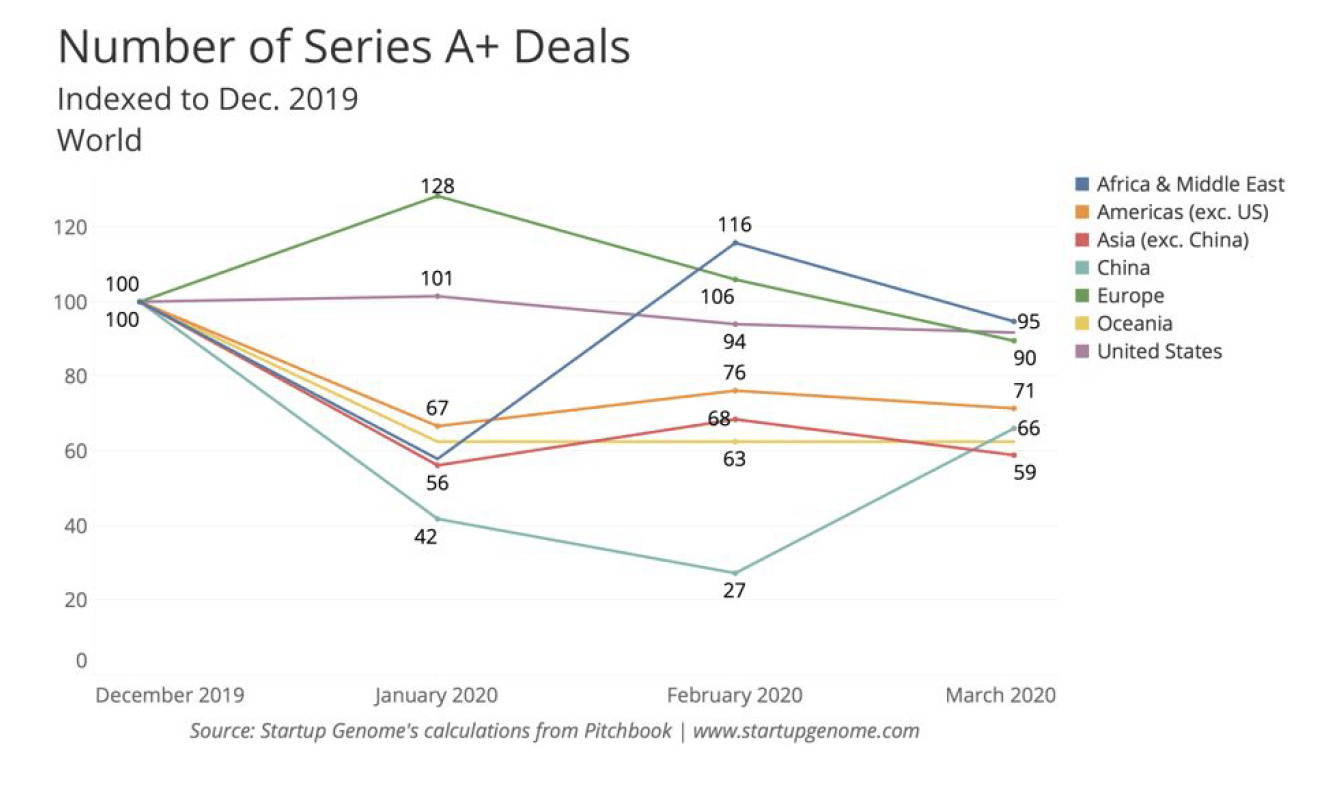 In the coming weeks and months Startup Genome will continue publishing insights on the impact of the coronavirus crisis on startups, and continuing to build tools for governments and ecosystems to support their startups through the crisis. You can sign up here to get it.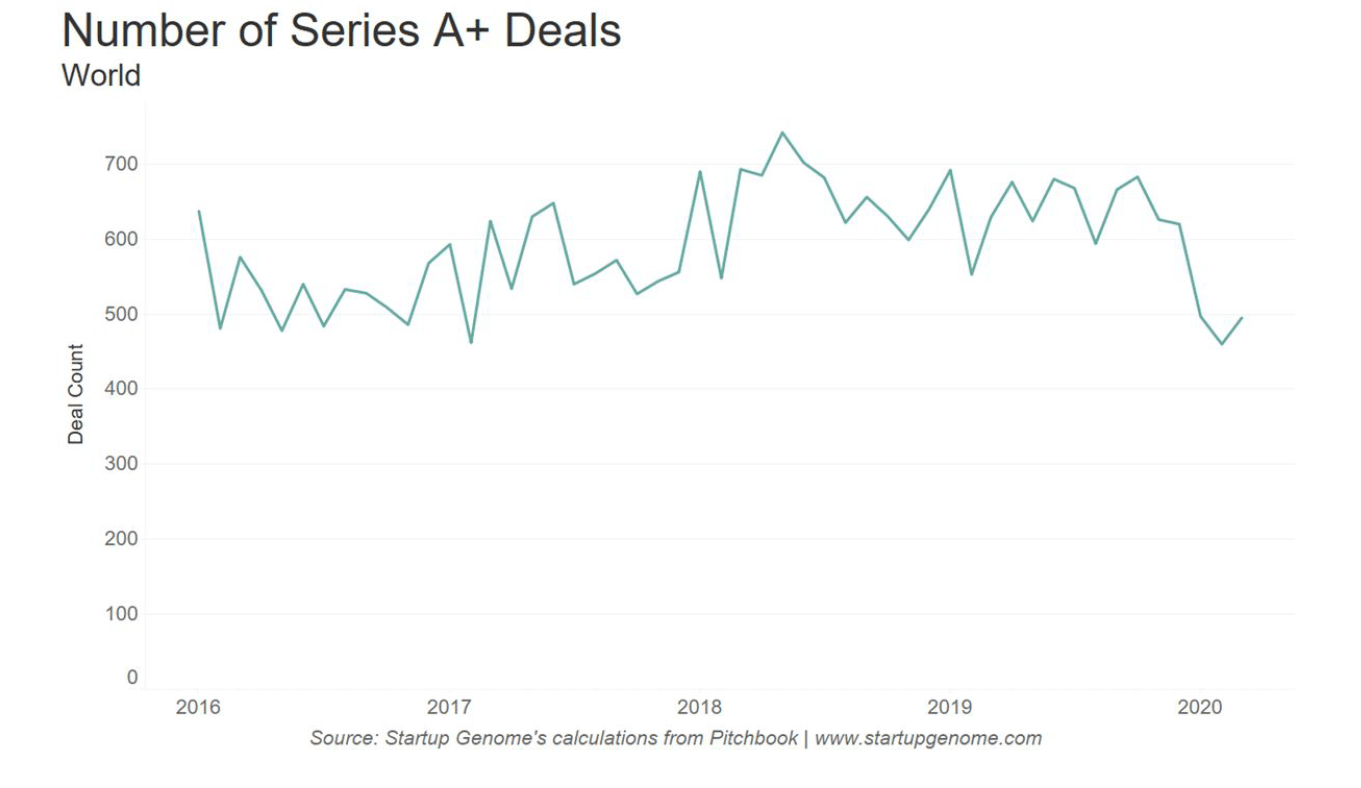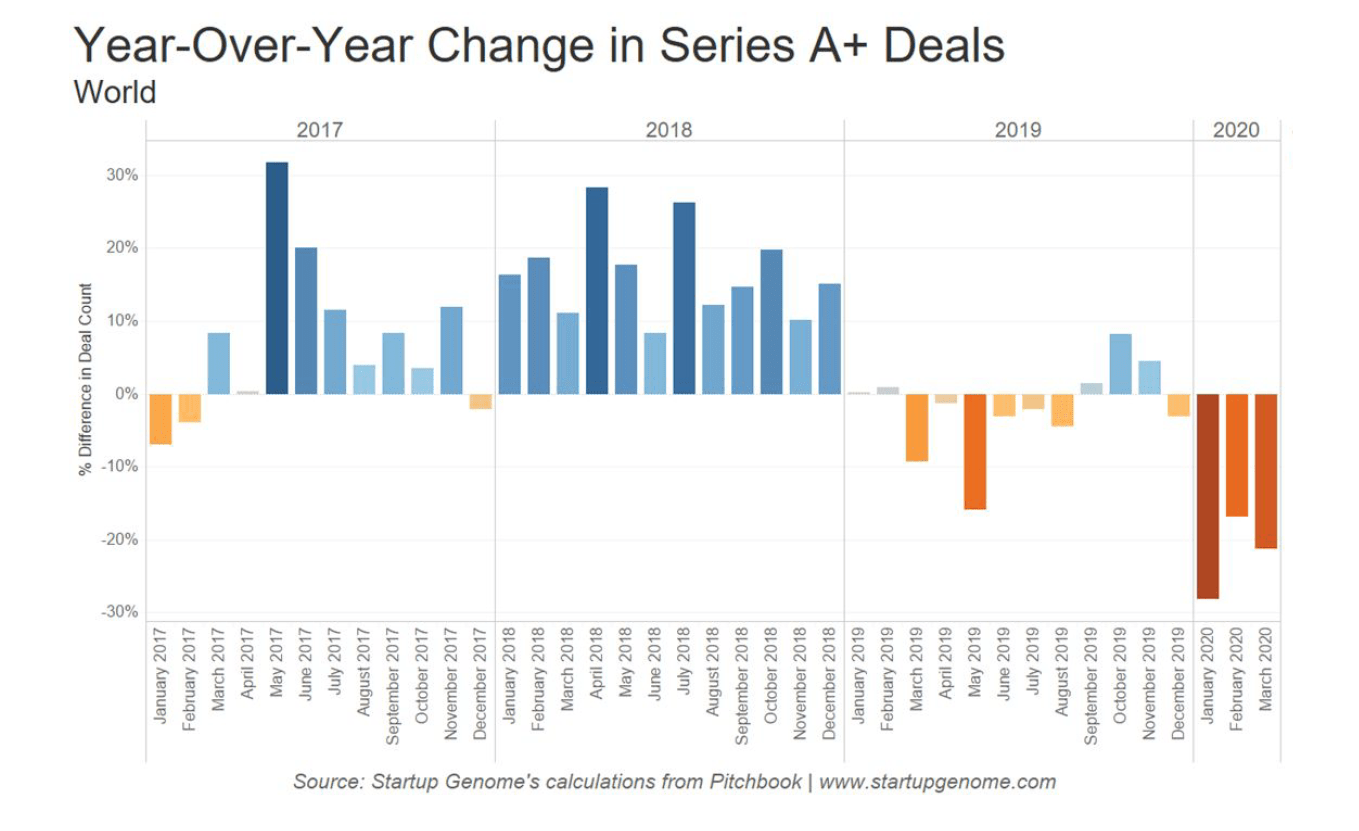 The post Global Startup Survey Reveals COVID-19 Caused Fundings To Drop appeared first on ValueWalk.