It's been quite a week for the markets and, while market news is likely to focus on the explosive gains in select FAANG stocks, I believe there's an even bigger story that's come to light during this surprisingly robust earnings season.
You see, Facebook (FB), Apple (AAPL) and Amazon (AMZN) had already revealed themselves as leaders well before last week's bullish earnings reports propelled them even higher. What's more interesting to me are the earnings reports over the past 2 weeks that point to a bullish tipping point in 5G related stocks, indicating that the super cycle in this new wireless standard is finally positioned to take off.
WEEKLY CHART OF ERICSSON TELEPHONE CO. (ERIC)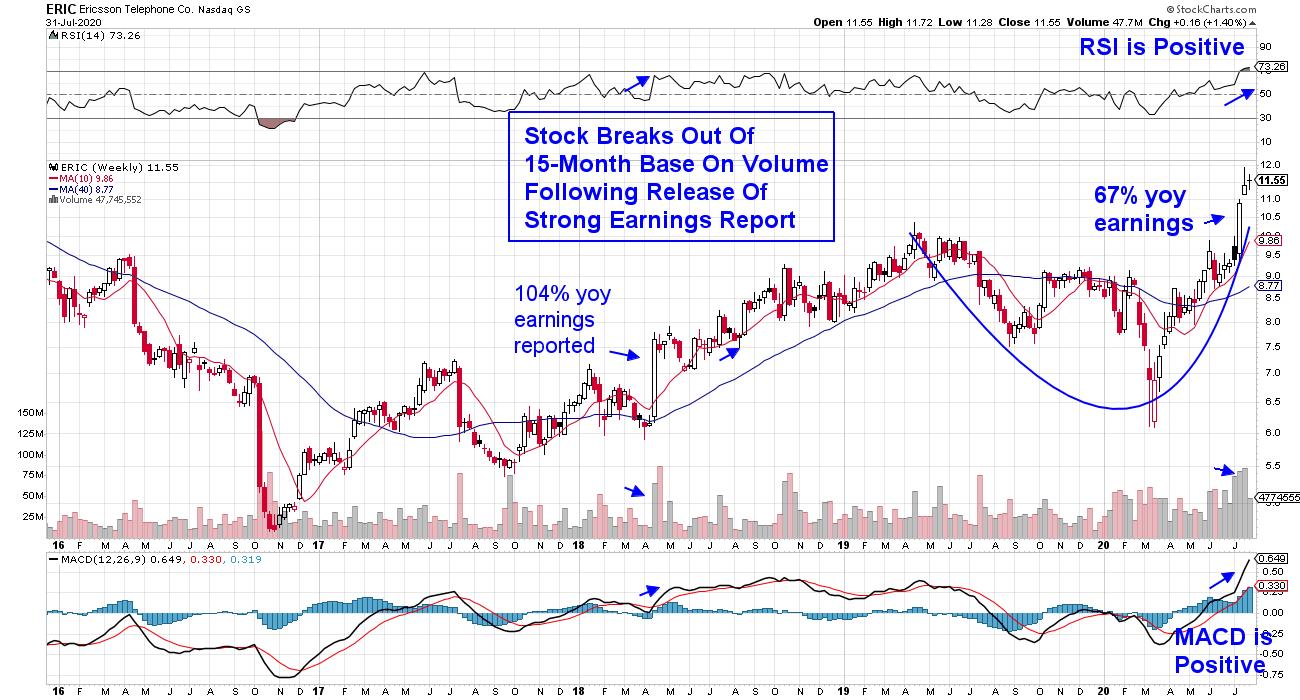 Swedish based Ericsson (ERIC) is a prime example, as the stock soared more than 13% on strong 2nd quarter earnings boosted by a rise in 5G network sales. The company strengthened its position in this area, with the signing of almost 100 5G commercial contracts since April.
Since then, ERIC posted more bullish news after signing deals with Deutsche Telekom and U.S. Cellular to assist in the deployment of their 5G traffic. And, just this week, they delivered their first U.S.-manufactured 5G station to Verizon (VZ).
As you can see in the weekly chart above, Ericsson broke out of a 15-month base on heavy volume following the bullish news. And, while I anticipate a pullback to its 21-day moving average, which is the top of its recent base breakout, a confirmed uptrend is now in place.
Two other companies that reported strong 2nd quarter results have also attributed increased demand of their 5-G products as a major driver.
DAILY CHART OF TAIWAN SEMICONDUCTOR MFG. (TSM)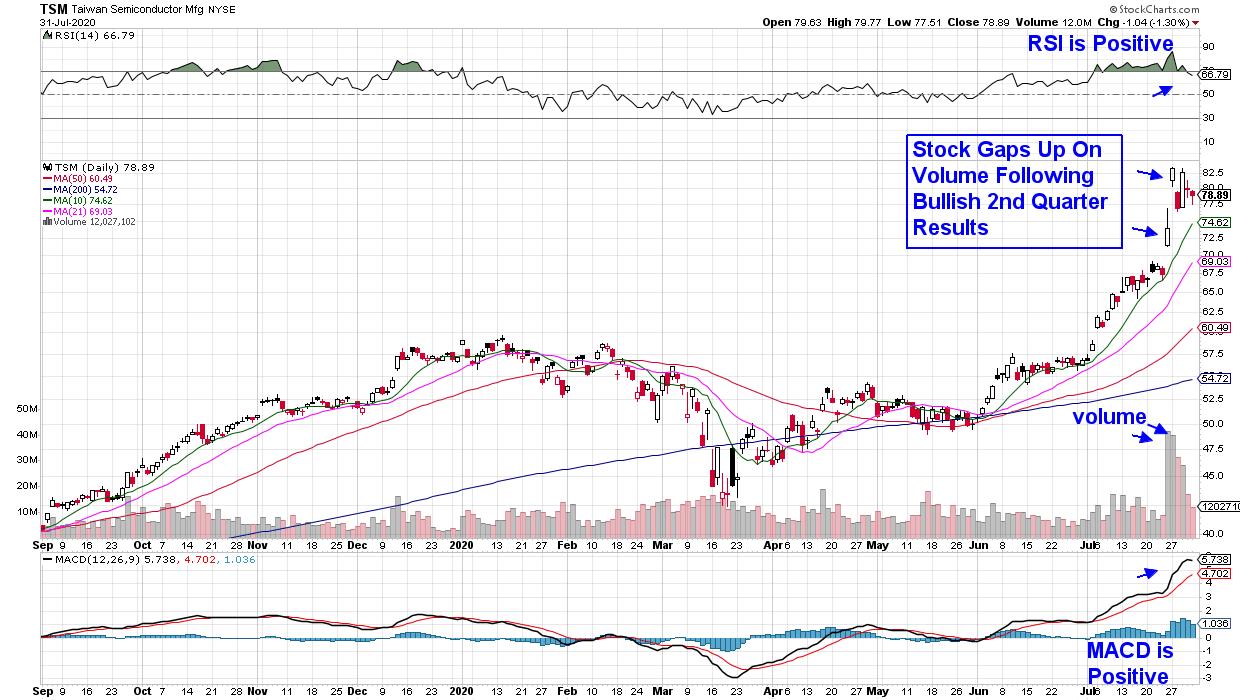 Taiwan Semiconductor (TSM) reported 93% growth in earnings for the 2nd quarter, driven primarily by accelerations in 5G deployment. In addition, management is expecting increased demand in this area through the 2nd half of the year.
Taiwan Semi is positioned to benefit the most from this new era of fast-speed data delivery, as they're the largest chip manufacturer who services most of the biggest semiconductor chip companies instrumental in the 5G race.
TSM gapped up bullishly on their earnings news, and the heavy volume indicates institutional buying that may well continue. Additional news that Intel (INTC) is delaying production of chips critical to this space also boosted the prospects for Taiwan Semiconductor. TSM can be bought on a pullback to its 10-day simple moving average.
DAILY CHART OF QUALCOMM, INC. (QCOM)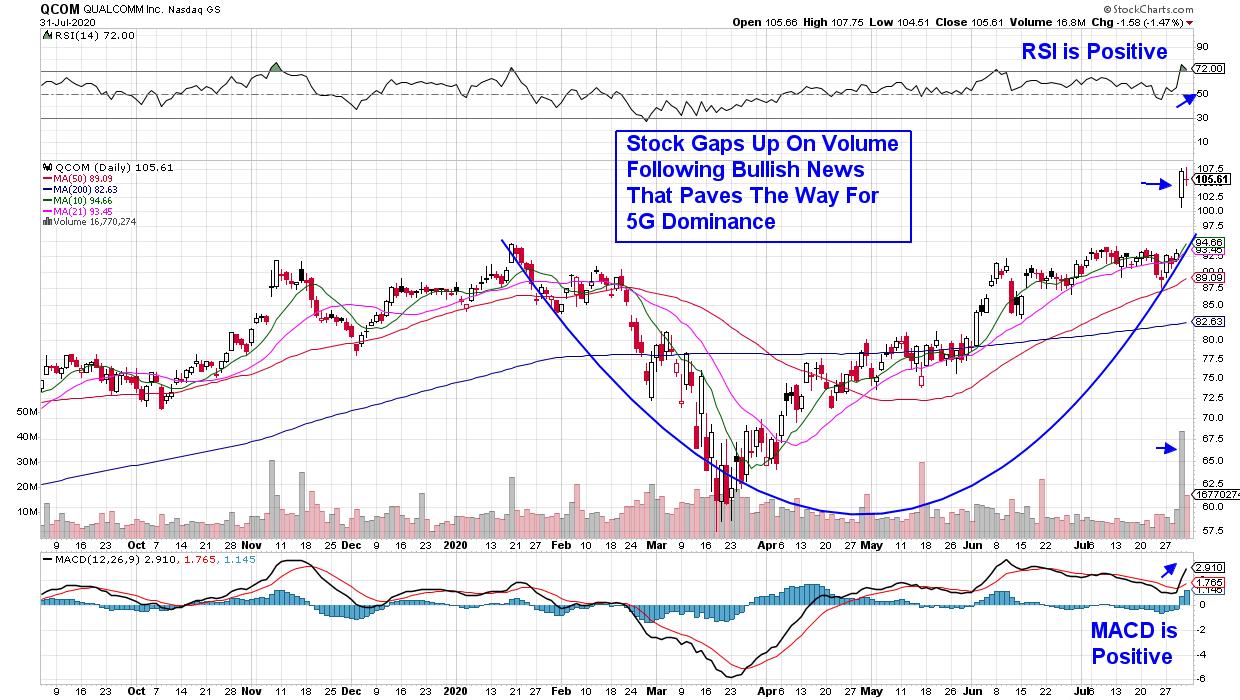 Last up is Qualcomm (QCOM), whose report of a modest improvement in 2nd quarter results was super-charged by news of a settlement with the world's largest smartphone maker, Huawei. The stock broke out of a 6-month base on volume, as the bullish news clears the way for QCOM to see big growth as the new 5G standard is rolled out.
Of note is the fact that, historically, the longer the base that a stock breaks out of, the longer its advance out of that base, provided the company continues to report solid growth. With each of these highlighted stocks emerging from long bases while having sound growth prospects, their outlook is very promising.
In addition to alerting subscribers to this week's winning FAANG stocks months ago, my bi-weekly MEM Edge report highlighted Qualcomm and Taiwan Semiconductor as being poised to trade higher. If you'd like to be alerted to stocks poised to greatly outperform the markets, trial my MEM Edge Report for four weeks for a modest fee.
Not only does this top-performing report provides precise entry and exit points for its selected stocks, but you'll also receive insights into sector rotation and the broader markets that will give you the confidence to take advantage of this bullish phase in the markets. Take a look at our track record here!
Warmly,
Mary Ellen McGonagle
Founder, MEM Investment Research