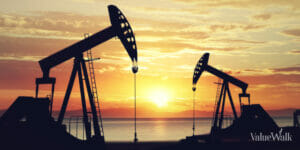 In his podcast addressing the markets today, Louis Navellier offered the following commentary.
If you wish to listen to this commentary, please click here.
Confusing Crude Oil
Crude oil prices have softened, but many energy stocks remain resilient. One of the problems is that the spread between WTI and Brent sweet crude has widened. Typically, when WTI and Brent crude oil spreads are wide, the refiners can make more money, but the inventory of gasoline and distillates (e.g., diesel, heating oil, jet fuel, etc.) has risen in recent weeks, so refiners may have to discount their refined products.
Q3 2022 hedge fund letters, conferences and more
Ironically, the inventory of crude oil has fallen dramatically in recent weeks according to the Energy Information Administration. So crude oil markets remain confusing to many investors, but it appears that demand has dropped, but long-term supply problems persist.
Officially, Russia is refusing to sell crude oil to companies that are complying with the G7 price cap. Poland, Lithuania and Estonia argued for a less restrictive price cap, since they actually rely on Russian crude oil, but were overridden by the G7. The G7 price cap also includes a ban on shipping, insuring or financing Russian crude oil.
In the meantime, there is a traffic jam of 19 crude oil tankers off of Turkey's coast this week. Some of these oil tankers are waiting for confirmation that their insurance remains in place since Russian crude oil cannot be insured above the $60 price cap.
Other oil tankers are apparently part of the "shadow fleet" of reportedly over 100 oil tankers getting ready to sell Russian crude oil to countries that are not complying with the G7 price cap.
A big wildcard in the energy patch is when will the Biden Administration will stop draining the Strategic Petroleum Reserve (SPR) by up to 1 million per barrels per day supply of predominately light sweet crude oil that Europe likes to refine.
The SPR is now at 1980 levels and the crude oil releases will have to be stopped soon, which is expected to send crude oil prices soaring in the upcoming weeks.
Important Onshoring
The Commerce Department on Tuesday reported that the U.S. trade deficit rose 5.4% in October to $78.2 billion, as exported declined 0.7% to $256.6 billion and imports rose 0.6% to $334.6 billion. This means that the shrinking trade deficit in the past several months from energy exports has abruptly ceased, so economists are revising their fourth-quarter GDP estimates lower.
The Institute of Supply Management (ISM) recently announced that its manufacturing index declined to 49 in November, down from 50.2 in October. Since any ISM reading over 50 signals an expansion, the U.S. manufacturing sector is now contracting after 30-straight month gains. So the onshoring of semiconductor manufacturing is important to boost U.S. manufacturing.
Relief Rally On Dovish Fed
The 10-year Treasury bond yield is near 3.5%, so when the Federal Open Market Committee (FOMC) raises its key interest rates 0.5% on December 14th, the Fed will be near "parity" or "neutral."
If the FOMC statement mentions dovish words like parity or neutral, the stock market could stage a massive relief rally. But the FOMC never fights market rates, so I remain in the camp that December will be the Fed's last key interest rate hike.
Coffee Beans
The United States is by far the world's biggest producer of oil, having produced around 16.6 million barrels of oil on average per day in 2021.
Saudi Arabia and Russia follow head to head in second and third place, having produced around 11 and 10.9 million barrels of oil per day, respectively. The top three countries produced more oil than the bottom 7 countries in the top 10 combined. Source: Statista. See the full story here.