We're in an unprecedented period where a select subset of sectors is outperforming the markets by a very wide margin. And while my work shows that most of the big winners from these select areas have much more upside, many investors may find it hard to initiate a position in these high flying leaders that have already posted huge returns.
Today, I'm going to share with you a stock that's poised to trade much higher, is in a major-league strong area of the markets and just today appears to be beginning a new advance.
The stock is Advanced Micro Devices (AMD) and they provide Semiconductor chips for cloud computing, laptops, and video games which are 3 areas that are currently seeing big growth.
DAILY CHART OF ADVANCED MICRO DEVICES (AMD)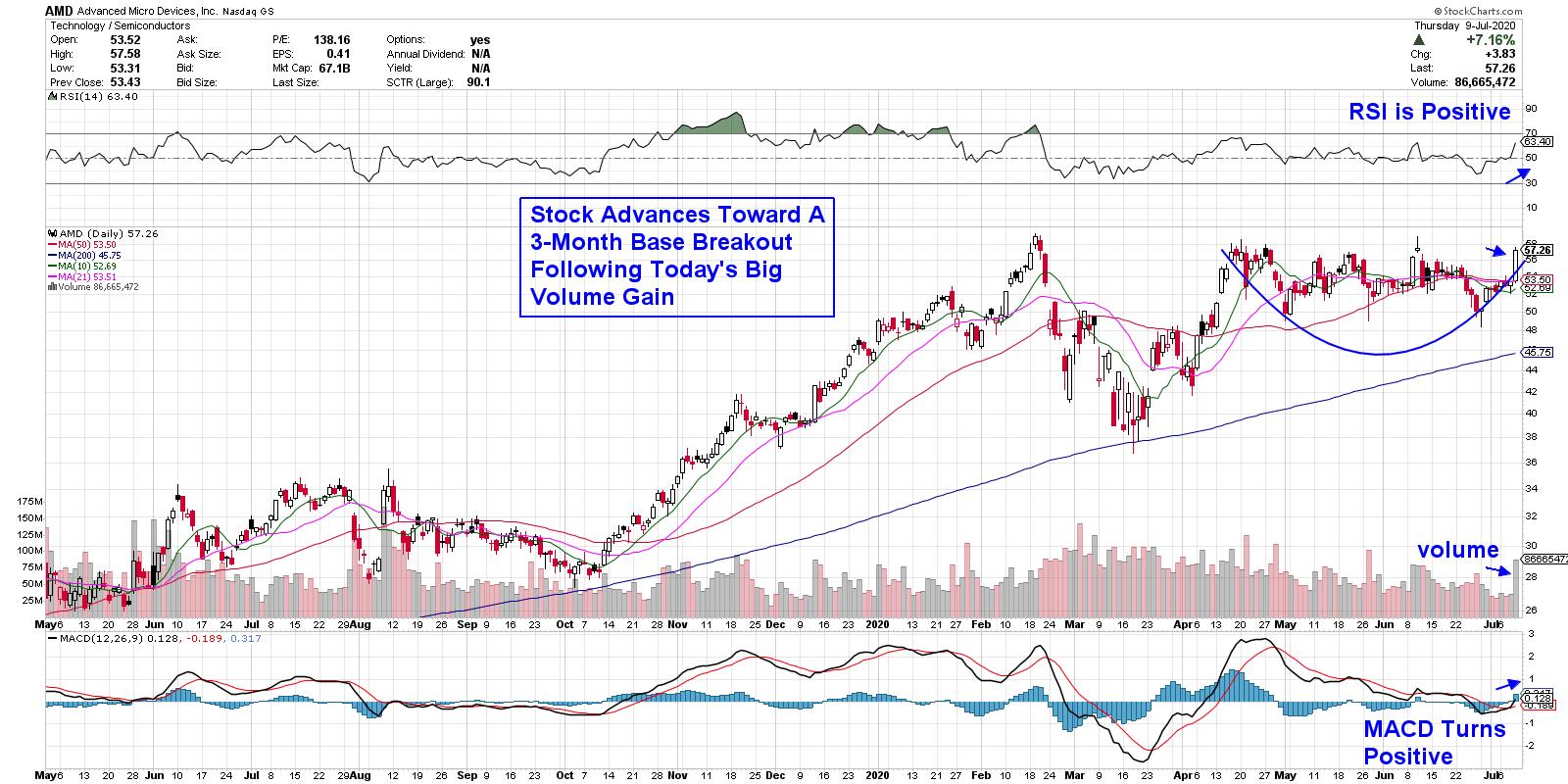 Semiconductor stocks have been on fire lately and unlike it's peers, AMD has sat out the recent rally while being in a consolidation phase. Today's sharp advance on volume may well signal that this stock is ready to take off and while it hasn't yet bullishly broken out of its 3-month base, the positive RSI and MACD are constructive as is today's high volume.
A break above $59 would be even more bullish for this stock's longer term outlook.
Advanced Micro Devices (AMD) was a big winner for subscribers to my MEM Edge Report late last year until we removed it going into the bear market. Since then, we've identified other leading stocks in Semiconductors as well as other select areas of the market that are showing superior relative outperformance.
In fact, we've had up to 3 stocks from our Report hit the top ten performers list for the S&P 500 every day this week. If you'd like to uncover these stocks poised to trade higher, trial my bi-weekly MEM Edge Report for a nominal fee. You'll receive both written and video updates on precise entry points for these select leading stocks as well as in-depth commentary on the markets.
Warmly,
Mary Ellen McGonagle, MEM Investment Research