Despite rising over 20% from the low point seen in March 2020, the Indian equity markets have continued to under perform the global peers. The figures of the recent giant short-squeeze speak for itself. The headline index NIFTY50 has returned 12.99% over the past three months. However, on a Year-to-date basis, it has given negative returns of 18.80%.
On one hand, the equity markets are witnessing turmoil fueled by the outbreak of pandemic, on the other other hand, not only has the NIFTY under performed the global peers, but off late faces geopolitical tensions given the standoff between India and China.
During these times, if we see the behavior of the Indian currency against the US Dollar, it has remained resilient. No doubt the Rupee has depreciated in the recent past but the downsides against the US Dollar has been resilient. Not only this, the Indian Rupee has performed better against the Asian peers.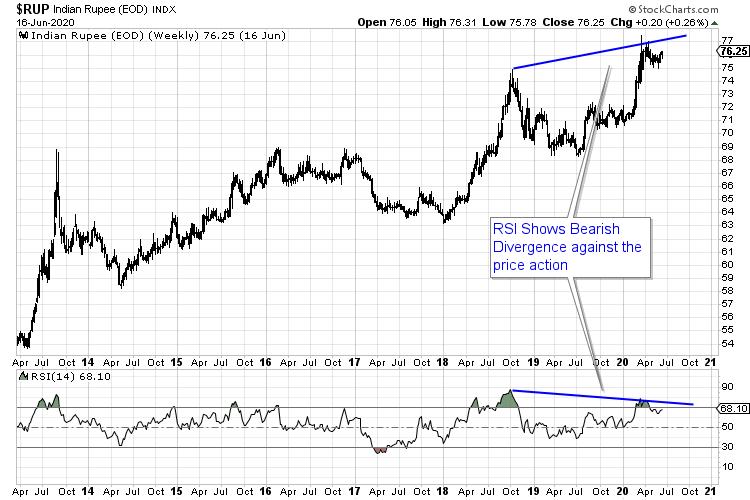 The chart above that the RSI has shown a clear bearish divergence as it did not mark higher highs along with the USDINR Price. This shows lack of internal strength of USD against the Rupee.
When we benchmark Indian Rupee along with other major currencies against the US Dollar, it has moved inside the improving quadrant.
Among many reasons, the answer to this also comes from the inherent strength of the move of the USDINR pair.
Not only has the Indian Rupee moved in the improving quadrant, it has shown a strong North-East rotation showing strong relative momentum against the USD on the RRG when bench-marked against US Dollar.
Relative Strength Index (RSI) is different from RS, i.e. Relative Strength. This Momentum Indicator is used to compare the move of the security/instrument against its own-self and measure its momentum and strength against its own, usually over the past 14 days.
Relative Strength Index and Market Breadth can be used to identify major trends and profitable setups. I shall discuss this in detail in our upcoming Webinar "Understanding Market Breadth and Using Relative Strength Index For Profitable Trade Setups", this Saturday, June 20, 2020
---
Milan Vaishnav, CMT, MSTA
Consulting Technical Analyst,