It's no secret that I like finding leading stocks in leading industry groups. In my view, however, THAT is the secret sauce in building a portfolio to outperform the benchmark S&P 500 over time. Of course, there will be hiccups along the way and we've seen those hiccups the past couple weeks as leading growth stocks have been pummeled on a relative basis. In fact, when I looked at last week's action, only two of my favorite industry groups 0f 2020 finished in the Top 20 – home construction ($DJUSHB – 6th) and home improvement retailers ($DJUSHI – 18th). The latter has been particularly strong as you can see from the chart below: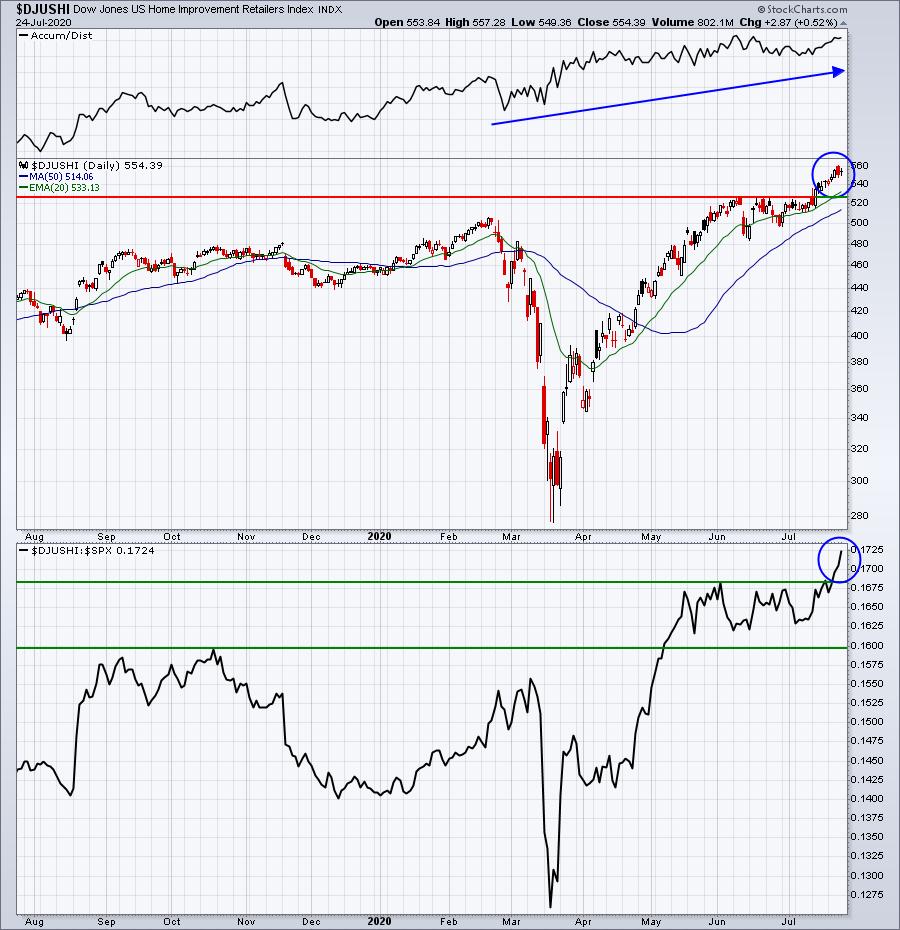 The DJUSHI broke out on both absolute and relative bases, which is a very bullish signal by itself. Also, note the very strong accumulation/distribution line throughout the pandemic and in all of 2020. Institutions have accumulated stocks in this space throughout the year and we're seeing why in the form of higher prices.
One way to find individual stock leaders in a leading industry group is to do your homework, which we do continually at EarningsBeats.com. Earnings are a primary driver in the direction of stock prices, so keeping track of companies that beat both revenue and earnings is a great Watch List to build. Currently, we have 210 companies on our Strong Earnings ChartList (210), three of which are home improvement retailers. I'll be featuring my favorite home improvement retailer on Monday morning in our free EB Digest newsletter. In the meantime, if you'd like access to this entire Strong Earnings ChartList, simply subscribe to our free newsletter HERE!
Happy trading!
Tom