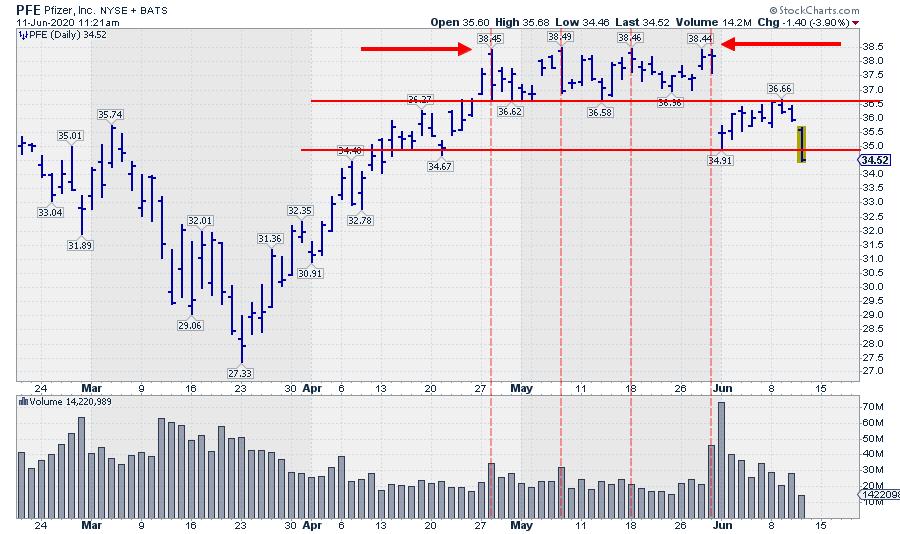 A lot of, very educated, people want us to believe that the market is a random walk. And you know… Maybe sometimes it is, but not always.
This morning I ran into the chart of PFE again. I was monitoring that chart since I wrote about it in a previous DITC article here. The good news is that the resistance area between $38.50 – $39.00 was never taken out. So no harm done. The bad news is that it is now becoming increasingly unlikely that this barrier will be taken out anytime soon.
For me it is crystal clear that a, big, seller has been active around $ 38.45. I would not be surprised if the order was to sell, ten's of, millions of shares at $38.40 limit. The algo or the human trader handling this order would come to the market every time the bid for PFE would hit $38.40 or higher and probably would have blocks to sell in the market at offers between $38.45/38.50.
You can see an increase in volume on the days that PFE hits the resistance zone while volume eases when PFE trades below that level.
To me such market behavior does NOT look like a random walk to me…
In the same period, from 28 April to 29 May it looks like a buyer was active at levels around $ 36.60 providing support. That is, until 1 June when PFE gapped lower, steering away from a possible upward break.
That move changed the characteristics of the chart and the possible scenarios. Instead of looking for an upward break, all of a sudden $34.50-$35.00 had become resistance and a break below$ 34.90 would be the trigger for an acceleration. And guess what's happening today… 😉
After gapping down and setting the low at $ 34.91, PFE even pulled back towards the bottom of the gap and the old support level that started to act as resistance ($ 36.60). Since the low at 23 March, the rally, followed by the consolidation and then the break lower is a text book case for technical analysis trends, support and resistance, and breaks.
And the weight of the evidence is currently pointing to lower prices for PFE
#StaySafe, –Julius
My regular blog is the RRG Chartsblog. If you would like to receive a notification when a new article is published there, simply "Subscribe" with your email address.
---