I've been patiently waiting for the BIG breakout, the one that really kick starts this group. I believe we just saw it on Friday. Health care (XLV) definitively made its move after already providing some very bullish clues recently. After weeks and weeks of sideways action where the 20 day EMA provided little support or resistance, the XLV bulls successfully defended the rising 20 day EMA last week, just before this week's surge. That bodes well for a sector that generally performs well during the summer months. I'm looking for the three amigos – biotechs ($DJUSBT), medical equipment ($DJUSAM), and medical supplies ($DJUSMS) – to accelerate higher through earnings season and I have a few stocks that could see more than their fair share of upside if I'm correct.
Biotechnology ($DJUSBT)
Well, I've discussed on many occasions how much I love the biotech group. It all started when we saw a breakout after years of consolidation: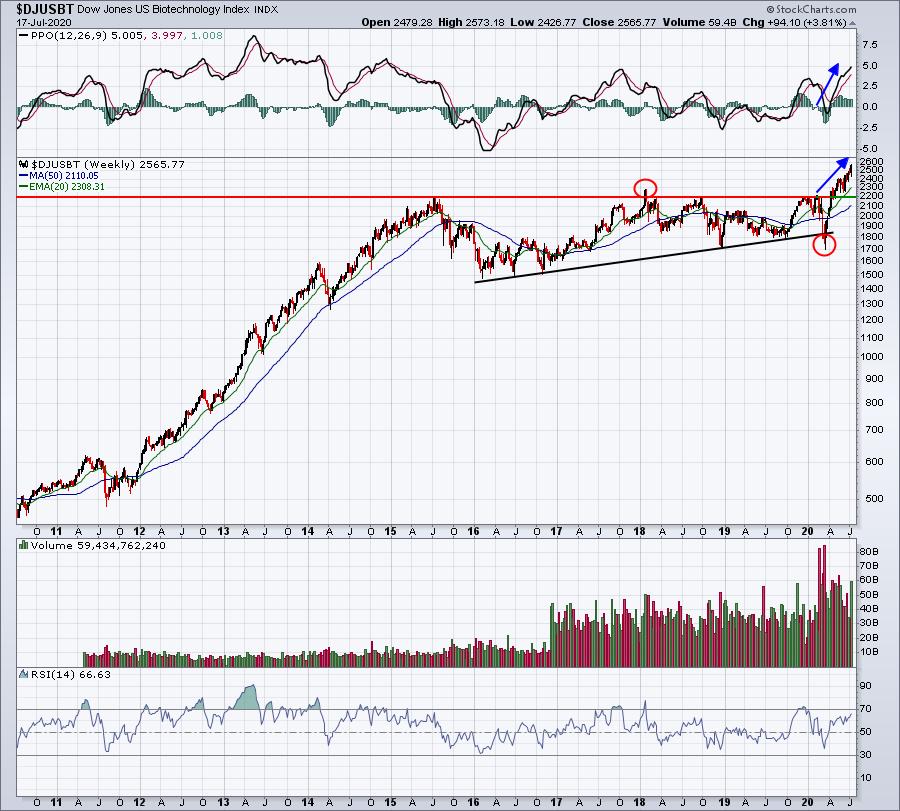 The two red circles highlight both a false breakout and a false breakdown, but this move certainly appears to be the real deal. The bullish ascending triangle pattern offers us an initial measurement of 700 points to add to the breakout level near 2200. That would suggest a target of 2900, a level that still provides us plenty of upside opportunity.
Leading Stocks. It would be easy to just say "chase NVAX and MRNA" to the sky, because they've been absolutely on fire, especially NVAX. But I like two primary choices. First, the biotech ETF, IBB, is a more heavily concentrated biotech ETF that owns the likes of AMGN, VRTX, GILD, REGN, and ILMN (these 5 biotech names make up 36% of the IBB). From an individual name standpoint, I'll stick with a company that I've favored for months now – Regeneron Pharmaceuticals (REGN). It was showing relative strength vs. its peers before COVID-19 and its relative strength has only grown stronger since: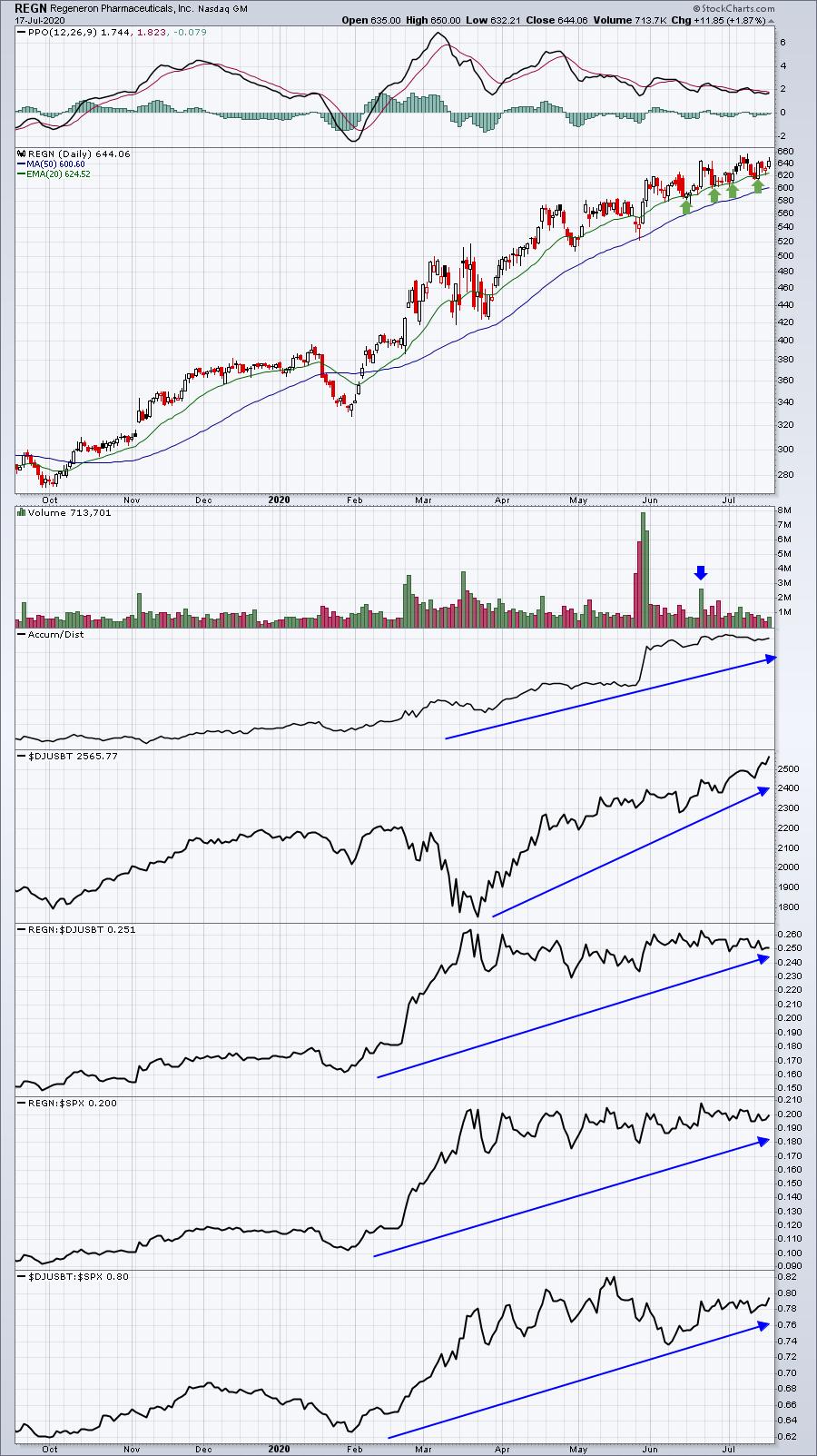 The rising 20 day EMA has been offering up great support for the past several weeks. I look for that to continue.
Medical Equipment ($DJUSAM)
This industry has become my new favorite. I love the breakout on an absolute basis and the recent surging relative strength: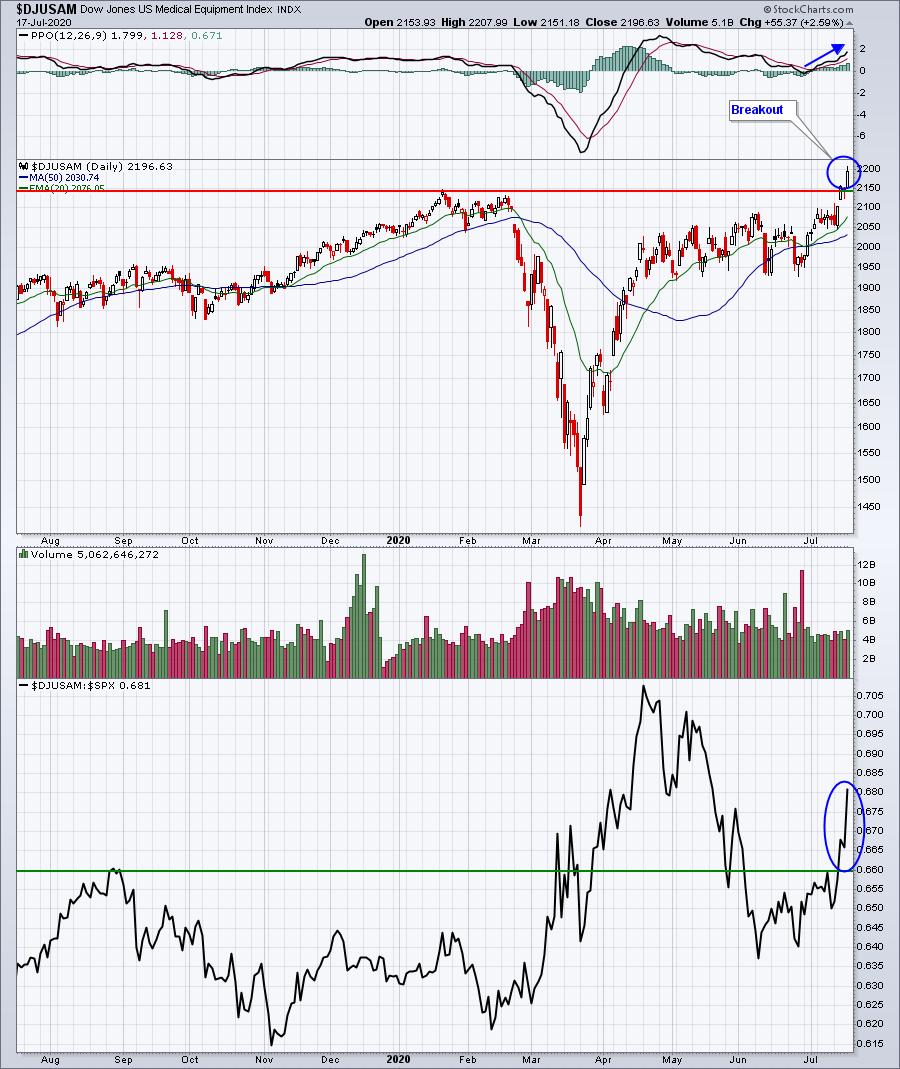 The significant relative strength really says it all for me. Money is rapidly rotating into this group and my guess is it's because we're going to see a number of medical equipment companies absolutely crush estimates.
Leading Stocks. I could go in a number of different directions here. I wrote about a small cap medical equipment company – Fluidigm (FLDM) – in a Trading Places blog article two weeks ago. It's risen nearly 50% since. Unfortunately, these small caps can be extremely volatile. I still love FLDM's chart, but anyone trading it must be willing to take significant risks as it's going to be a volatile ride. There are a number of larger cap stocks that I could go with here – ABMD, RMD, TMO, DHR, and ISRG, among others – but I'm going to take a bit of a flyer here. I'm expecting HUGE results from Tandem Diabetes (TNDM):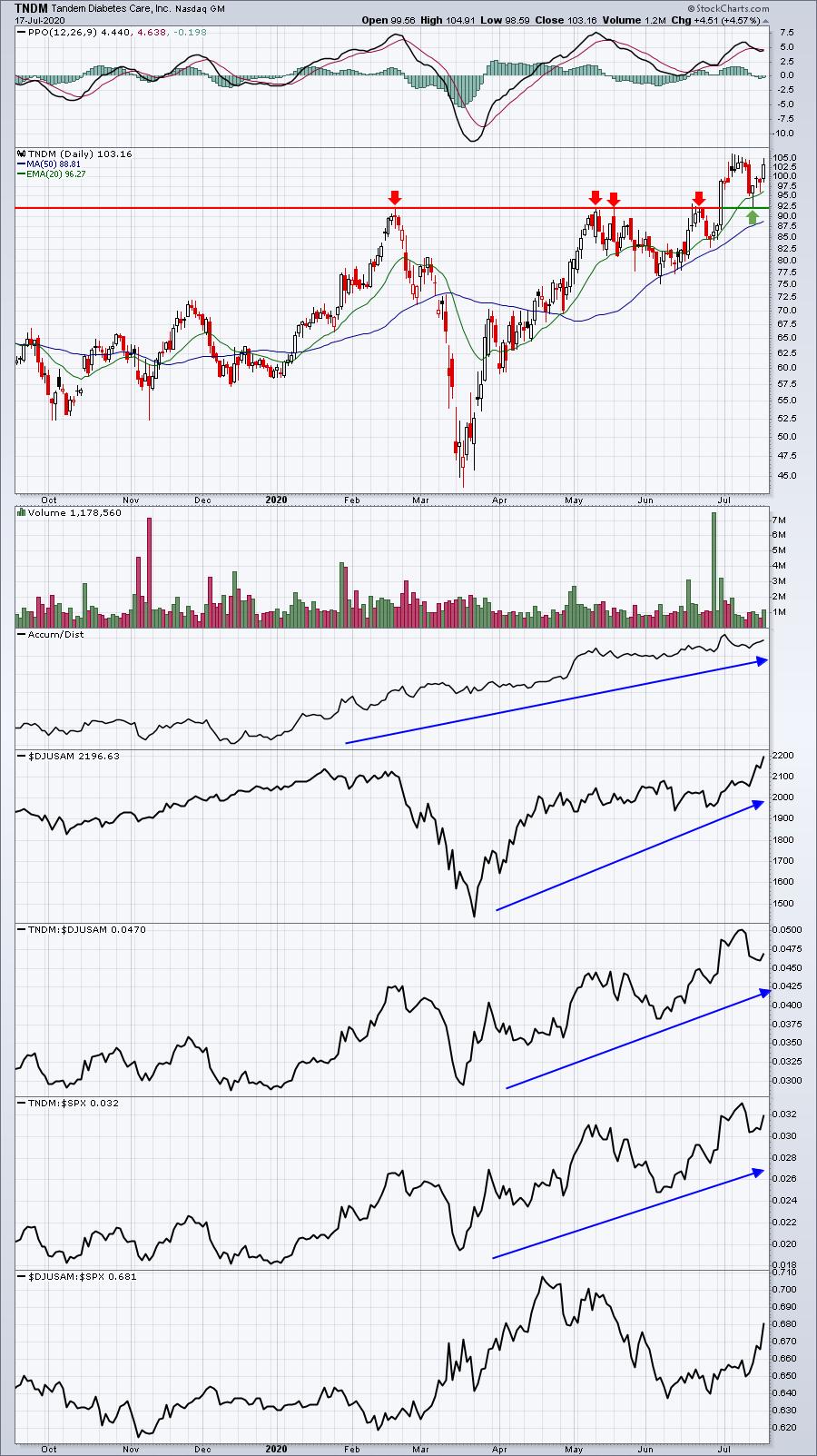 I love to see a lengthy basing period and TNDM certainly shows that. The confirming breakout at the end of June also was accompanied by increasing volume, another very bullish development. Currently, the trading range for TNDM is 92-105, but I fully expect we'll be seeing fresh new highs on TNDM sooner rather than later.
Medical Supplies ($DJUSMS)
The DJUSMS is the 3rd industry group within health care to occupy a Top 20 Industry Group spot over the past month. These three groups are among the leading industries right now, although the DJUSMS hasn't quite made its breakout just yet: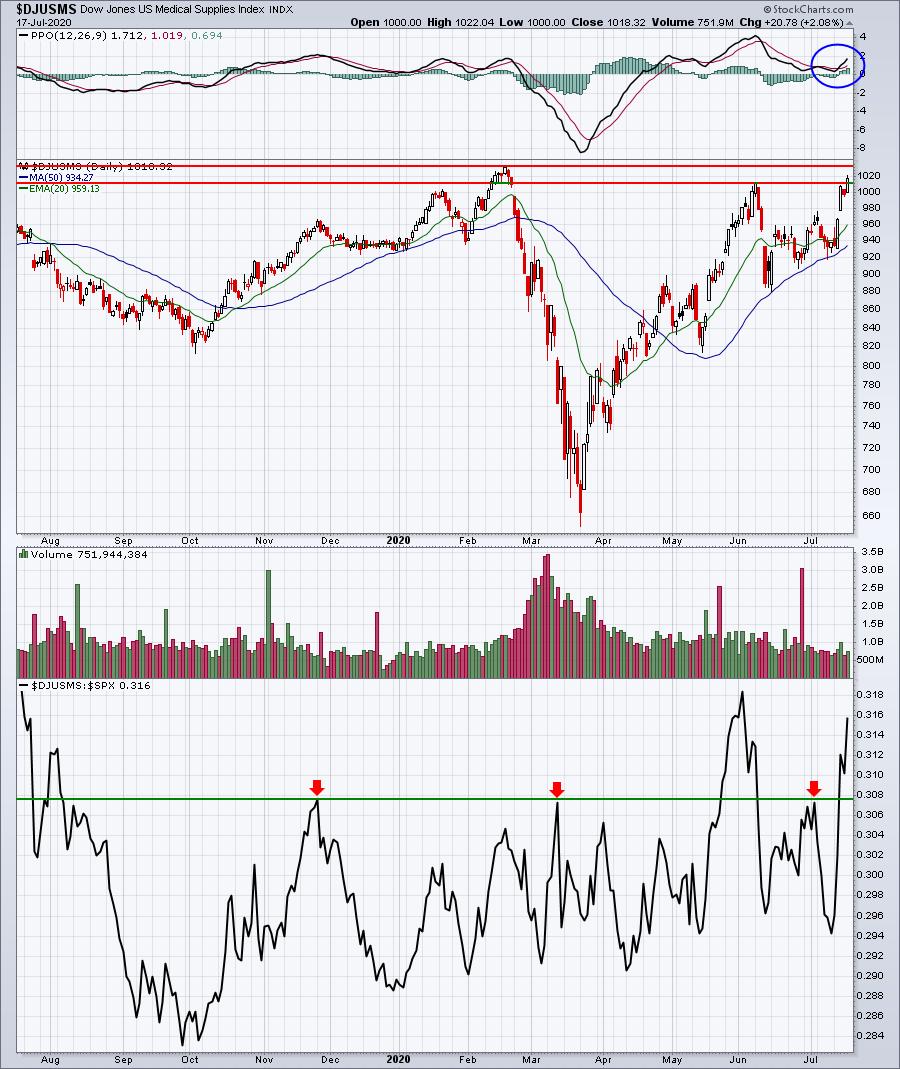 While the top in February has yet to be cleared, there are plenty of positives here to choose from. The rebound in the PPO is from just above the centerline support area and recent price action did clear the most recent price resistance near 1012. Relative strength is soaring as well.
Leading Stocks. DXCM would be an easy choice here as that stock has been awesome and will likely report excellent quarterly results. It's one that we've had in our portfolios at EarningsBeats.com for each of the past two quarters and it's done very well for us. Needless to say, I'm a big fan. There are others that should report stellar results like ALGN, HOLX, and QDEL. I'm going out on a limb here, though, and picking a small cap medical supplies company. This company has a market cap of just over $200 million and has run a lot. I can see it going higher, however. I think RVP will not only beat forecasts, but provide a significant boost to guidance on a forward-looking basis: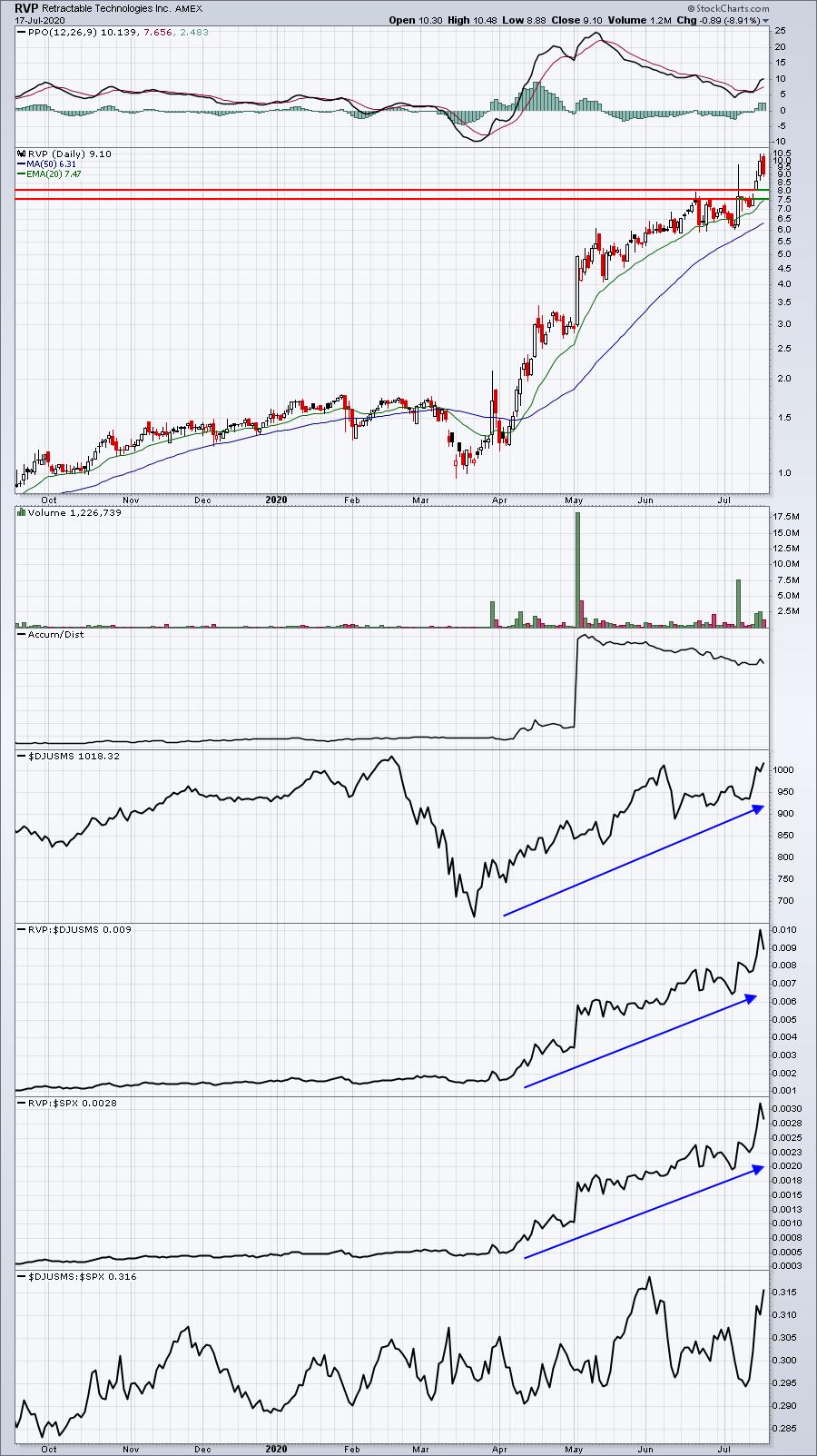 Friday's candle was bearish as a dark cloud cover candle printed. That could lead to a bit of short-term selling. However, if RVP fell back to the two gap support levels shown, I think the reward to risk would be solid. Just keep in mind that is a very volatile and risky stock, so it's not for everyone.
As we move through earnings season, remember what I've been saying all along. The February and March meltdown was a CYCLICAL BEAR MARKET within a SECULAR BULL MARKET. Don't confuse what we're going through to 2007-2009. It's not the same. We had an incredibly strong economy in February that was quickly devastated by a "once in a 100 year" pandemic. Many of the effects are still being felt, but our economic recovery is much more of a V-shaped recovery and that's what Wall Street has been telling us. I firmly believe this will be completely behind us in 6 months. Look for new all-time highs ahead. Could we consolidate a bit over the summer months? Sure, this is actually the season for consolidation. But the companies that can continue to show solid growth in earnings in a historically-low interest rate environment will be rewarded with high PEs. Don't let that deter you from owning the best companies.
On Monday, July 20th at 4:30pm ET, I'll be hosting our "Q2 Earnings" webinar. I'll discuss recent solid earnings reports and critical support and resistance levels to watch on those companies. More importantly, however, I'll discuss upcoming earnings reports – companies where I see blowout earnings on the horizon, and other companies where I'd steer clear. If interested, please CLICK HERE for more information.
Happy trading!
Tom