We may have gotten an encouraging preview to earnings season for select areas of the economy this week after global air-freight carrier FedEx Corp. (FDX) posted earnings that were well ahead of analyst's estimates.
The positive earnings surprise not only helped the stock gap up to its biggest one-day gain in 36 years, but management's comments had Wall Street analysts raising their price targets going into what will inevitably be a tough economic period globally.
DAILY CHART OF FEDEX CORP. (FDX)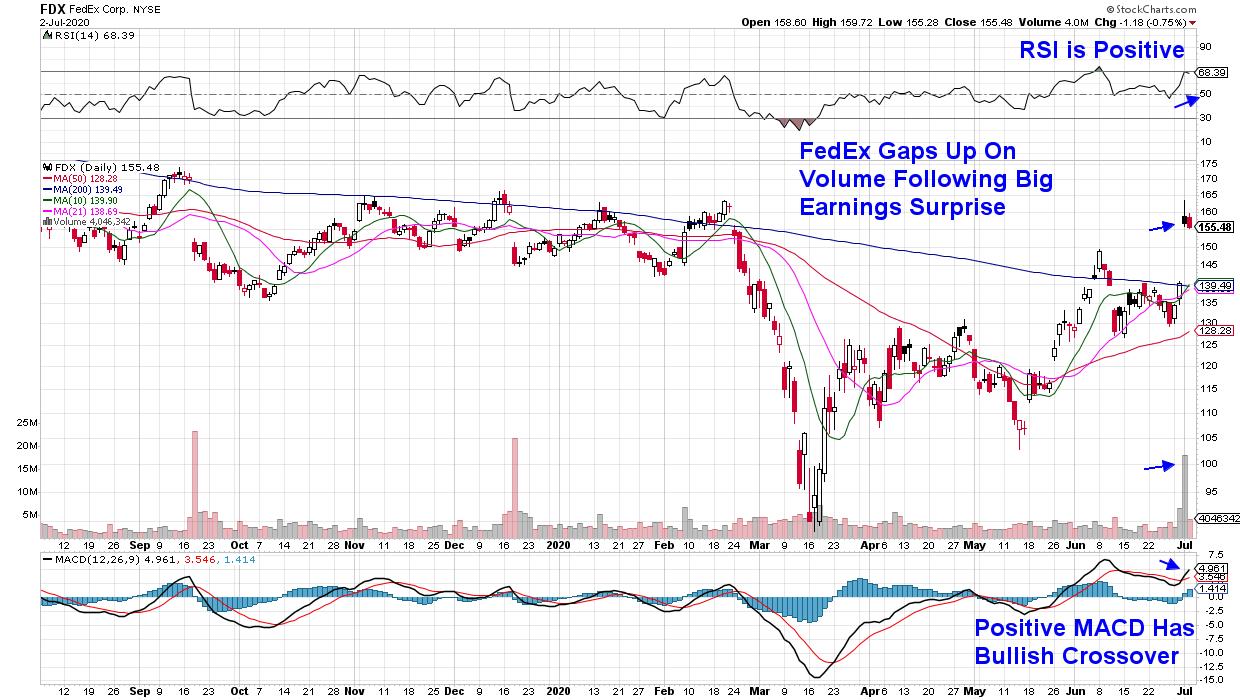 A closer look at the numbers reveals that FedEx saw a surge in business-to-consumer deliveries, with quarterly volume increasing 25% year over year. This pickup in demand underscores the move to online shopping that's expected to remain elevated even after lockdown constraints are fully removed.
Below, we'll review a fast-growing retailer that's benefitting from this surge in online shopping, as well as the largest leaser of "smart warehouses" that've been instrumental in the streamlined distribution of these goods.
DAILY CHART OF WAYFAIR, INC. (W)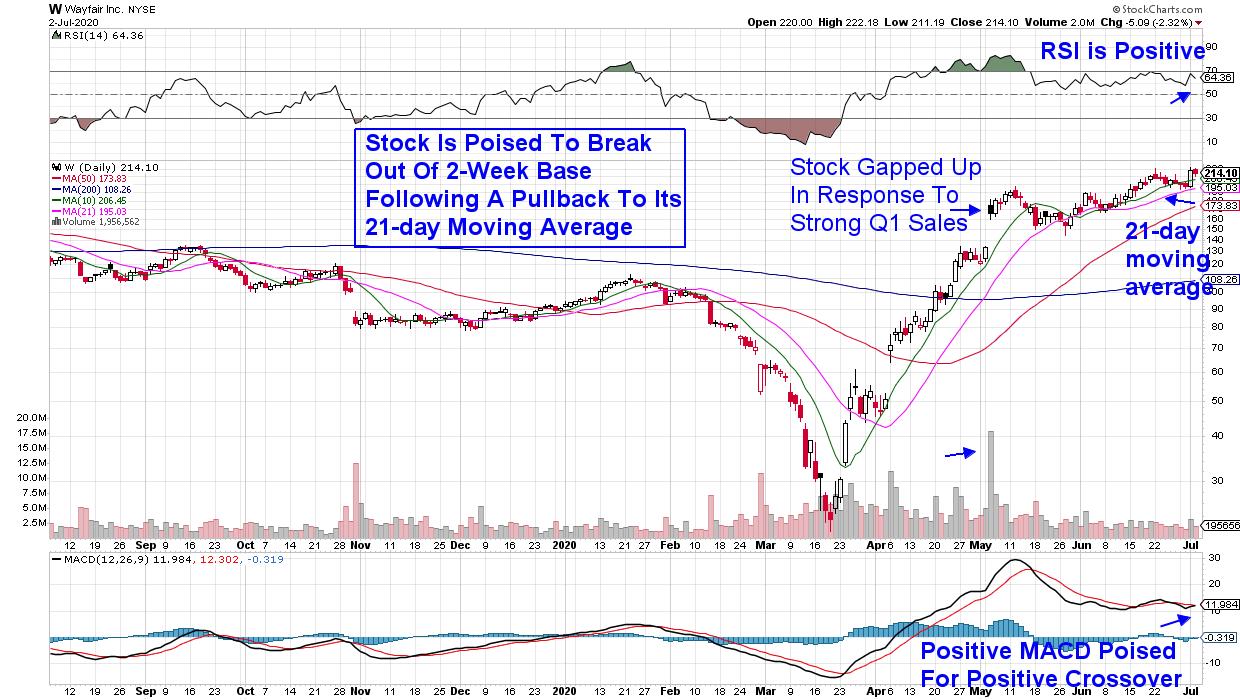 E-commerce giant Wayfair (W) was already seeing strong demand for their furniture and home goods products prior to shelter-in-place mandates. Since then, sales have boomed. In addition to gaining millions of new shoppers, Wayfair has seen repeat-order volume jump by 70%.
As you can see, the stock is emerging from a 2-week consolidation period as it pulled back from a recent high in price. This week's advance was on volume and comes ahead of what's anticipated to be a high-volume holiday weekend as the company rolls out clearance-sale savings. The stock is in a bullish position to trade higher.
DAILY CHART OF PROLOGIS, INC. (PLD)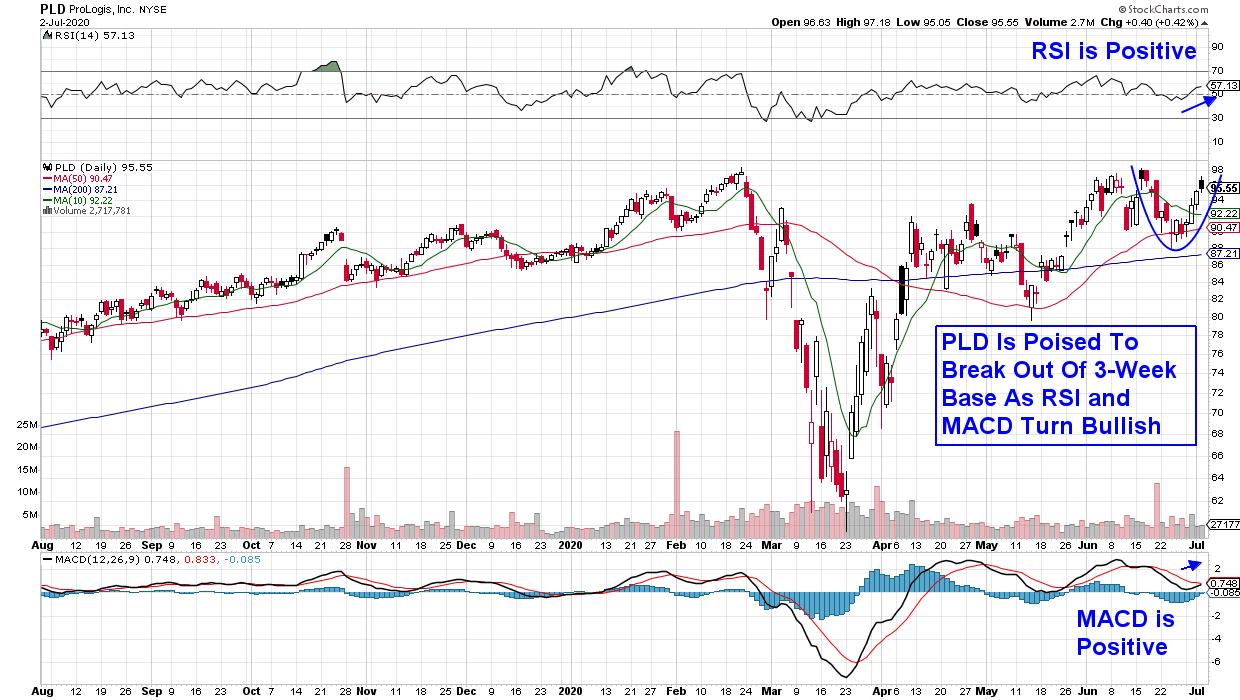 Providers of warehouse space to store and distribute e-commerce inventory are in high demand as well. Many of these "wired" spaces are using high-tech to enable machinery, as well as devices to communicate with each other, which is expediting delivery.
Leading the way in this space is Prologis Inc. (PLD), which counts Amazon (AMZN) among its clients. Management of this 2.4%-yielding REIT reported lease proposals increases of 5.4% year-over-year in both April and May.
Like most REIT stocks, PLD has not been participating in the market's strong rally of late. Interest in the stock is picking up however, following this week's 6% advance. The move puts the stock in a strong buy zone, with a break above $97 being even more bullish.
The areas highlighted above are only a small segment of select industries that are currently seeing big growth due to increased demand for their products. With the broader markets heading much higher, I urge readers to trial my bi-weekly MEM Edge Report so you can take advantage of the explosive moves taking place in leading stocks.
This top-performing report not only provides entry and exit points for these fast movers, but you'll also receive in-depth analysis of the broader markets as well as the underlying sectors, which will provide you the confidence to take action. Click Here to receive a 4-week trial for a nominal fee.
Warmly,
Mary Ellen McGonagle