Extreme uncertainty can really push stocks around, and this historically unprecedented pandemic has certainly proven that.
Take the steep selloff in normally defensive Utility and Real Estate stocks. With the country in a mandated lockdown that initially had no end in sight, these stocks got clobbered, as the need for office space and hotels evaporated while corporate utility usage plunged.
A murky outlook has kept investors on the sidelines with these hard-hit areas, and Utility and REIT stocks have been much slower in their recovery. However, a reopening of the economy is brightening the outlook for these higher-yielders, and below are several companies that show promise as they attempt to reverse their downtrends.
DAILY CHART OF AVALONBAY COMMUNITIES, INC. (AVB):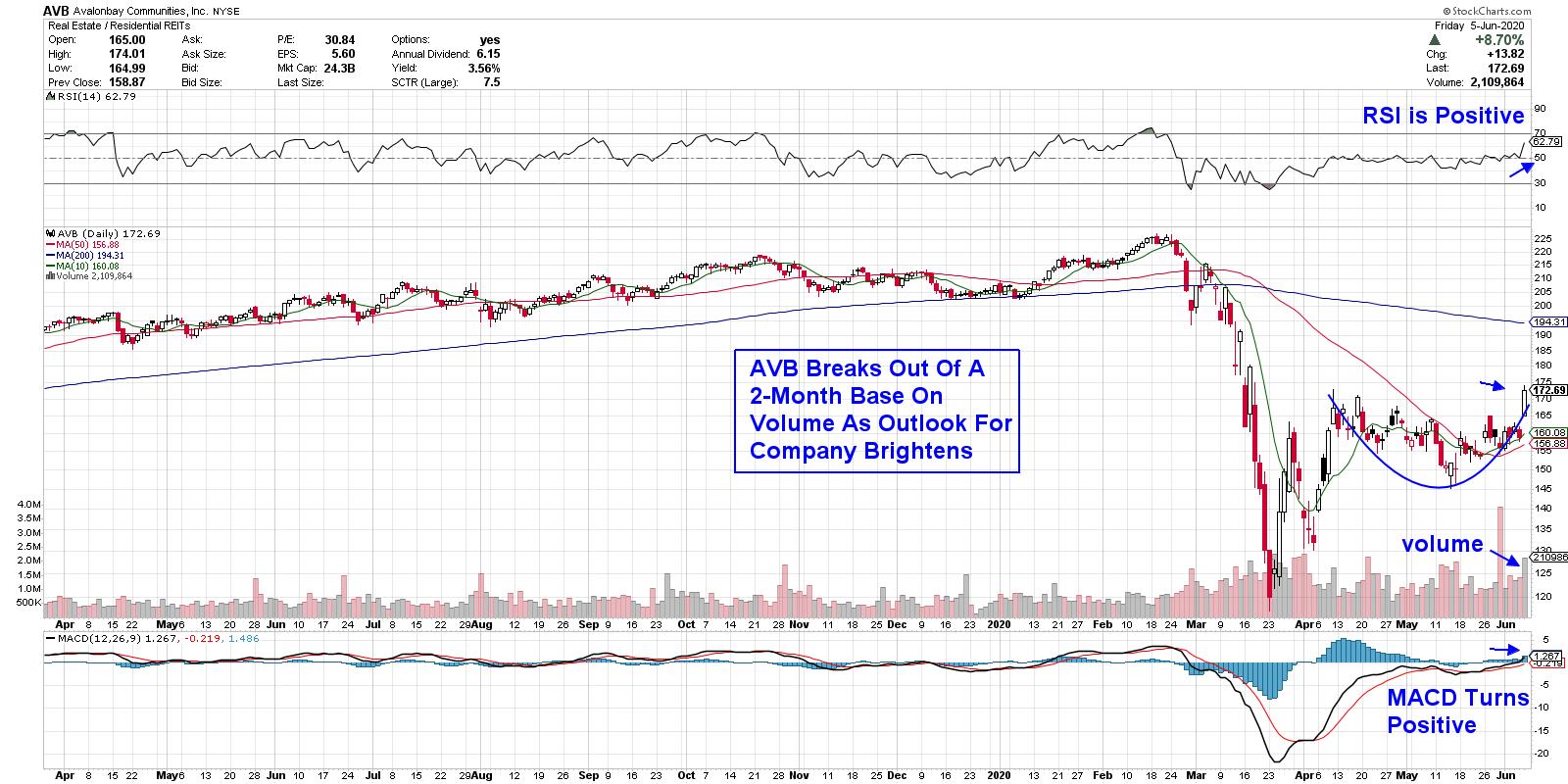 AvalonBay Communities (AVB) is one of the largest residential landlords in the United States, with apartment communities focused on high-end properties. The company has boosted their dividend payout annually for nine years now and AVB is considered one of the best-managed REITs of its kind.
Earlier this week, management revealed a 95% rent recovery rate through May 31st which had analysts raising reduced estimates for this year. The news helped push the stock out of a 2-month base on volume, with the RSI and MACD in positive territory. This 3.6% yielder may run into resistance at its 200-day moving average, but, for now, it can be bought on any pullback.
DAILY CHART OF REGENCY REALTY CORP. (REG)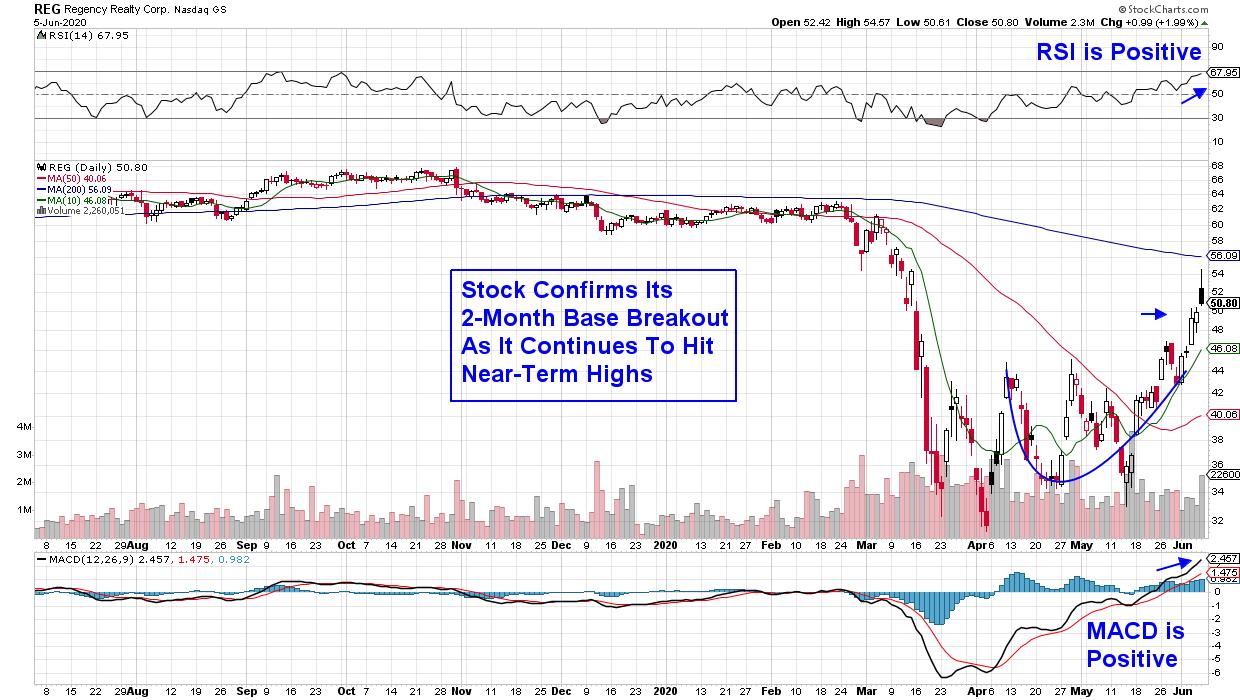 Next up is Regency Centers (REG), which operates shopping centers located in affluent and densely populated areas. As of May 31st, the company reported that 75% of their tenants were open, which reflects their focus on essential businesses such as high-quality grocers and restaurants.
The reopening of retail centers has investors excited about the prospects for a faster recovery than initially anticipated for Regency Centers. The stock is near-term extended following this week's rally, and a pullback to REG's 10-day moving average would be an ideal buy point for this 4.6% yielder.
DAILY CHART OF BOSTON PROPERTIES, INC. (BXP)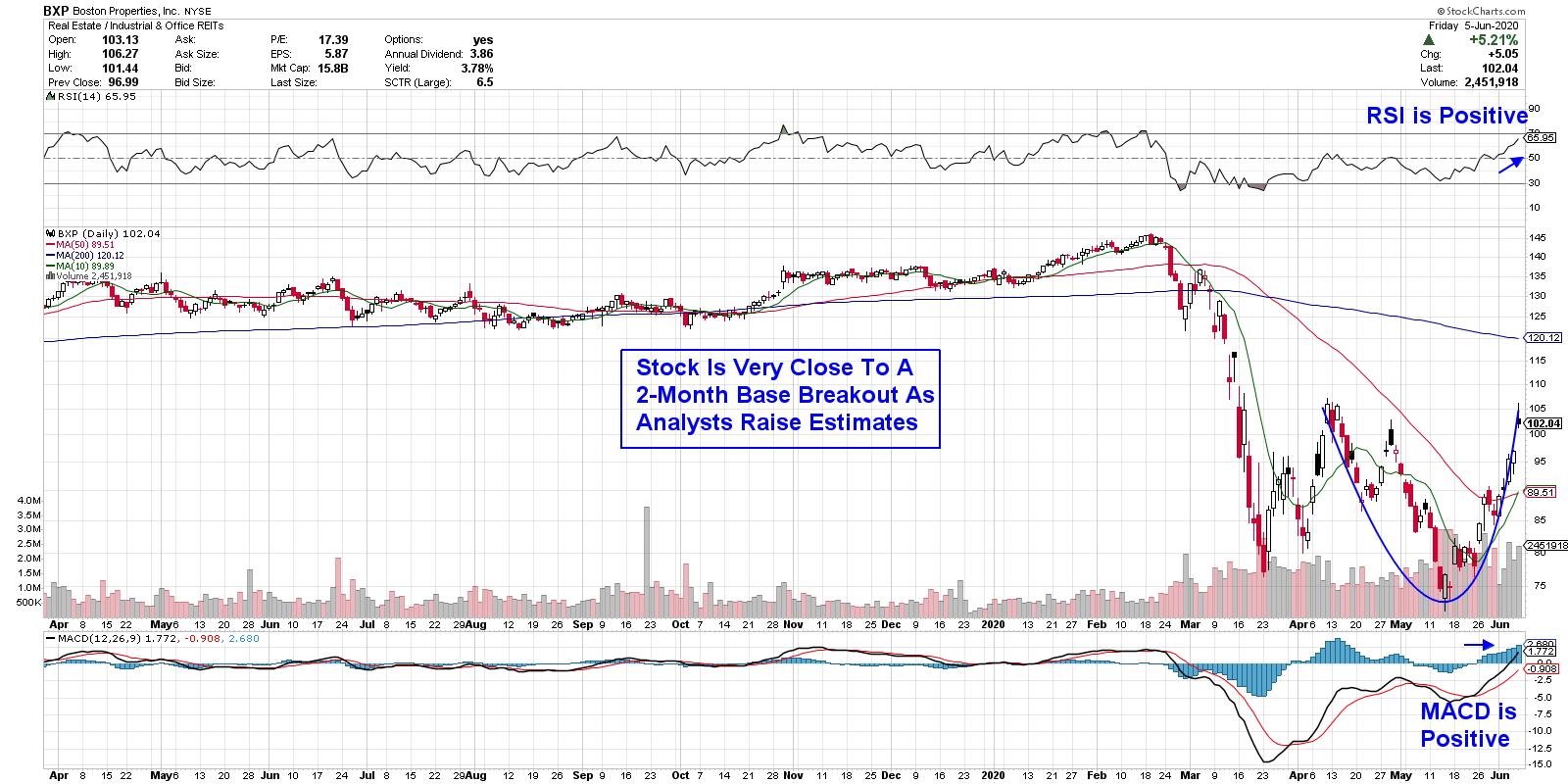 Last up is Boston Properties (BXP), which is the largest owner of office properties in the United States. In late May, the company announced a 97% rent collection rate for the month while also signing new leases totaling almost a million square feet. Their high collection rate signals the quality of their tenants, who are expected to weather the current pandemic.
BXP is on the cusp of a 2-month base breakout following today's gap up in price on volume. The stock had fallen 52% from its February peak in price, in a move that analysts feel was overdone given the high quality of the company. With the RSI and MACD in positive territory, this 3.8%-yielder is poised for further upside particularly.
REIT stocks aren't the only ones that have recently joined the market's recovery rally, as lagging Bank and Industrial stocks have also been doing well of late. Not all stocks in these areas are in bullish positions, however, and if you tune in to my MEM Edge show from today, you'll uncover 2 simple screens to help uncover potential candidates.
Even better, take a 4-week trial of my top performing MEM Edge Report for a nominal fee and you'll be alerted to select stocks poised to take advantage of this sharp rotation in the markets. This bi-weekly report also provides insights into the markets and various sectors, which will give you the confidence to take advantage of this bull market.
I'm also excited to announce that my team and I will be introducing our Dividend Edge Report later this month! If you'd like more information about lower risk ways to increase your returns, please provide your contact to support@thememgroup.com.
Warmly,
Mary Ellen McGonagle,