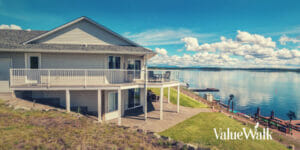 Dwellsy's February data drop reveals that there were no unexpected changes in rent prices last month—which comes as a relief after January's single-family home price surge. (Apartment-dwellers, your rent hasn't changed significantly in quite some time. Aren't you lucky?)
February Rent Prices Decrease 1.2 Percent
Los Altos, CA (March 2023) – Ahhh…isn't it nice to be back to normal? The data-crunchers at Dwellsy freely admit that they were surprised by the 7.4 percent surge in single-family home rental (SFR) prices in January, but they're here to assure renters that there were no February curveballs. In fact, month-over-month rent for both SFRs and apartments showed modest declines.
Q4 2022 hedge fund letters, conferences and more
"When you track rental data for a living, you quickly learn that 'predictable' is not a bad thing," says Jonas Bordo, CEO and cofounder of Dwellsy. "Especially in the volatile rental market of the past few years, unexpected price jumps have rarely swung in renters' favor. Even though this month's price declines hovered around just 1 percent…we'll take it!"
From January to February, median asking rent for three-bedroom SFRs decreased $23, or 1.2 percent. Median asking rent for one-bedroom apartments decreased by $13, or 1 percent.
"Year-over-year rent has increased somewhat for both property types," Bordo acknowledges. "Three-bedroom SFRs are up $108, or 6.3 percent, since February 2022, and one-bedroom apartments are up a mere $10, or 0.8 percent. Given the overall inflation we've seen in the past year, though, that's not surprising."
Dwellsy, the largest home rental listing platform in the country, regularly mines its 13+ million residential rental listings for statistics and data. Because Dwellsy allows landlords to post listings free of charge, it has a pool of data that's more diverse—and more representative of the true rental landscape—than that of pay-to-play listing services. Each month, Dwellsy breaks down this data regionally across the U.S. so renters and landlords can see up-to-date trends in rental housing and current affordability in over 250 markets. For a more detailed look at Dwellsy's rent price analysis methodology, see this article.
The following graphs show median asking rent by property type for each month in the past year. One-bedroom apartments were chosen as a focus group because they are similar to two-bedroom apartments in terms of inventory, but are more price-accessible. Three-bedroom homes were chosen because they are by far the most common rental home type.
 
Median Asking Rent by Property Type
Month
One-Bedroom Apartments
Three-Bedroom Houses
Feb-23
$ 1,282
$ 1,825
Jan-23
$ 1,295
$ 1,848
Dec-22
$ 1,310
$ 1,720
Nov-22
$ 1,310
$ 1,750
Oct-22
$ 1,300
$ 1,795
Sep-22
$ 1,310
$ 1,795
Aug-22
$ 1,325
$ 1,795
Jul-22
$ 1,325
$ 1,800
Jun-22
$ 1,321
$ 1,800
May-22
$ 1,310
$ 1,795
Apr-22
$ 1,300
$ 1,768
Mar-22
$ 1,276
$ 1,742
Feb-22
$ 1,272
$ 1,717
"A look at prices over the past two years is particularly interesting," says Bordo. "While rent for three-bedroom SFRs has risen 20.3 percent, rent for one-bedroom apartments has actually declined by 2.5 percent."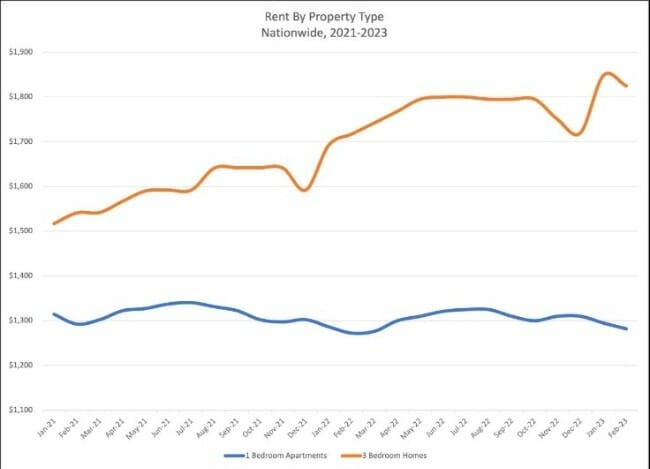 Why is there such a marked difference in rent change between SFRs and apartments? Bordo points out that the past few years have caused significant changes in consumer preferences for housing.
"Lockdowns and the subsequent shift to remote work prompted many renters to seek out extra space," he notes. "Freed from the need to live close to their workplace, many remote workers have moved to lower-cost locations that allow them to live in a larger home. For example, you might be able to rent a three-bedroom home in Nashville for around $2,000. In Los Angeles, the same amount of money would get you a one-bedroom apartment. The net effect is that overall demand for smaller rentals has decreased, while demand for larger properties—especially SFRs—has risen."
During the same time period, we have seen record numbers of new apartments being delivered, although demand for them is not particularly high.
"Looking ahead to the remainder of 2023, it's probable that rent for apartments will stay relatively flat," concludes Bordo. "And while there are no guarantees, I predict that SFR rent will also experience a moderation trend. This year we expect to see a significant delivery of new rentals in both categories. Inflation, high interest rates, and a possible recession will likely also put a damper on rising prices."
---
About Jonas Bordo:
Jonas Bordo is the coauthor, along with Hannah Hildebolt, of the upcoming book Everything You Need to Know About Renting But Didn't Know to Ask: All the Insider Dirt to Help You Get the Best Deal and Avoid Disaster. He is the CEO and cofounder of Dwellsy, the free residential rental marketplace that makes it easy to find hard-to-find rentals.
About the Book:
Everything You Need to Know About Renting But Didn't Know to Ask: All the Insider Dirt to Help You Get the Best Deal and Avoid Disaster (Matt Holt, August 2023, ISBN: 978-1-6377439-2-8, $21.95) is available for pre-order from major online booksellers.
About Dwellsy:
Dwellsy is the renter's marketplace: a comprehensive residential home rentals marketplace based on the radical concept that true, organic search in a free ecosystem creates more value than the pay-to-play model embraced by all of the current rental listing services.