With the move into Cyclical stocks continuing to expand, sectors such as Industrials have stocks with multiple reasons to continue to trade higher. In addition to industrial production reports, which just posted a fourth month of improvements, factory orders have also been steadily increasing, which in turn is helping select companies post better-than-expected fundamental reports.
The Industrial sector is quite varied, but, when scouting for areas of stocks poised to trade higher, one need to look no further than Aerospace & Defense, as this area has many stocks that have outperformed their peers after recently posting earnings and sales well ahead of estimates.
A quick review of top-performing S&P Aerospace and Defense ETF (ticker XAR) will yield some ideal candidates.
First up is Axon Enterprise (AAXN), which gapped up into a base breakout earlier this month following their report of 43% year over year growth for their 3rd quarter. In addition, their results were 100% above estimates while management guided sales numbers higher into year-end.
DAILY CHART OF AXON ENTERPRISE, INC. (AAXN)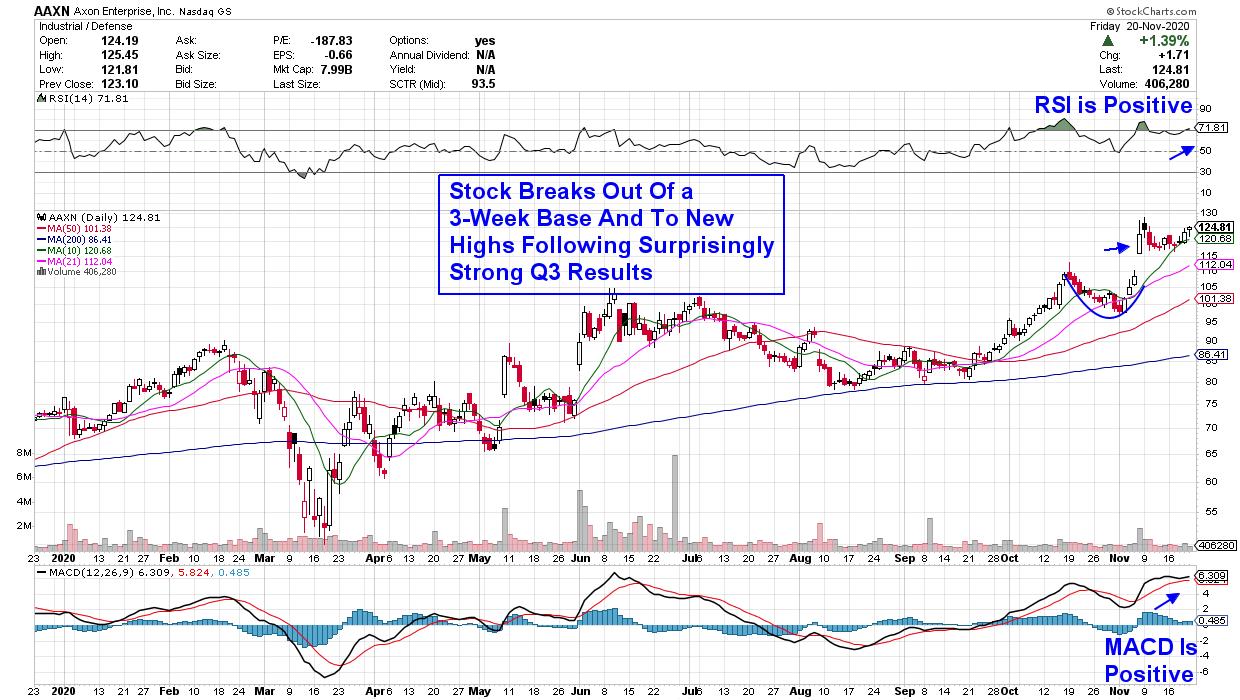 The company manufactures and sells conducted energy weapons, such as those used by law enforcement to subdue or even film unruly individuals. The civic unrest that has occurred this year has the federal government as well as local police forces increasing their orders with AAXN.
The stock has been in a period of consolidation following its gap up on surprise earnings, and AAXN bullishly remains above its 10-day moving average. A break above its recent high of $127.5 would be even more bullish for a continuation rally.
Another top holding of the S&P Aerospace ETF (XAR) is Triumph Group (TGI), which also reported strong 3rd quarter earnings earlier this month. The company cited increased military orders, as well as a partial recovery in their Airbus program that had then posting results that were 53% above estimates.
DAILY CHART OF TRIUMPH GROUP, INC. (TGI)
In addition to bullishly gapping up on volume following its strong earnings report, TGI also broke out of a 5-month base after an add-on rally. The move pushed the stock back above its 200-day moving average, which in turn allowed the stock to advance further as it continues to find support at its upward trending 10-day moving average.
The good news surrounding the rotation into Industrial stocks is the fact that not only do these stocks do well during initial periods of an economic recovery, such as now, but many of them are posting unexpected growth prospects which support a continuation rally in this area.
My MEM Edge Report has identified additional stocks in the Industrial sector that are poised to trade much higher, including a Transportation Logistics provider, as well as a top supplier to reinvigorated Boeing (BA), which just received FAA approval for their downed MAX 737 aircraft.
In addition, subscribers to our bi-weekly report have been alerted to Growth stocks within Technology and Retail that are far outpacing the markets and poised for further gains. Use this link to see a sample report, and be sure and take advantage of our 4-week trial offer at a nominal fee.
Warm Regards,
Mary Ellen McGonagle – MEM Investment Research