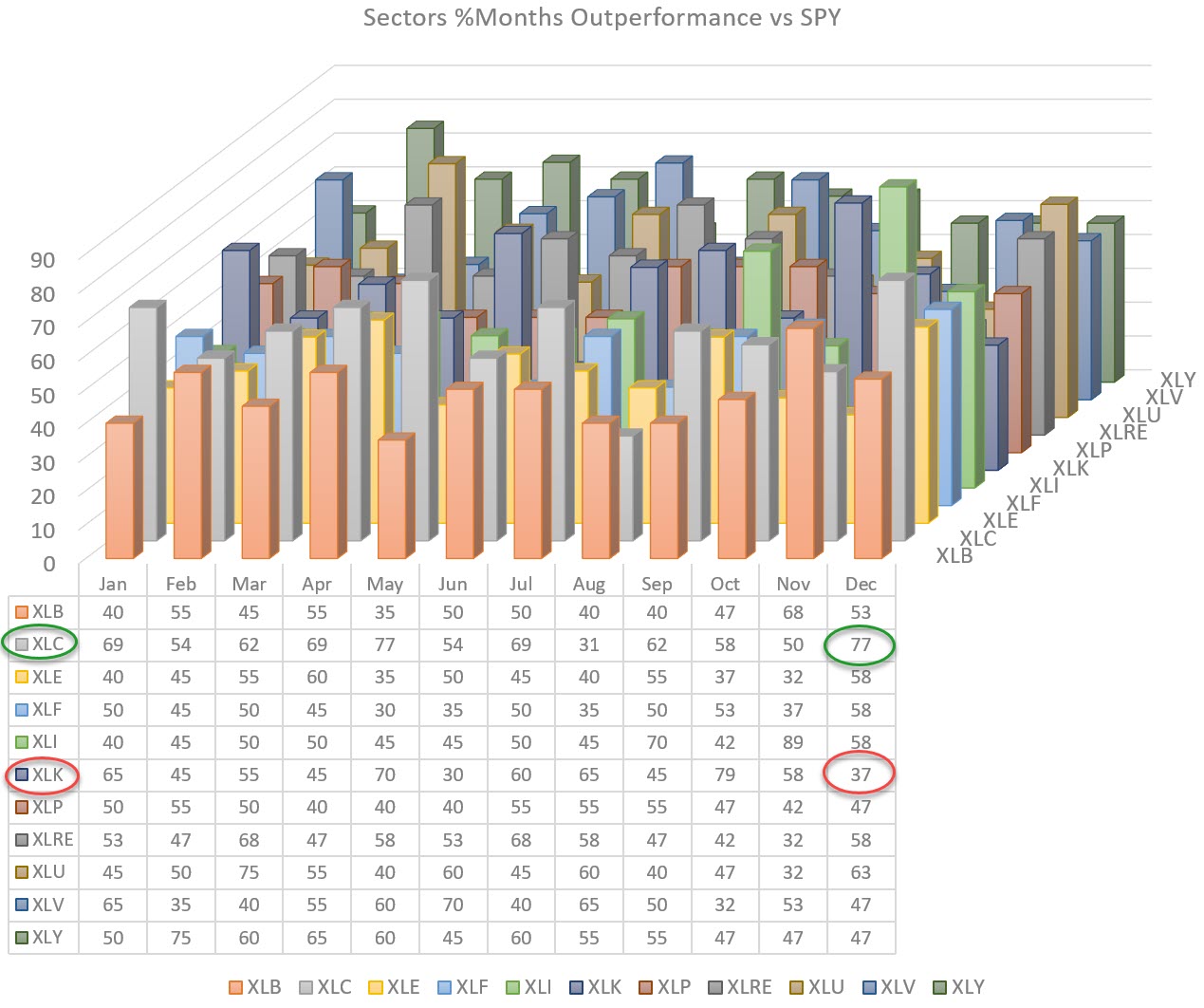 The chart above shows the seasonality for all US sector relative to the S&P500 index. The numbers in the table are the percentages of time in history (20 years when available) where a sector outperformed the S&P.
For the coming month of December two sectors stand out. Communications in a positive way with a historical outperformance over the S&P 77% of the time. And Technology on the opposite side with an outperformance only 37% of the time, which means an underperformance 63% of the time.
And things get even more interesting when we look at the historical percentage of out-/under-performance. Communication Services historically outperformed the S&P500 by 1.1% while Technology shows an average underperformance vs $SPX of 0.8%.
Putting it on a Relative Rotation Graph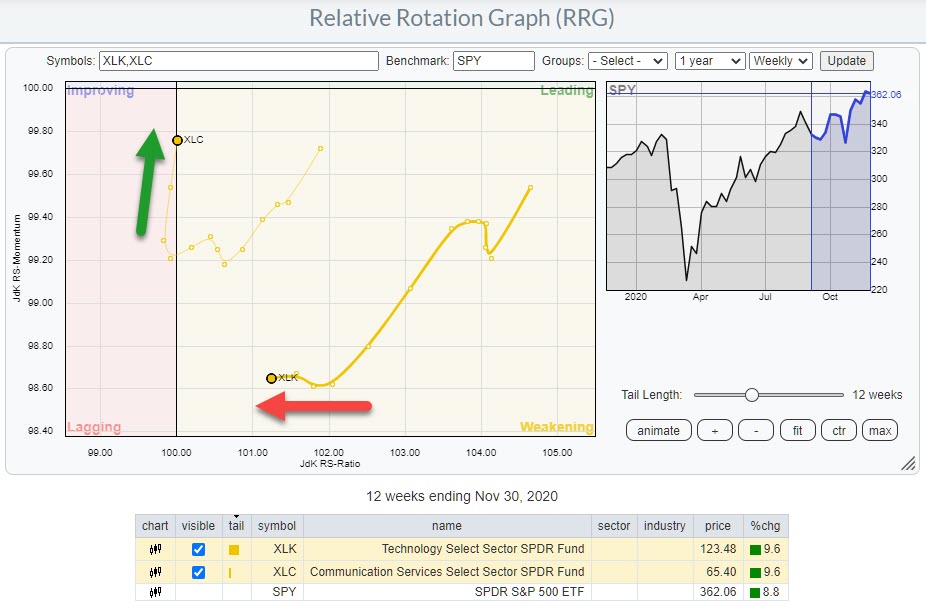 When we put both these sectors on a weekly Relative Rotation Graph we see two tails that moved in a very similar fashion until 2-3 weeks ago.
In the past few weeks, XLC has started to move higher on the RS-Momentum scale and even looks to be turning into the important 0-90 degree heading. While XLK continues to move towards the lagging quadrant, albeit at a flat RS-Momentum level.
This divergence between the two tails that used to move together seems to be confirming the historical performance suggested by the seasonality for those sectors where XLC is clearly favored over XLK.
Information Technology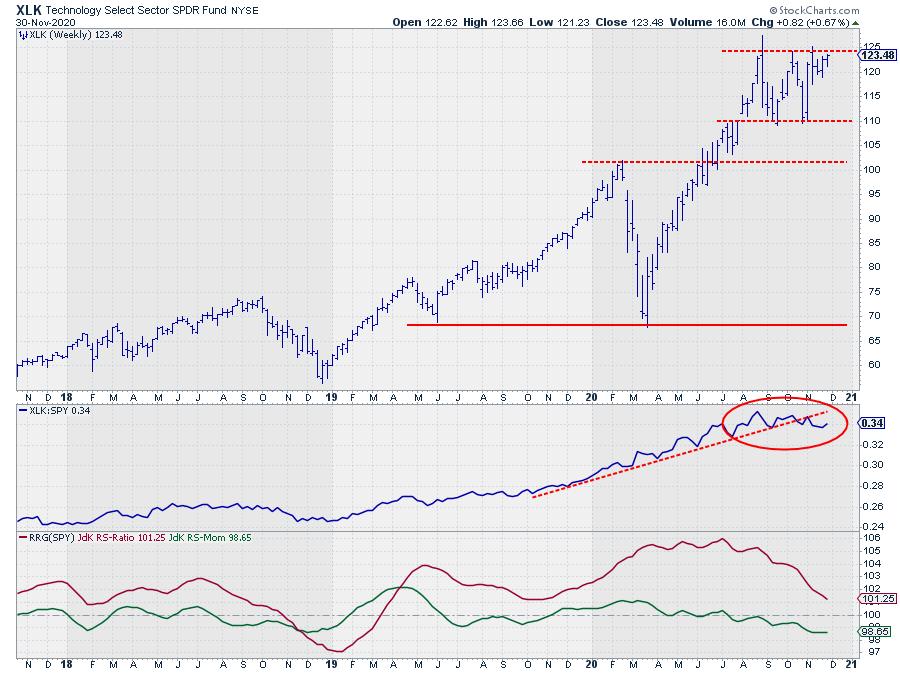 Since its peak in August, XLK has not been able to push higher and essentially just moved sideways. And the same thing happened with the relative strength line, which meanwhile has also broken below its rising support line.
This weakness in the RS-Line has sent both RRG-Lines lower and with the JdK RS-Momentum line well below 100 and the JdK RS-Ratio line approaching that level rapidly there is a fair chance for XLK to cross over into the lagging quadrant in coming weeks.
Communication Services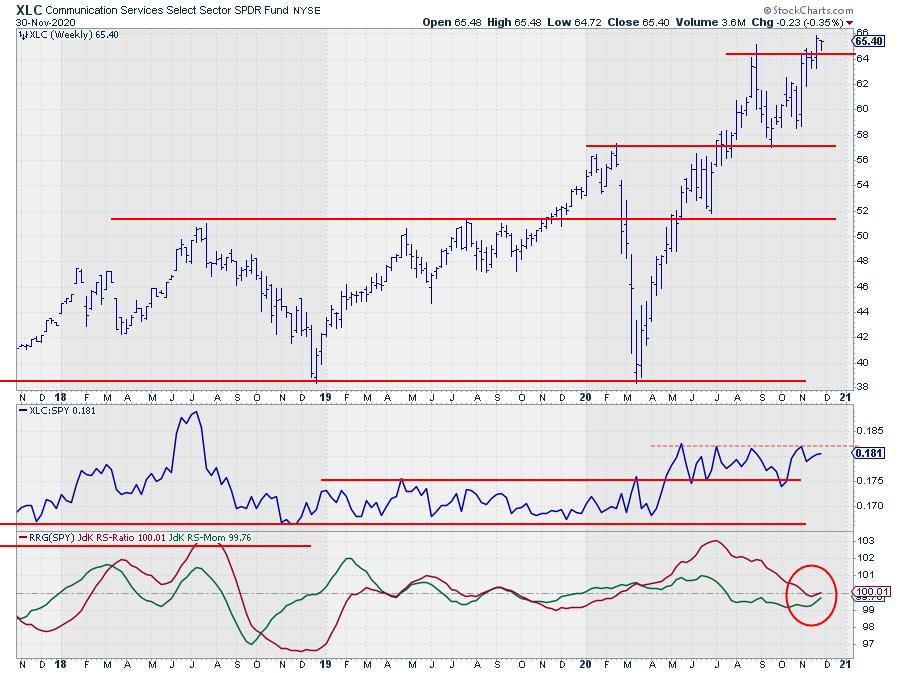 The Communication Services sector was able to break to new highs last week and so far ius able to hold up above that former resistance level which is now expected to act as support.
The relative strength line here also, essentially moved sideways since breaking out of its range back in May. The recent move higher that bounced against resistance is causing the RRG-Lines to carefully start curling back up just before the sector hit the lagging quadrant.
Combining that with the current strength on the price chart and the positive outlook based on seasonality for the sector in December make this an interesting proposition.
Add XLC-XLK to RRG Long/Short basket
For those of you who are following my RRG Long/Short basket, I will add this as a pair trade. So XLC to the long basket and XLK to the short basket.
Here are the RRGs for both baskets as they are right now.
Long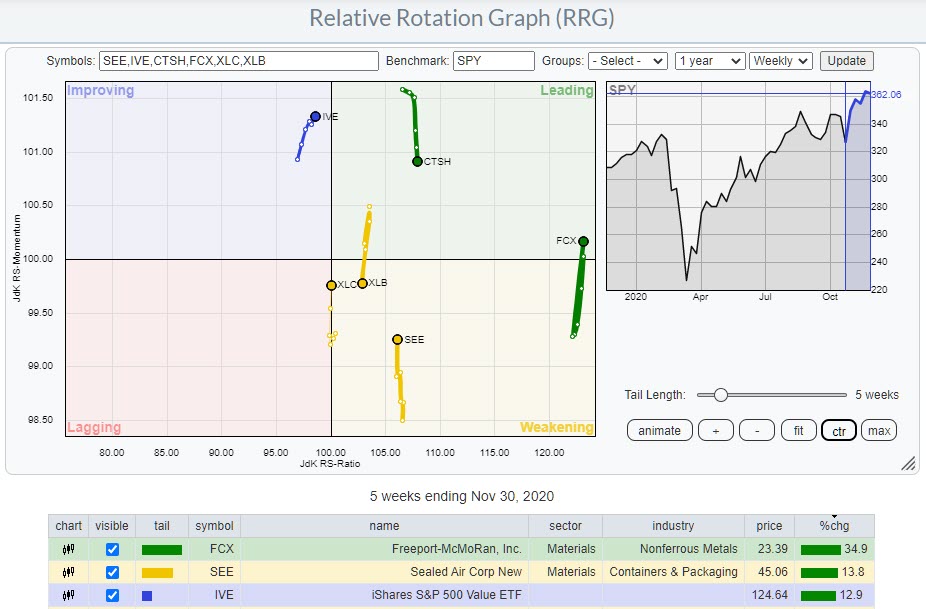 Short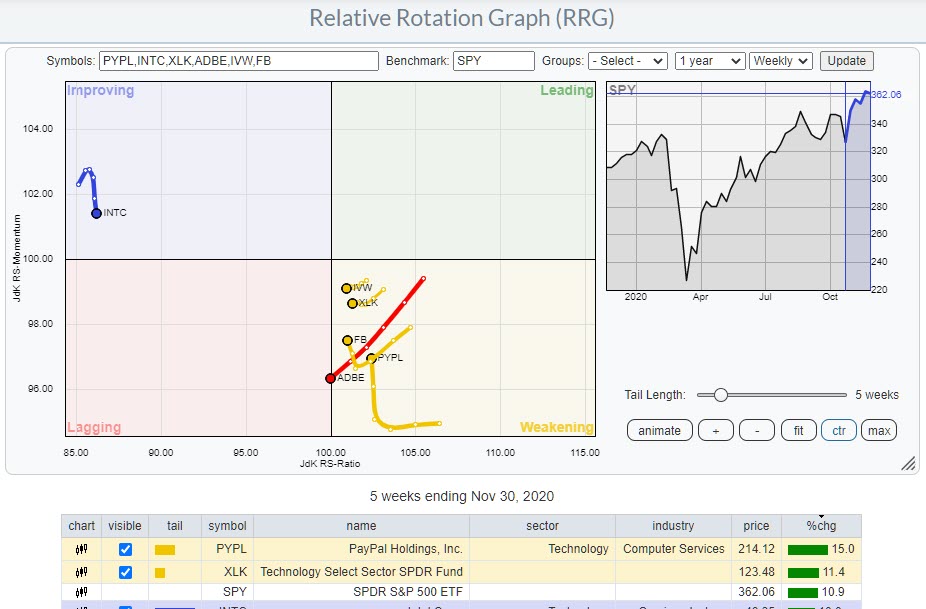 #StaySafe, –Julius
---