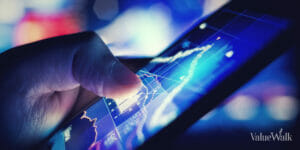 Jehoshaphat Research is short shares of Progyny (NASDAQ:PGNY), a company they believe is deceiving the investor community via its financial reporting practices. These practices rely on complex accounting that PGNY appears to have been exploiting for years.
We believe that PGNY recently has taken its aggression to a brazen level by secretively changing important accounting policies that materially inflate profits. We calculate that PGNY is actually unprofitable, but masks this problem with accounting games.
Q3 2022 hedge fund letters, conferences and more
We believe the following accounting tricks have kept reported profits from going negative:
Recently, by changing just one word in their SEC filings, Progyny management gave itself the ability to book profits based on "expected" results rather than "historical." We calculate that this change added ~400bps to margins. The "expected" results management is using defy logic.
PGNY also apparently decided recently to stop accruing allowances for customer cancellations, which we believe may have added up to another ~400bps to both revenues and gross profit margins.
Progyny's bad debt expense is enormous, despite a corporate customer base of high credit quality. We believe these "credit losses" are more like reversals of inflated revenues. PGNY may be pushing hundreds of basis points of gross margin into an opex line largely ignored by analysts. (And if we're wrong about that, then PGNY simply has an enormous, unexplained credit quality problem.)
We estimate that PGNY's "real" gross margins are approximately low-teens (and dropping fast). We calculate the divergence with reported gross margins in the following graph: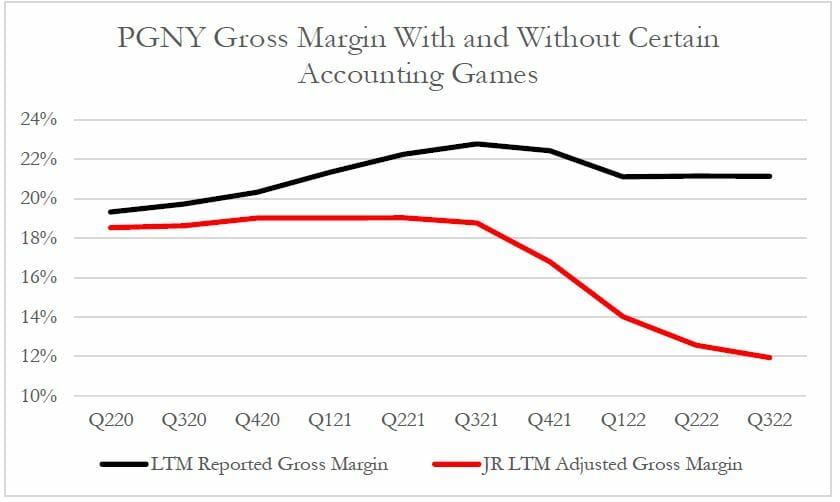 We estimate that Progyny's "true" gross margins (red line on chart above) are in rapid decline. In our report we'll discuss some of the reasons why we think that's happening, as well as why optical gross margins are nice and stable.
Gross margins are critical to the story about this being a business that will scale profitably. The business model flat-out does not work if the margins are not growing, and we think every investor in PGNY knows that.
Once we adjust PGNY's margins to remove the problems we've found, we see a company with no operating profits. Is this a business, or is a machine that moves money from investors to insiders?
PGNY's problems begin with a grossly misrepresented financial picture, but they don't end there. Aside from the accounting anomalies that we've uncovered, we also find:
Nonsense TAM hopes. The claimed TAM requires absurdities that fall apart under relatively modest examination.
Reverse economies of scale. The business has reached a negative inflection point on customer type and scale, whereby new customers offer far less margin than old (low-hanging fruit has been picked).
Overrecognizing revenues or credit time bomb? If we're wrong and PGNY's bad debt expense is really just plain old bad debt, then this company is effectively a concentrated-risk consumer lender. We dare analysts with Buy ratings to explain why this company has any bad debts, let alone big ones.
Insider selling with information value. Certain informed insiders with phenomenal track records of trading PGNY stock have recently started dumping shares again. While tons of selling takes place continually by PGNY management, we think the information value is concentrated in a few sellers.
Cash flows only positive because of stock issuance. We calculate that PGNY's underlying cash flow is negative, but propped up by bizarrely large stock comp in place of cash comp. As the stock price has fallen, PGNY has simply issued more stock to pay the bills. Think about where this leads…
To fact-check our document-based analysis we spoke to industry experts, including one former PGNY executive who never could figure out how the Company has reported such impressive numbers. Multiple industry experts also told us they couldn't understand how Progyny has reported such high gross margins, given its low markups and the labor-intensive nature of its business model.
In fairness, these benefits industry practitioners haven't really tried to understand the arcane accounting policies this company uses to produce its financial statements. But we have!
Have you?
Bull Case:
There is no shortage of bulls on Progyny – every sell-side analyst who covers PGNY has a Buy rating on it.
To quote the analyst at Barclays who recently reiterated PGNY as their top coverage pick (emphasis ours):
"It's a margin growth story, and a revenue growth story with no debt and good cash flow…PGNY is experiencing the fastest top line growth amongst emerging business model peers, with potential for significant EBITDA margin expansion due to an acceleration in adoption of fertility benefits offered by employers, similar to mental health benefits…
Our upside case considers the doubling of the fertility TAM to $13bn (from $7bn), a sticky customer base warranting a 1.0-1.5x EV/Sales premium and significant potential for EBITDA margin expansion by 2023E."
While these claims are mostly wrong and we'll talk about why, we think the bigger problems for PGNY are not contemplated by either bulls or bears. We believe that virtually all PGNY investors take it for granted that PGNY's numbers can be trusted…and will be surprised to learn what we have discovered.
It seems like analysts are also inclined to suspend their skepticism in general when dealing with this company, because it's just doing such nice things! (It's almost like you could call this business model "effective altruism.") For instance:
"And just to give a greater sense for people, and I love the mission of the company. I love the fact that you're really doing something that's good for the world." – BofA analyst at a September 2020 conference
"So — and it's really very gratifying to know that the Progyny benefit is attractive and addresses real issues for companies kind of across that spectrum…They're trying to do the right thing by their employees." – PGNY CEO at September 2021 BofA conference
Aww.
But it's no surprise that the topic of fertility benefits makes otherwise skeptical people feel warm, fuzzy, and pliant. Any Handmaid's Tale fans out there? A review of Season 5, Episode 5, reminds us of the power of misdirection. The men of Gilead are as unappealing and dry as the footnotes of an old 10-K…but when someone says "babies"…
"[Serena Waterford] later tells [Commanders] Lawrence and Putnam that focusing the Toronto center on Gilead was a mistake – it should be set up as a fertility center instead. "It's about the babies. That's what people want to hear," Serena says.
"People will be clamoring to keep the doors open." Commander Putnam is disinterested but he's also dumb; Lawrence knows a good thing when he hears it, and he's intrigued."
Read the full report here by Jehoshaphat Research.