Earnings season for the 3rd quarter has begun, with Pepsico (PEP) reporting earnings and sales results today that were above estimates despite recognizing a $1.4B charge related to its withdrawal from Russian markets.
Even more important for investors is the fact that management raised their guidance for organic revenue for the full fiscal year. The beat and guidance higher by PEP pushed the stock higher by 4% on heavy volume. In the chart below, I highlight the current position of Pepsico and what to be on the lookout for going forward.
DAILY CHART OF PEPSICO INC. (PEP)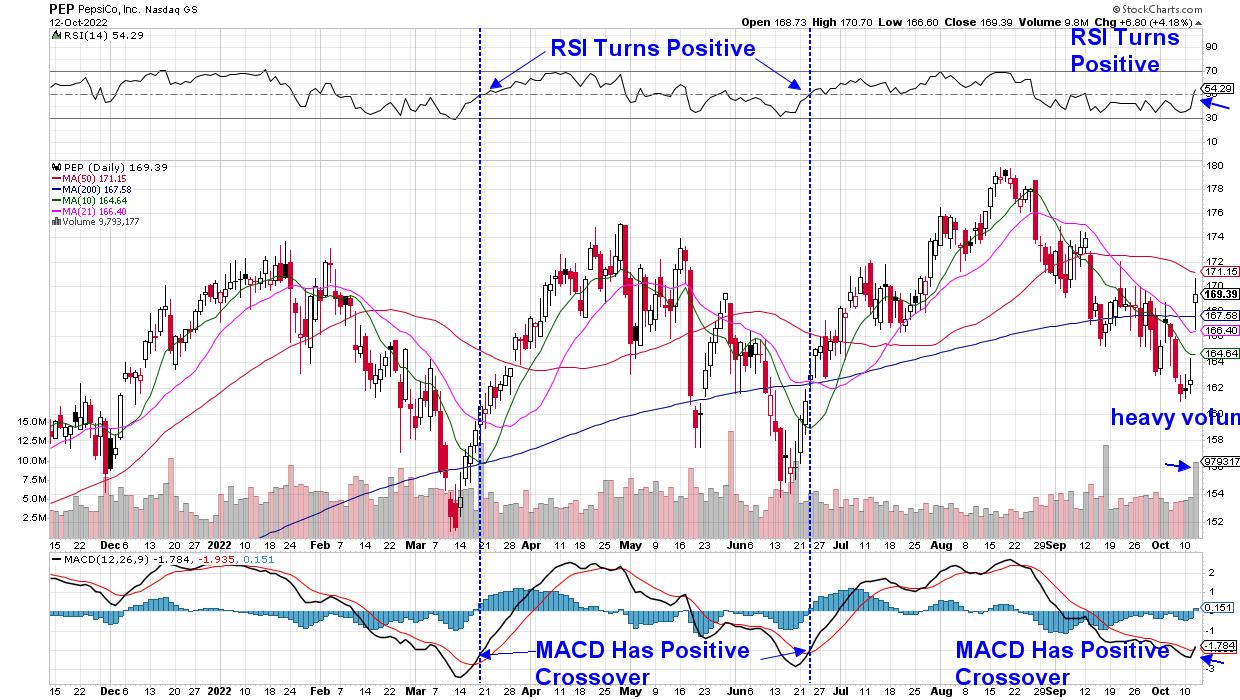 Today's gap up in price pushed Pepsico (PEP) above near-term moving averages on heavy volume which historically can lead to further gains. In addition, the momentum indicators – RSI above price chart and MACD below – turned positive following today's rally. I've highlighted the last 2 times that PEP's RSI and MACD turned positive this year and both times the stock experienced a 17% move higher.
While this is great news for the current prospects for Pepsico, there's one important additional factor to keep in mind. Both the March and July rallies that took place earlier this year, occurred when the broader markets were also in rally mode.
Below is a comparative chart of the S&P 500 relative to Pepsico and while PEP's rallies were lengthier and produced a higher return than SPX, they were in tandem with an uptrend in the broader markets.
DAILY CHART OF PEPSICO (PEP) VS S&P 500 INDEX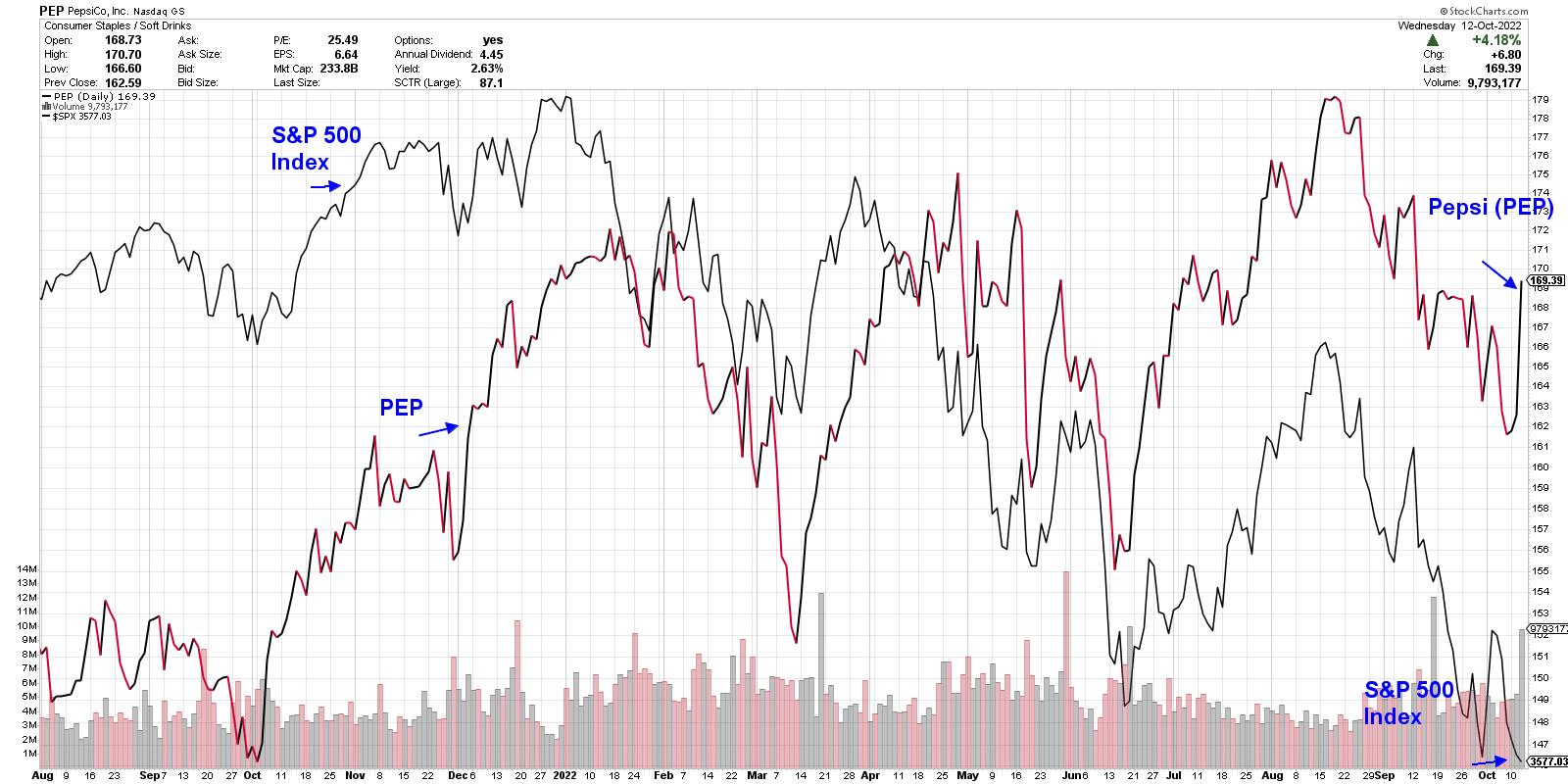 In order to prove that "this time is different", I'll need to see PEP break back above its 50-day moving average which is a key area of possible upside resistance. In addition, the Industry Group that it's a part of will need to turn positive as well, with a break back above its 50-day moving average. 
I'm considering the possibility of PEP withstanding broader market pressures that brought on a pullback in the past, simply because there are periods in a bear market when defensive stocks will rally. PEP almost doubled during the first 2 years of the 2000-2002 bear market.
DAILY CHART OF PACKAGED FOOD GROUP (from MarketSmith)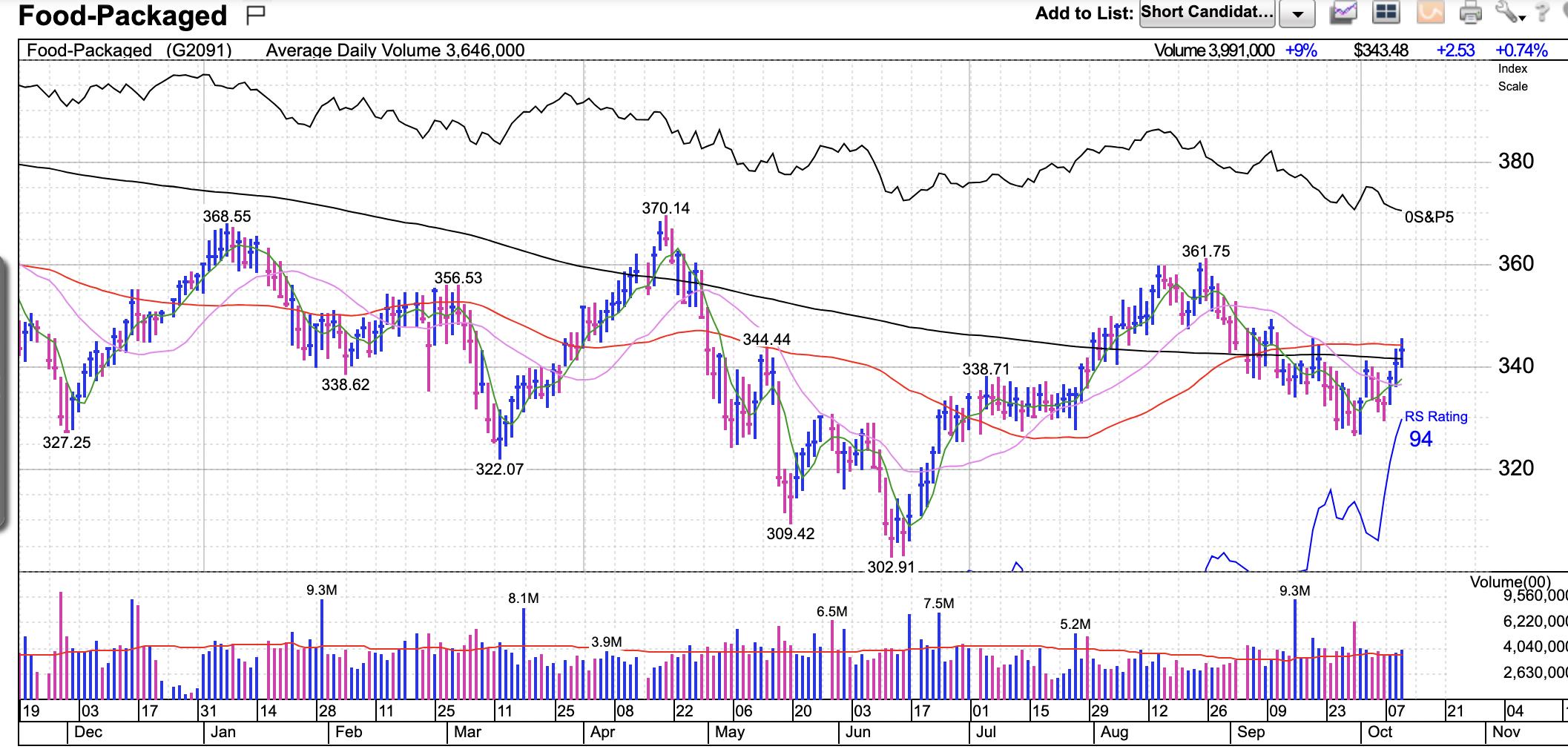 Each bear market brings its own dynamics however, and until we see further evidence that Pepsico (PEP) as well as other Consumer Staples stocks are withstanding downward pressure seen elsewhere in the markets, I'd tread lightly into any new position in the stock.
For those who'd like to take advantage of a special offer for my twice weekly MEM Edge Report, use this link here. An annual subscription will provide you access to a live trading session on November 1st which will give you a front row seat to earnings season. In addition, you'll receive my 30 minute course on how to use moving averages to pinpoint entry and exit points as well as uptrends in areas of the market. (All subscriptions are pro-rated and can be cancelled at any time.)
Warmly,
Mary Ellen McGonagle, MEM Investment Research