The unforeseen usefulness of robots during the current global lockdown has kicked up interest in an already-growing area of the markets. Companies have poured billions of dollars into the development of technology to create all kinds of robots, designed to help with deliveries, transportation and manufacturing, and demand has never been higher as mandated quarantines have peaked interest in their no-contact capabilities.
The use of robots in production lines for manufacturing facilities are getting the most attention now, as the pandemic has made humans the risk factor as to whether operations can be continued and when.
Going forward, while most CFOs of industrial production companies surveyed plan to cancel or defer investments, only 15 percent are planning to cut investments for automation. In fact, research shows that the robotic process automation market is poised to grow at an annual rate of 33% through 2029 due to the adverse impact of COVID-19.
DAILY CHART OF ROCKWELL AUTOMATION (ROK)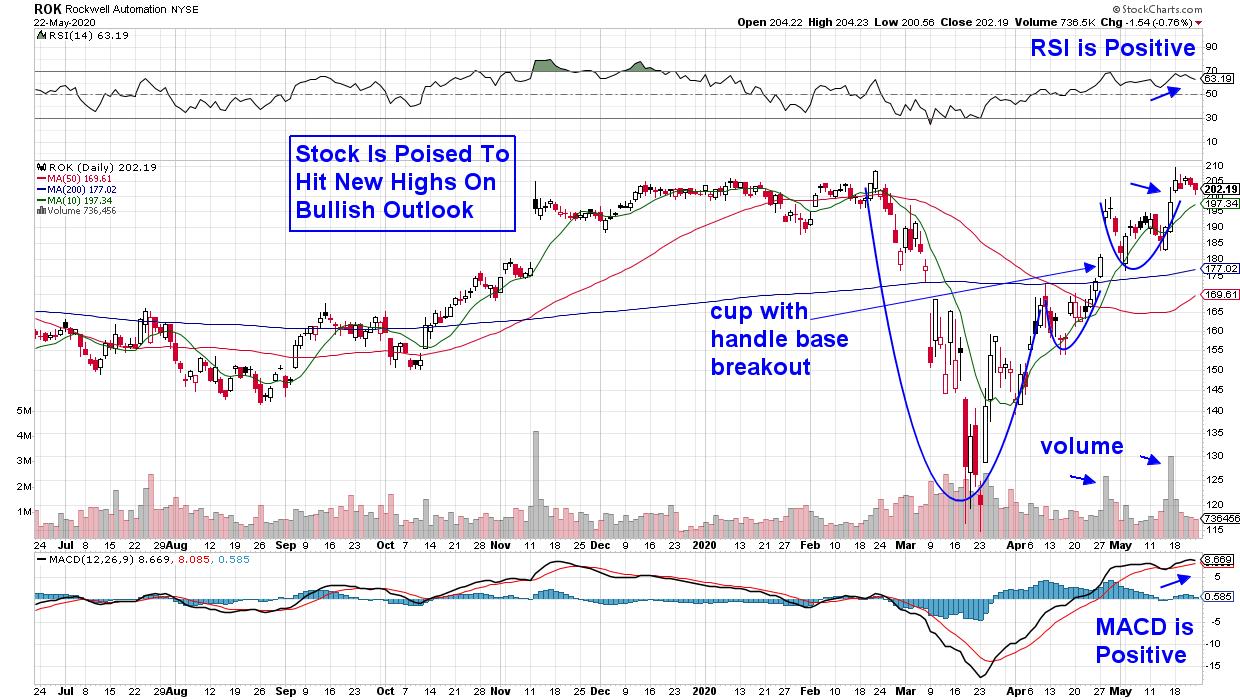 Above is a chart of Rockwell Automation (ROK), a leader in industrial automation. The company reported earnings and sales for the first quarter that were above analyst's estimates. In addition, management believes manufacturing will change more radically in the next five years than it has in the past 20, due largely to the rapid integration of technologies that can work together, such as those that they offer.
The positive results were met with buying that pushed the stock out of a cup-with-handle base formation on volume. This week, ROK broke out of a saucer base on volume following a 2-week period of consolidation. The high volume on the base breakouts is bullish as, historically, this points to further upside for a stock.
DAILY CHART OF INTUITIVE SURGICAL, INC. (ISRG)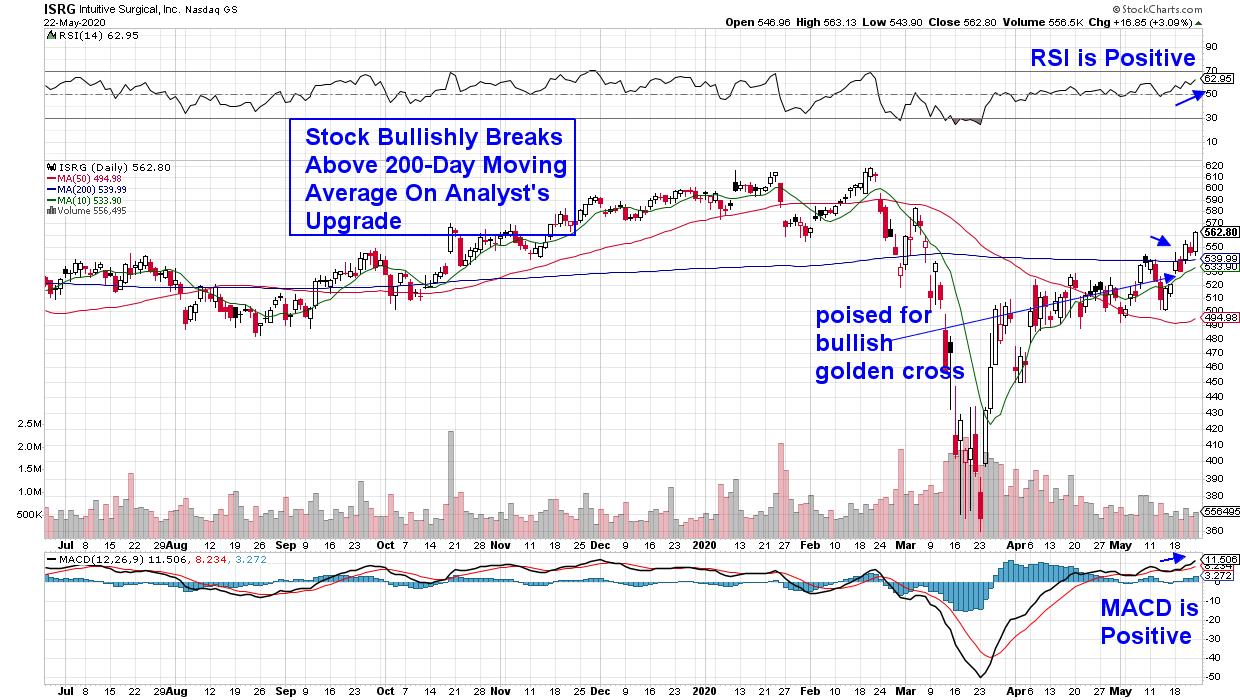 Robotics in the medical field are continuing to advance, led by pioneer Healthcare stock Intuitive Surgical (ISRG), who received FDA clearance for their robotic surgical device 20 years ago. The company was upgraded last week on an improved outlook of sales for their one-time-use surgical devices, as they continue to grow sales globally.
ISRG bullishly broke above its 200-day moving average on the news, with the RSI and MACD both in bullish positions. A further advance in the stock's price should help the 10-day moving average cross above the 50-day moving average, which would form a bullish golden cross.
WEEKLY CHART OF GLOBAL ROBOTICS & AI ETF (BOTZ)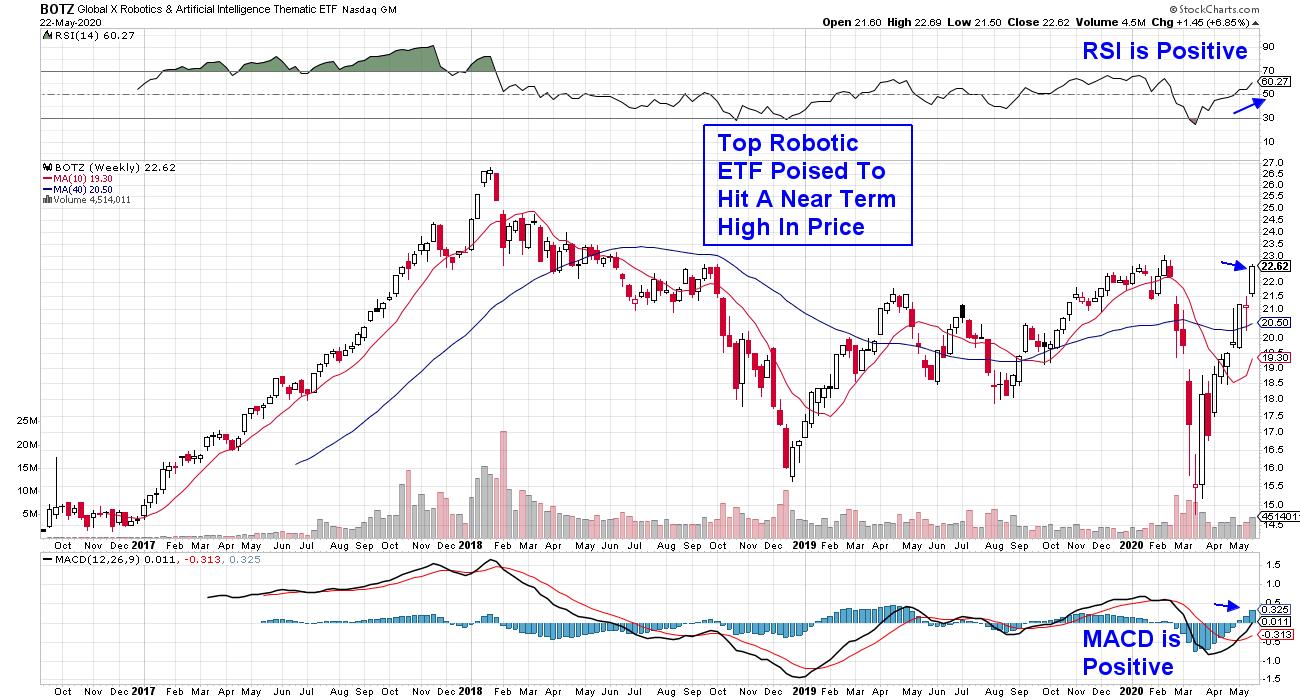 One way to participate in the recent advance among robotic and artificial intelligence stocks is with an ETF such as BOTZ above, which boasts global companies that are leaders in this space. In fact, its top holding is Semiconductor chip maker Nvidia (NVDA), which marched to new highs this week after reporting triple-digit sales.
The weekly chart of BOTZ shows the potential explosiveness of this ETF, as can be seen in the 2017 advance when it was named ETF of the year due to its outperformance. More recently, BOTZ is poised to hit a near-term high in price, with both the RSI and MACD in positive territory on its weekly chart. The good news is that orders for industrial robots were already seeing an increase in demand prior to the lockdown, as companies such as Apple (AAPL) and Amazon (AMZN) have been integrating automated machines for repetitive tasks for some time.
For those who'd like to be alerted to other areas of the market, as well as select stocks that are exhibiting promising growth prospects now as well as going forward, take a 4-week trial of my MEM Edge Report for a nominal fee now. This bi-weekly report has been helping investors outperform the markets for years, with stock recommendations that make our select list after having gone through a rigorous screening process.
Warmly,
Mary Ellen McGonagle,