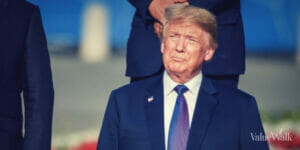 New Evidence May Finally Trigger A Trump Indictment; Georgia DA Has Recording of Third Threatening Phone Call
Fani Willis Obtains Recording Of Trump's Third Call
WASHINGTON, D.C. (March 17, 2023) – It has just been revealed that Fulton County DA Fani Willis has a third and previously undisclosed recording of a telephone call by Donald Trump, and possibly also of his lawyer Rudy Giuliani, seeking to pressure a government official to illegally alter the presidential vote in Georgia.
Q4 2022 hedge fund letters, conferences and more
The first recording was of a telephone call to Georgia Secretary of State Brad Raffensperger who was urged to somehow "find" new votes to make Trump the winner. In it Trump threatened Raffensperger with possible federal criminal sanctions if he refused.
The second recorded call, also previously known to the public, was to investigator Frances Watson who was conducting an audit of absentee ballots in Cobb County. Trump asked her to somehow uncover unspecified "dishonesty" in the voting, and promised that "when the right answer comes out, you'll be praised."
This new recorded telephone call, from Trump to now-deceased Georgia House Speaker David Ralston, asked the Republican to illegally convene a special session of the Legislature to overturn Joe Biden's victory.
It was played for the special grand jury investigating Trump and his allies, and makes the evidence that Trump violated the laws of Georgia even more overwhelming, says public interest law professor John Banzhaf, whose formal legal complaint that Trump violated criminal laws in the state triggered Willis' investigation, and subsequently the calling of the special grand jury.
This new evidence further strengthens Willis' already very strong legal hand, and may help pressure her to promptly issue an unprecedented indictment of a former president, especially if she wants to beat the Manhattan District Attorney to be first.
DA Alvin L. Bragg just offered Trump an opportunity to testify before his grand jury, which is usually a sign that an indictment is imminent, suggests Banzhaf.
Also, the Manhattan prosecutors just met with the recipient of Trump's alleged bribe, Stormy Daniels, as well as took testimony from Trump's former attorney and "fixer," Michael Cohen, who actually paid the hush money.
Several experts are suggesting that a Bragg indictment of Trump could come down as early as next week, although it might not then be made public for several more days.
Prof Banzhaf notes that an ever growing number of legal experts have also concluded that Trump's gravest legal threat comes from the DA of Fulton County, Georgia; in part because Attorney General Merrick Garland may nix one or more proposed federal prosecutions for legal and/or political reasons, as well as because of the troubling "optics," says Banzhaf.
Recently, civil rights attorney David Henderson said on MSNBC that "I think in terms of prosecutors, he has the most to fear down in Georgia because Fani Willis is not going to back off, and many of the arguments that we hear about prosecuting the former president are not going to be persuasive to her."
Also, Willis wrote "target" letters to 10 more Republican electors, putting them on notice that they too could be indicted – a very clear indication that she is moving forward. It's hard to see how electors in a scheme to affect the election could be prosecuted without also including the person behind and encouraging the entire scheme, argues Banzhaf.
Laurence Tribe, professor emeritus of constitutional law at Harvard University, has written "It wouldn't surprise me for Georgia to become the first jurisdiction to indict a former president on felony charges. And I think the charges will stick."
The Most Significant Legal Threat
Earlier, THE HILL reported that legal experts say "an Atlanta-area prosecutor's investigation into former President Trump's effort to overturn his 2020 electoral defeat in Georgia poses the most significant legal threat to the former president."
"The steps her office has taken, including empaneling a special grand jury and subpoenaing high-profile witnesses, are very likely not steps she would have taken if she did not feel there was at least a significant possibility that she will move forward with charges," said one expert.
He added that "the stakes in holding Trump accountable for an attack on our democratic system of government couldn't be higher, and the evidence is extremely compelling."
"The most serious prospect of prosecution" that Trump faces is in Fulton County, Georgia, reported the New York Times in an Op-Ed by two experienced prosecutors (one Democrat and one Republican); a conclusion reinforcing an earlier 100-page analysis by seven legal experts who concluded that the former president faces a "substantial risk of possible state charges predicated on multiple crimes."
As the two former prosecutors concluded, "Willis's work may present the most serious prospect of prosecution that Mr. Trump and his enablers are facing. . . She has a demonstrated record of courage and of conviction.
She has taken on — and convicted [under RICO] — a politically powerful group, Atlanta's teachers, as the lead prosecutor in the city's teacher cheating scandal. And she is playing with a strong hand in this investigation. The evidentiary record of Mr. Trump's post-election efforts in Georgia is compelling."
As the New York Times further explained: "What's more, Georgia criminal law is some of the most favorable in the country for getting at Mr. Trump's alleged misconduct."
For example, there is a Georgia law on the books expressly forbidding just what Mr. Trump apparently did in Ms. Willis' jurisdiction: solicitation of election fraud.
Under this statute [GA Code § 21-2-604], a person commits criminal solicitation of election fraud when he or she intentionally 'solicits, requests, commands, importunes or otherwise attempts to cause' another person to engage in election fraud."
Prof Banzhaf and other legal experts have suggested that there is strong evidence that Trump and his allies also violated several additional Georgia criminal statutes.
It also seems clear the Willis is planning to bring charges under Georgia's RICO [Racketeer Influenced and Corrupt Organizations] Act which is more sweeping than its federal counterpart, says Banzhaf, whose legal memo led to a successful federal RICO prosecution of the major tobacco companies.
There are many other indications that Willis may soon indict Trump, suggests Banzhaf, whose criminal complaint triggered her investigation, and who also played a role in obtaining special prosecutors for former president Richard Nixon, and for finally bringing former Vice President Spiro Agnew to justice.