For the past year, the bulls have been able to hang onto one argument – that the large cap growth stocks continued to outperform their large cap value counterparts, which, in turn, held up our major indices. That may not be the case any longer. The cracks in the large cap foundation are beginning to show. First, let's look at the Dow Jones U.S. Large-Cap Growth Index ($DJUSGL) on its daily chart: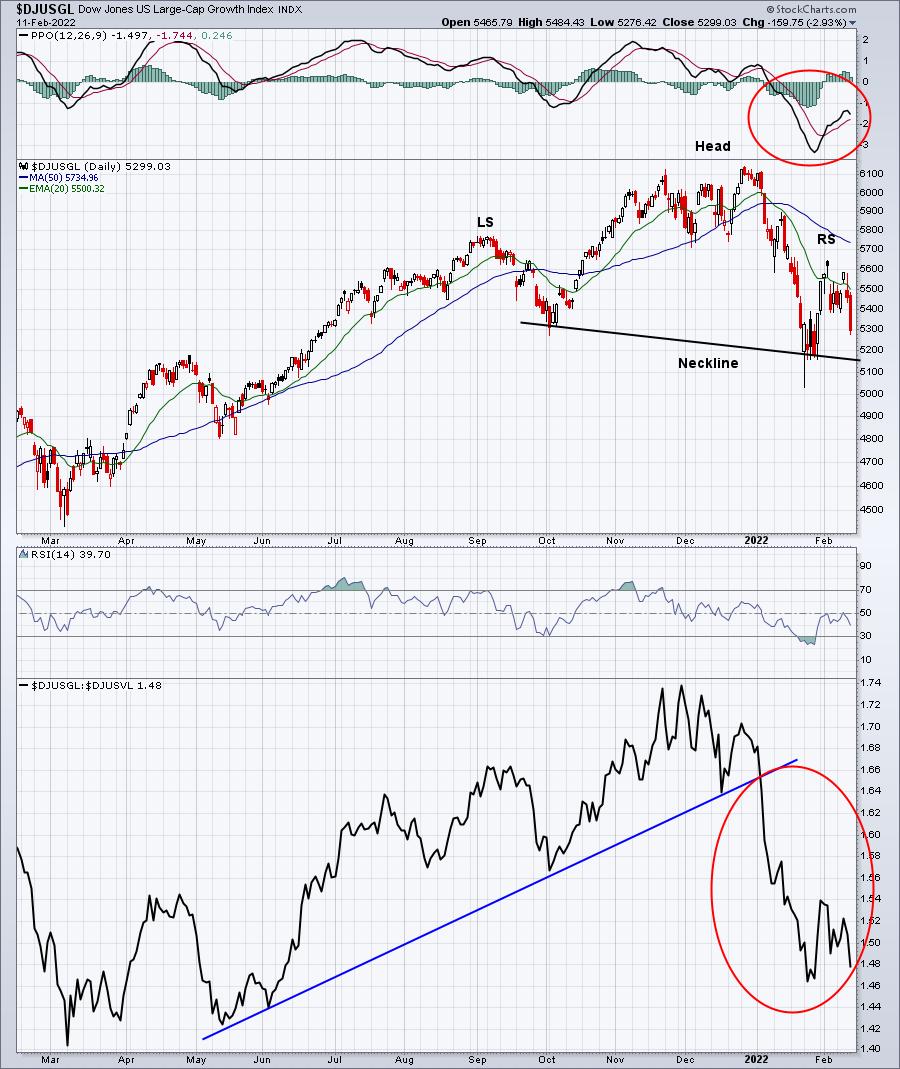 The downward sloping shoulders and neckline really give this chart a very bearish feel to me. The PPO has been weak and is in negative territory, confirming bearish momentum. The RSI recently reached into the low 20s, which is very unusual for an uptrending index. I'd say the index is now downtrending. Finally, look at that bottom panel. In 2022, money is rotating away from large cap growth and into large cap value. As that continues to happen, it will take a huge toll on our major indices, which are heavily weighted with large cap growth names.
Next is the weekly chart, which had already flashed a warning of its own as higher prices recently were accompanied by a lower weekly PPO – a negative divergence: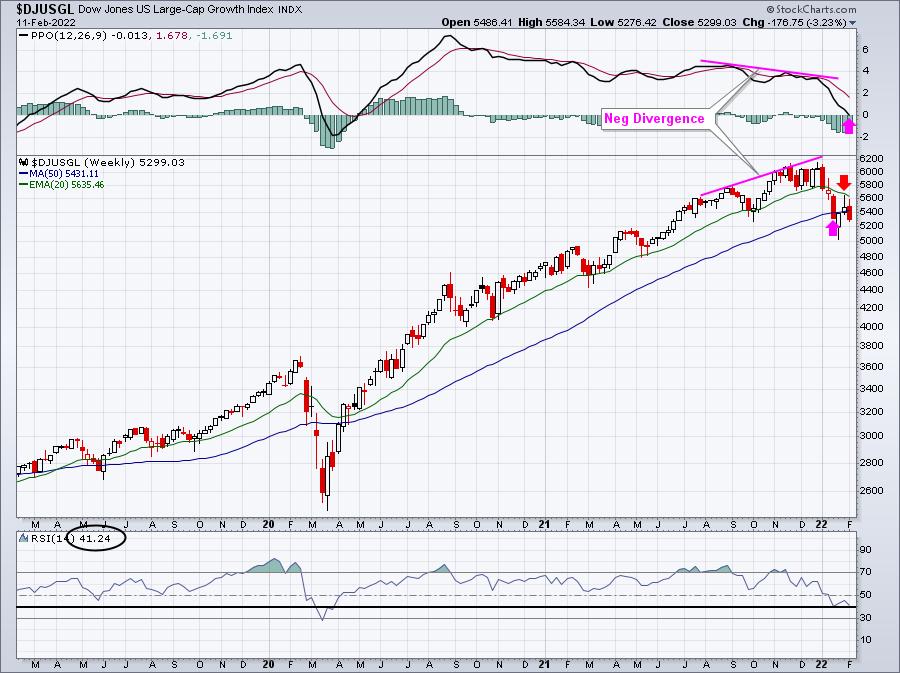 A negative divergence is a signal of slowing momentum and I generally look for a PPO centerline "reset" after a negative divergence prints. Many times I'll also see a 50-period SMA test. Both of these are highlighted with a pink arrow above. But I'm watching two other signals on this chart. The first is the now-declining 20-week EMA, which was very successful in holding back the bulls on their first attempt at clearing that moving average. Rolling back over and closing beneath the 50-day SMA is not a good look. The other technical signal I'd watch is the weekly RSI. Support is typically found in a bull market at weekly RSI 40. We closed almost squarely on that level on Friday. A weekly RSI that breaks into the 30s would be yet one more indication that the selling may just be getting started.
Large cap growth names like Apple (AAPL), Microsoft (MSFT), Amazon.com (AMZN), Alphabet (GOOGL), Meta Platforms (FB), Tesla (TSLA), NVIDIA Corp (NVDA), and Adobe Systems (ADBE) are all beginning to feel intense selling pressure – even after excellent quarterly earnings reports for a few of these names.
Let's look at GOOGL as an example: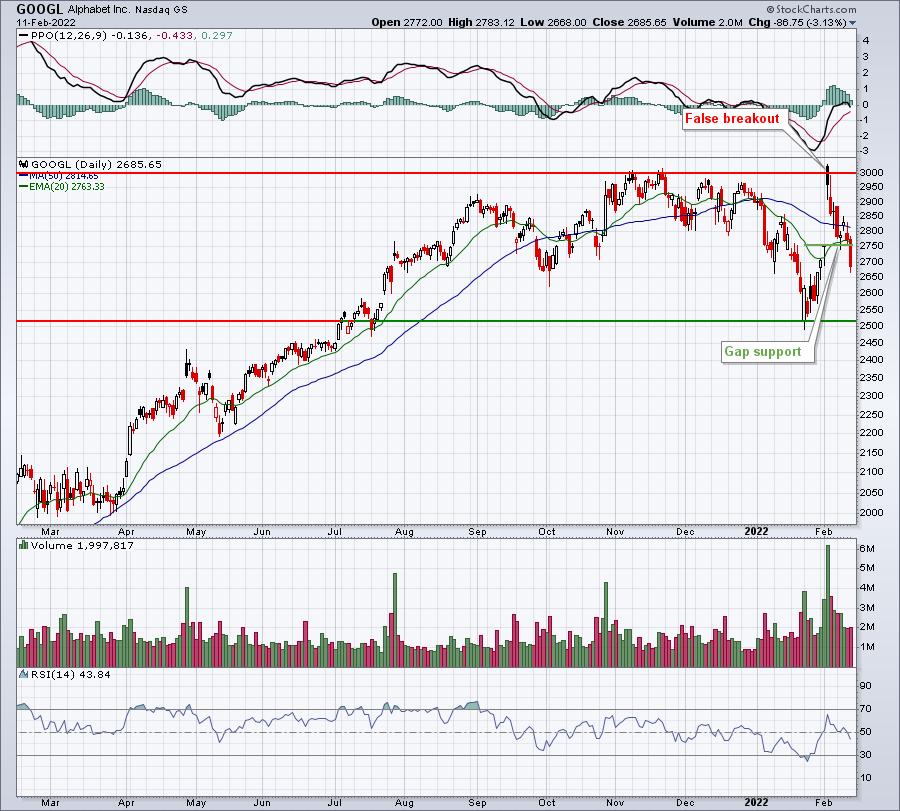 After very strong earnings were reported, GOOGL gapped up significantly to break to an all-time high, but only temporarily, as sellers took swift control of the action. On Friday, GOOGL failed to hold gap support and seems to be on a fast track to test its recent price low close to 2500.
Microsoft (MSFT) has an ugly head & shoulders topping pattern of its own that it's dealing with: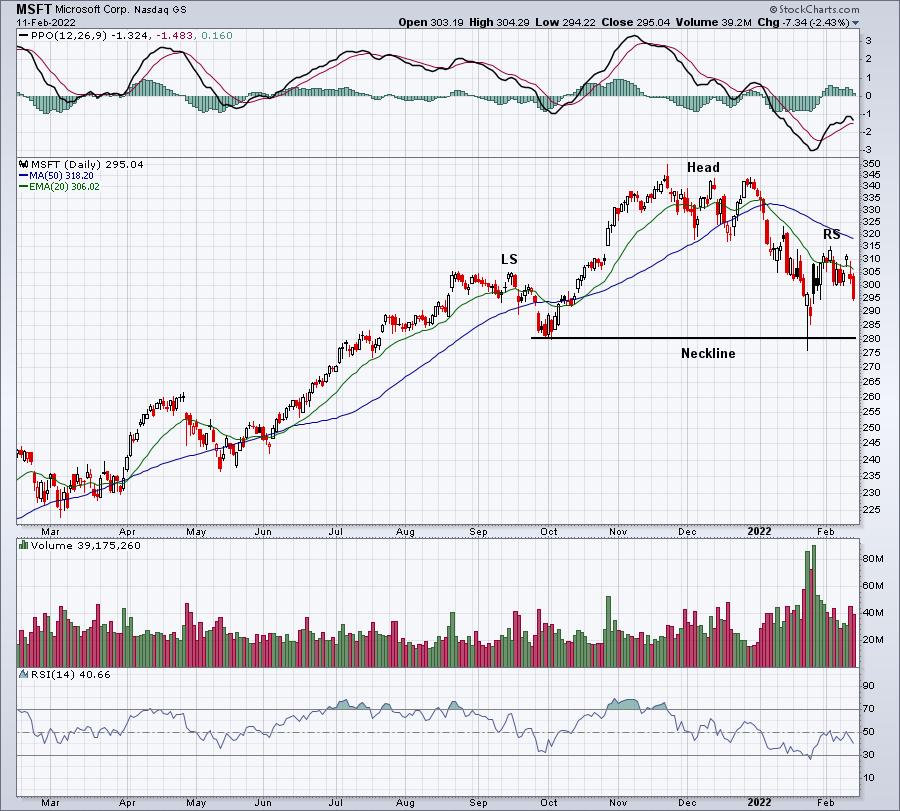 Loss of 280 neckline support would be a much bigger crack in the foundation of large cap growth.
Adobe Systems (ADBE) saw another technical breakdown on Friday: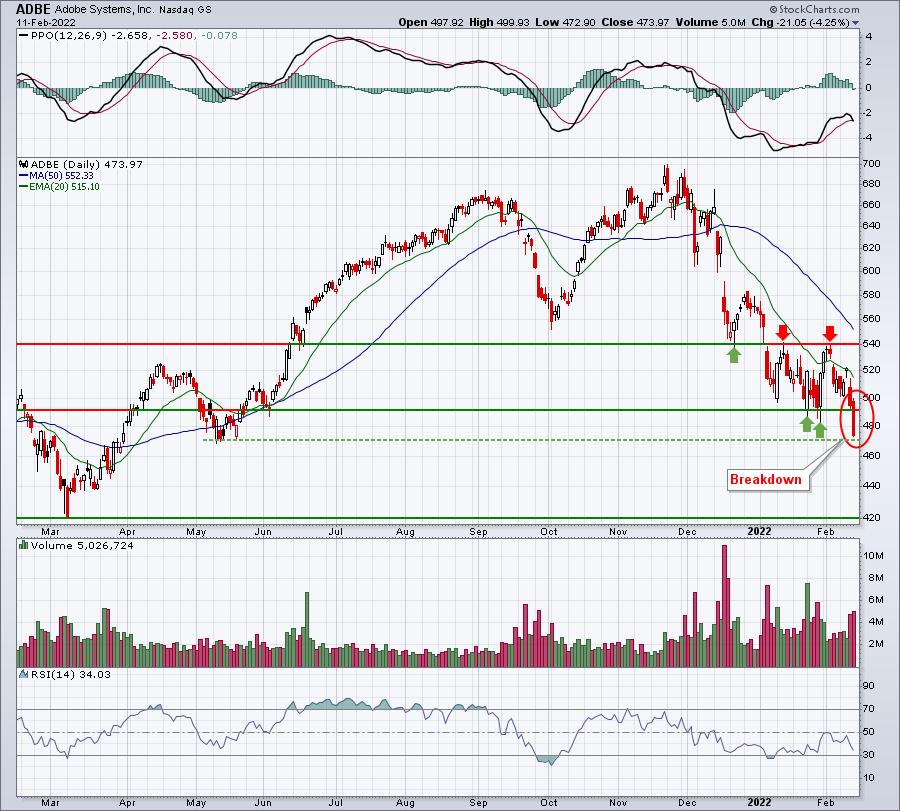 There's a bit of price support at 470, which ADBE nearly hit on Friday. Beneath that, however, I don't see much until 420. That's another 50 bucks, or 10-11%, before the next key support level is reached.
Things have already turned bearish, but they could turn very, very ugly quickly – especially if these large cap growth names fail to act as leaders. Many of them have already lost their leadership roles. It's very obvious that Meta Platforms (FB) is no longer a leader: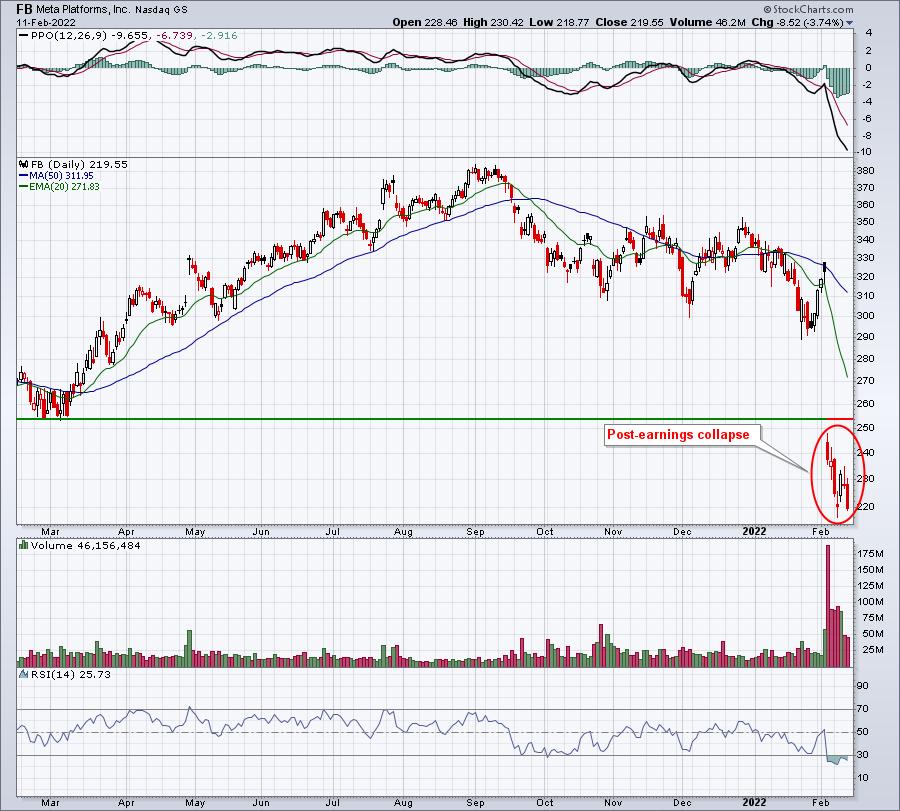 FB has lost an almost unfathomable 33% of its market capitalization in a little more than a week.
2022 isn't looking like 2021 or 2020. Far from it. Don't be surprised if the weakness to start 2022 accelerates. I remain extremely cautious in the short- to intermediate-term. For me, that's the next 3-6 months.
We had a tremendous event on Saturday for our EB.com members, "The Anatomy of a Cyclical Bear Market", designed to educate our community. We're prepped for what we're going to be facing. Please be careful in the weeks ahead.
On Monday morning, I'll unveil perhaps the biggest change in the market that I've seen take place thus far in February. Rotation continues and we MUST stay on top of it. To check out this latest chart, simply provide us your name and email address HERE and we'll get you added to our EB Digest newsletter, which is completely free. There's no credit card required and you may unsubscribe at any time. I'll get that important chart out to you first thing Monday morning!
Happy trading!
Tom