We can talk about earnings, the economic outlook, technical conditions, etc., but to be quite honest, the real keys to successful investing/trading come down to timing, patience, and managing risk. At EarningsBeats.com, we do all the research for our members. We provide so many trading opportunities and literally hand them to our members on a platter. The rest comes down to being patient and allowing opportunities to surface with much better reward-to-risk scenarios. We have just created a new ChartList for our members – the Raised Guidance ChartList (RGCL). This ChartList features companies that have raised their revenue and/or earnings guidance over the past quarter, indicating that management is executing their business plan to perfection in a mostly undesirable environment (pandemic). I want to give you an example of one stock on this new ChartList – GoDaddy, Inc. (GDDY):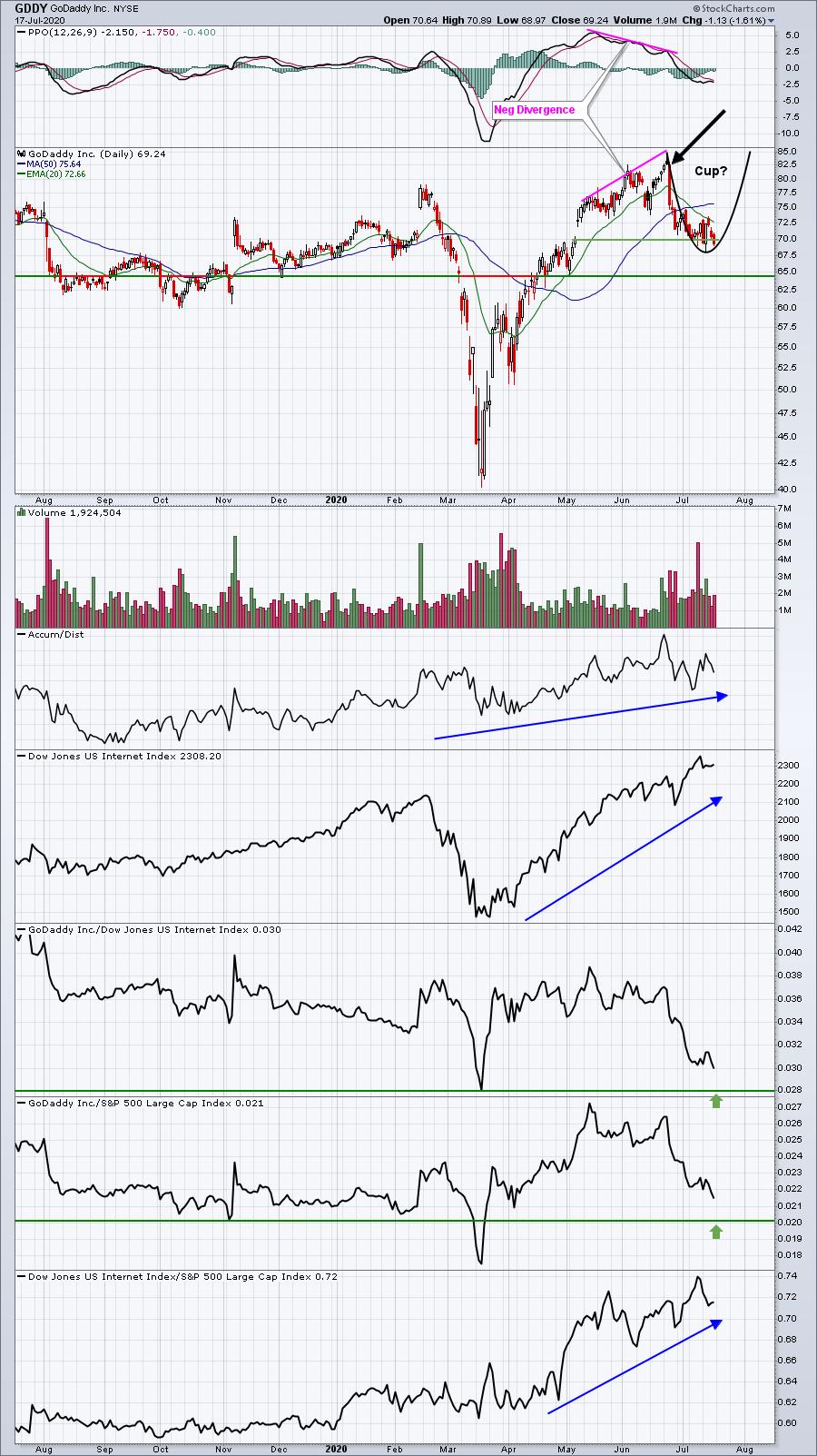 I'm of the opinion that we could be at a turning point for the stock. Why? Well, first of all, the stock more than doubled in 3 months, rising from 40 to 84. At the high, GDDY raised its revenue guidance (thick black directional line), then sold off hard. Ever heard of that old Wall Street adage, "buy on rumor, sell on news"? Well, that's what we're looking at here. GDDY dropped to what I think may have marked the bottom on July 14th, when it reached a low of 68.16. That was almost 20% off the recent high in 4 weeks! This is where doing your homework, creating a ChartList, and waiting to pounce can turn into a major profit. Has GDDY definitively bottomed? I don't know, but I do know that trading the stock now carries a much higher reward-to-risk than trading it four weeks ago. I'm anticipating a possible cup to form, as reflected on the above chart. For many of you, it might make sense to wait for GDDY to cross back above its 20 day EMA before thinking about a long trade. How and when (or IF) you trade it depends on your own personal trading style and strategy, but my point is……we do the homework, while you reap the rewards!
If you're not already a member of EarningsBeats.com, I really want you to strongly consider joining now. First, I will be unveiling our latest ChartList, the Raised Guidance ChartList, and how to use it on Monday, July 20th at 4:30pm ET during our "Q2 Earnings" webinar. During this webinar, I'll also be looking ahead to point out what I expect many notable companies to report as we move forward during earnings season – stocks like AAPL, AMZN, MSFT, TSLA, and dozens of others. I'll be including my 5 FAVORITE upcoming earnings reports. And perhaps most important, a fully-refundable $7 30-day trial will carry you past our "Top 10 Stocks" webinar on August 19th, where I'll unveil our latest Portfolio components. If you haven't tracked these Portfolios, I can tell you that our flagship Model Portfolio is up more than 110% since its inception on November 19, 2018. That's in just 20 months and it's more than 90 percentage points higher than the S&P 500's 19% return over the same time frame! And we've been through TWO cyclical bear markets – the trade war in Q4 2018 and 2020's COVID-19 pandemic – not exactly the best environment to more than double your money. Join now and you'll have a seat to our most popular – BY FAR – webinar of each quarter!
CLICK HERE for more information on Monday's event and to subscribe.
Tom