Looking at historical precedence with stocks is the best way to create a foundation from which to build your trading plan going forward. My 15 years working with IBD founder Bill O'Neil solidified this fact for me as his proven strategy to uncover big, winning stocks was centered around history repeating itself again and again.
Today, I'm sharing a weekly chart of online education specialist Chegg Inc. (CHGG). The company has seen a substantial increase in new subscribers, both domestically and globally as college students are forced to work more on their own due to the impact of Covid-19.
WEEKLY CHART OF CHEGG, INC (CHGG)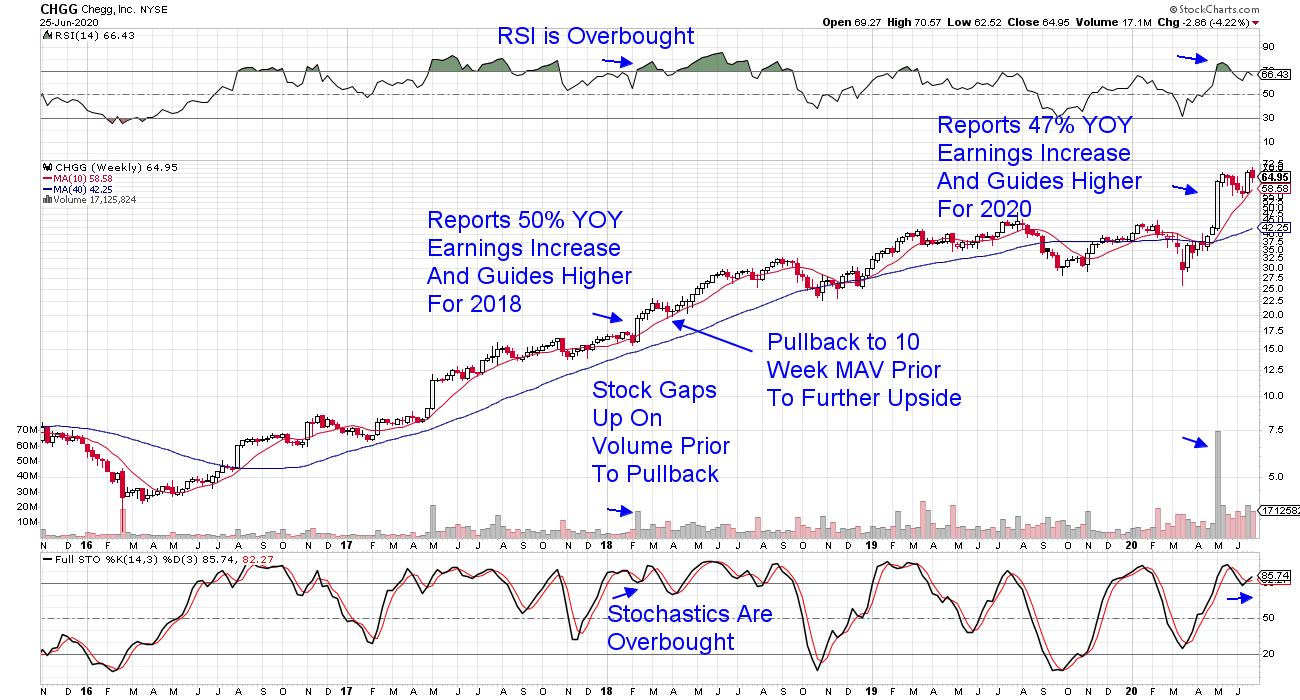 As you can see, the stock gapped up significantly following their Q1 earnings release this May and over the past 4 weeks, CHGG has pulled back to it's 10-week or 50-day moving average. This sequence is very similar to the highlighted period in the beginning of 2018 when the stock pulled back in lighter volume that followed a gap up in price on earnings. The weekly RSI and Stochastics are also lined up in the same fashion as 2018.
While the stocks uptrend was halted by the 2018 bear market, you can see that CHGG traded much higher following the bullish sequence of events highlighted above. The fact that management is guiding earnings estimates higher for the remainder of this year (again, similar to 2 years ago), is the most impactful similarity as strong earnings are the primary driver of a stock's upward advance.
My work is centered around uncovering high-quality growth stocks poised to outperform the markets and if you'd like to be alerted to these select, winning stocks, trial my bi-weekly MEM Edge Report for 4 weeks a nominal fee. You'll also receive precise entry and exit points as well as market and sector analysis.
This is a historically unprecedented period in the markets – yet history continues to repeat itself. I hope you'll take advantage of my special offer!
Warmly,
Mary Ellen McGonagle, MEM Investment Research