I try to minimize risks as best I can. That means generally trading only companies that are in Wall Street's good graces. In order to get there, I believe it's really important for companies to deliver on their promises. It's called "under promise and over deliver". Wall Street respects that because they feel more confident about future earnings expectations, which is a big part of valuing a company. In this current environment, we've seen mostly large cap technology (XLK), consumer discretionary (XLY), communication services (XLC), and health care (XLV) stocks rewarded as their earnings have been exploding and easily topping forecasts. And I'm a complete believer that this trend will continue. However, I also realize that small cap ($SML) and mid cap ($MID) stocks have been tossed to the side. There very well could be many overlooked companies in these asset classes poised to snap back very quickly as economies reopen.
To consider small and mid caps, you really have to have a very aggressive mindset, which I do. While these areas of the market have been much slower to respond to market strength, that could change, and those of us with that aggressive thinking need to be doing our homework NOW and prepared to act. In that regard, I'll provide you 4 stocks that could be poised for a very strong 2nd half of 2020. Let's get this aggressive party started:
Fluidigm Corp (FLDM)
FLDM is a very small $317 million medical equipment company that creates, manufactures, and markets technologies and tools for life sciences research worldwide. Medical equipment stocks ($DJUSAM) have been consolidating for nearly three months, so the entire group is being overlooked, in my opinion, as we head into earnings season. After a heavy volume advance to start May, FLDM consolidated in a bullish wedge that it just broke out of to the upside: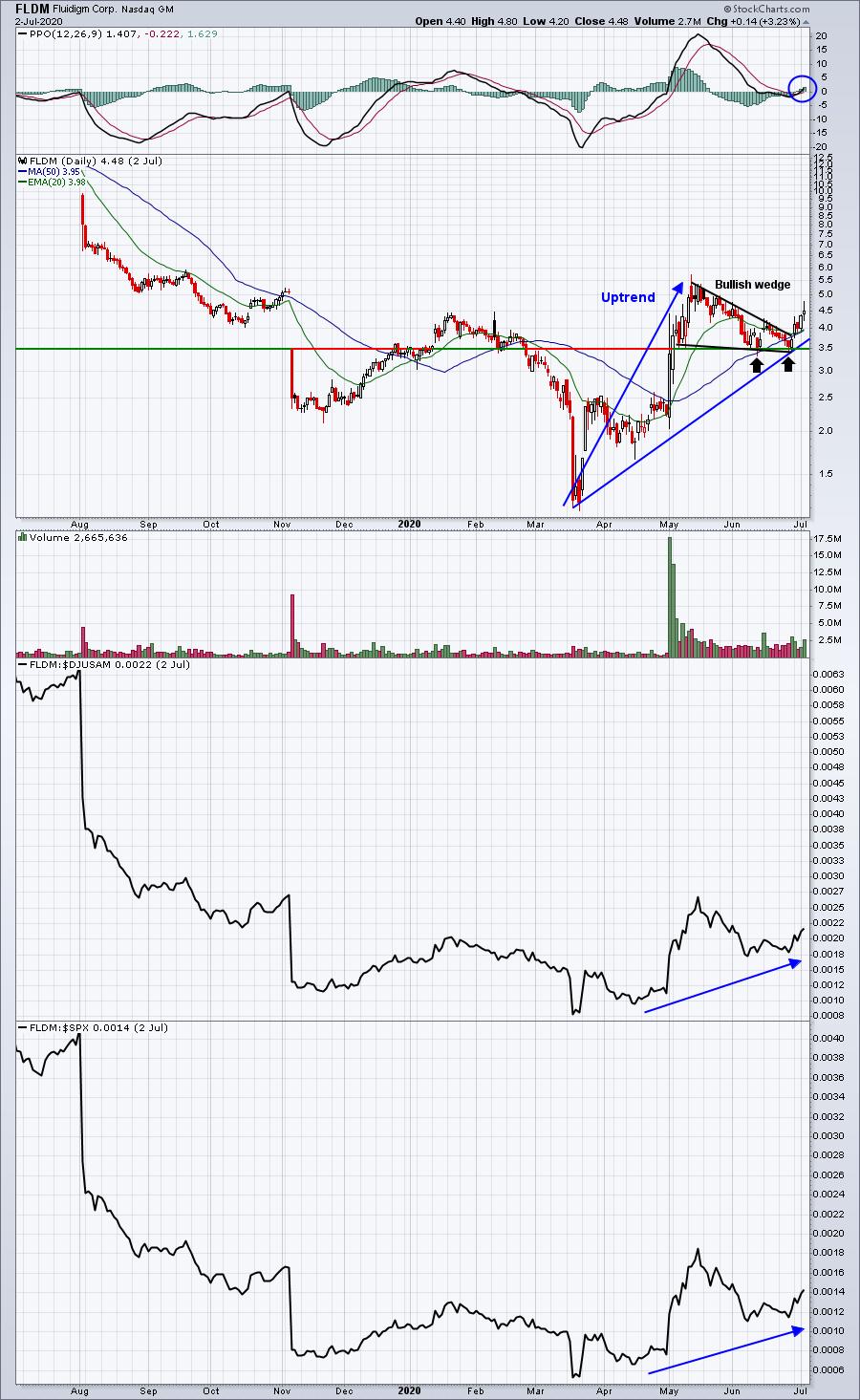 The story here remains alive so long as FLDM remains above 3.50 price support (double bottom).
Pluralsight, Inc. (PS)
PS is a $2.72 billion mid cap application software company that provides technology skill development solutions worldwide. The technical outlook here looks rather simple to me. PS ran from just above 6.00 to more than 22.00 in just two months, but short-term momentum became an issue. It consolidated, dropping back to its 50 day SMA while its PPO fell just below centerline support. As it breaks to a 3-4 week high, it's showing signs of accumulation as its AD line (not pictured below) has reached an 11 month high even though it remains below its highest close in early June. It also doesn't hurt that PS belongs to one of the strongest industry groups – software ($DJUSSW) – in the U.S. stock market: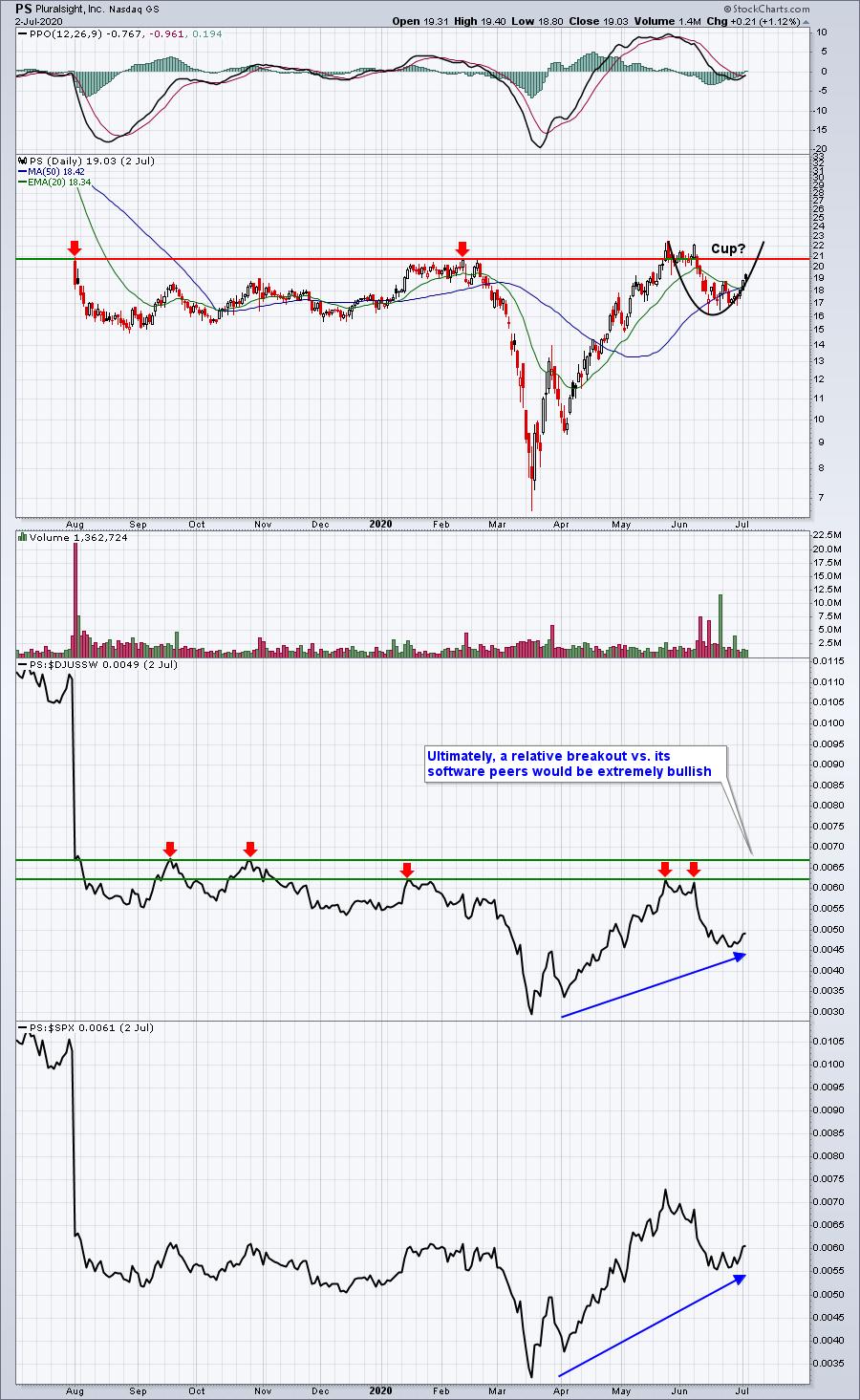 Watch for a potential right side of a cup to form here. If we see that breakout eventually above the June high close and a relative breakout vs. software, PS could set up for an explosive 2nd half move.
On Monday, I'll be reviewing all asset classes, including small cap ($SML) and mid caps ($MID), during my "2020 2nd Half Market Outlook" webinar. You'll need to be at least a trial member at EarningsBeats.com to attend, but it'll be well worth the $7 30-day trial cost (which will be refunded by the way, so the net cost is ZERO). If interested, you'll find more information about the event HERE.
Happy trading and Happy July 4th!
Tom