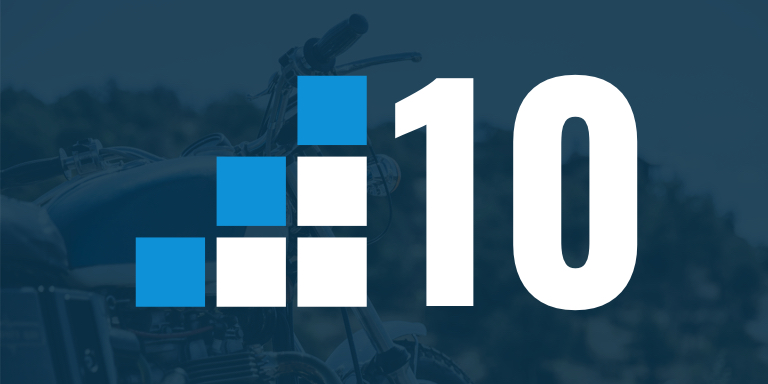 As you may well know, I talk a lot about my weekly routine. More specifically, I talk a lot about my "Sunday Portfolio Review". I've said it before and I'll say it again – my weekend review is the most important part of my investing process. It is hands down the highest-impact, highest-leverage piece of my overall approach to the markets, and I see it as the heart and soul of my investing system.
When I boil it all down, my weekend review has three fairly distinct sections:
Market Evaluation
Portfolio Analysis
Discovery / "Stalking"
Now, I have to admit – the discovery piece is the fun one. This is where I sit down with all the results of the scans I've been running during the week. I sweep all of my watchlists and run through dozens of charts, sometimes even hundreds. I'm looking at what's out there that I don't own – what's working, what's trending, what's strengthening, what's making new highs and starting to set up for a high-probability trade, etc. At the end of it all, I carefully narrow my list of potential trading opportunities down to a very select group of just 10 names.
This is the list of "10 I'm Stalking".
As the new week kicks off, this list of 10 leaves me with a very focused group to consider. I'm not worrying about all of the dozens (or even hundreds…) of other possible setups out there. I've found my 10. I have my list. I know what I'm watching and where I'm looking. No muss, no fuss!
In life, focus is a beautiful thing. In investing, focus is a profitable thing.
Recently, I've been sharing out this list of "10 I'm Stalking" on Twitter before the start of each trading week. If you follow me on Twitter (@GraysonRoze), you can keep tabs on the names I'm watching each week and the charts I'm stalking as possible trade targets. For example: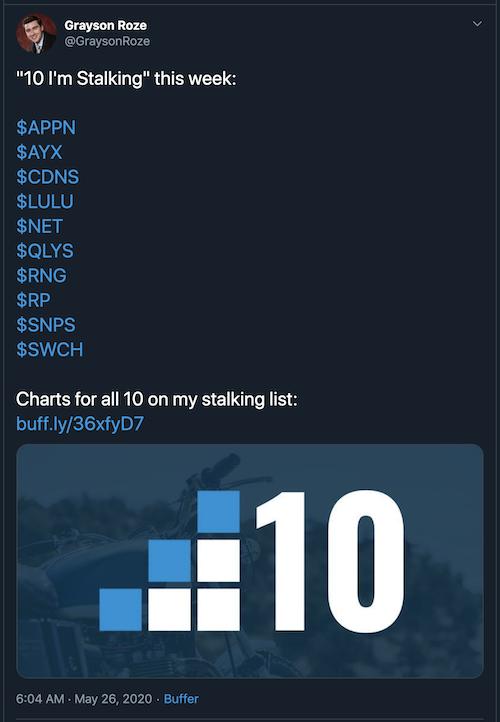 This week, in addition to the "10 I'm Stalking" tweet, I'm trying something new. Below, you'll find my charts for all 10 stocks I'm watching most closely this week. You can click on each one individually to see the live chart, or Click Here to see the full "Shared ChartList" with all 10 charts at once. You can even save the entire list into your own StockCharts account from that page, too.
APPN – Appian Corp.
"Provides business process management (BPM) solutions. Its BPM tools automate and measures business processes."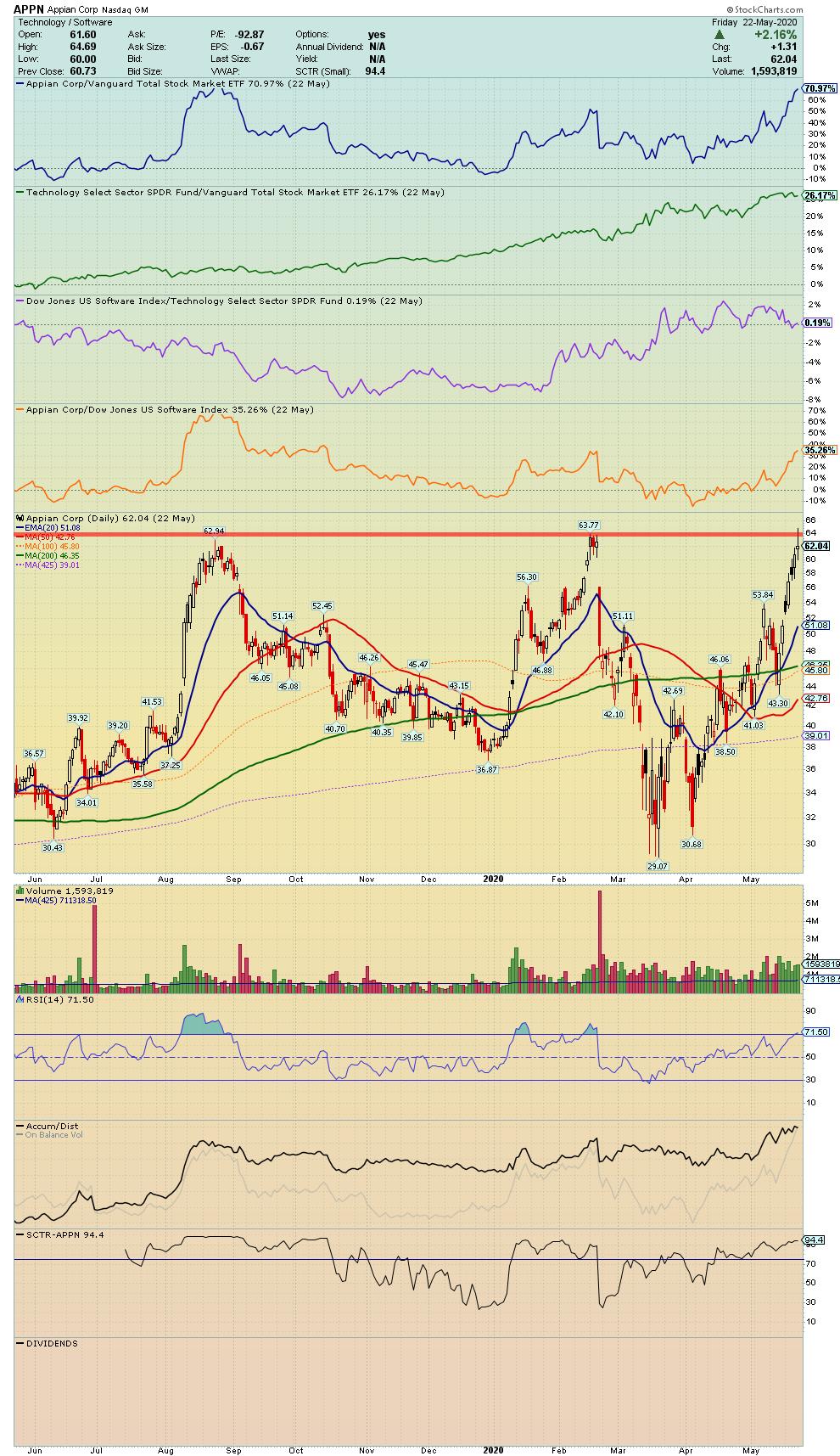 ---
AYX – Alteryx, Inc.
"Engages in the provision of self-service data analytics software. Its subscription-based platform allows organizations to prepare, blend, and analyze data from a multitude of sources and benefit from data-driven decisions."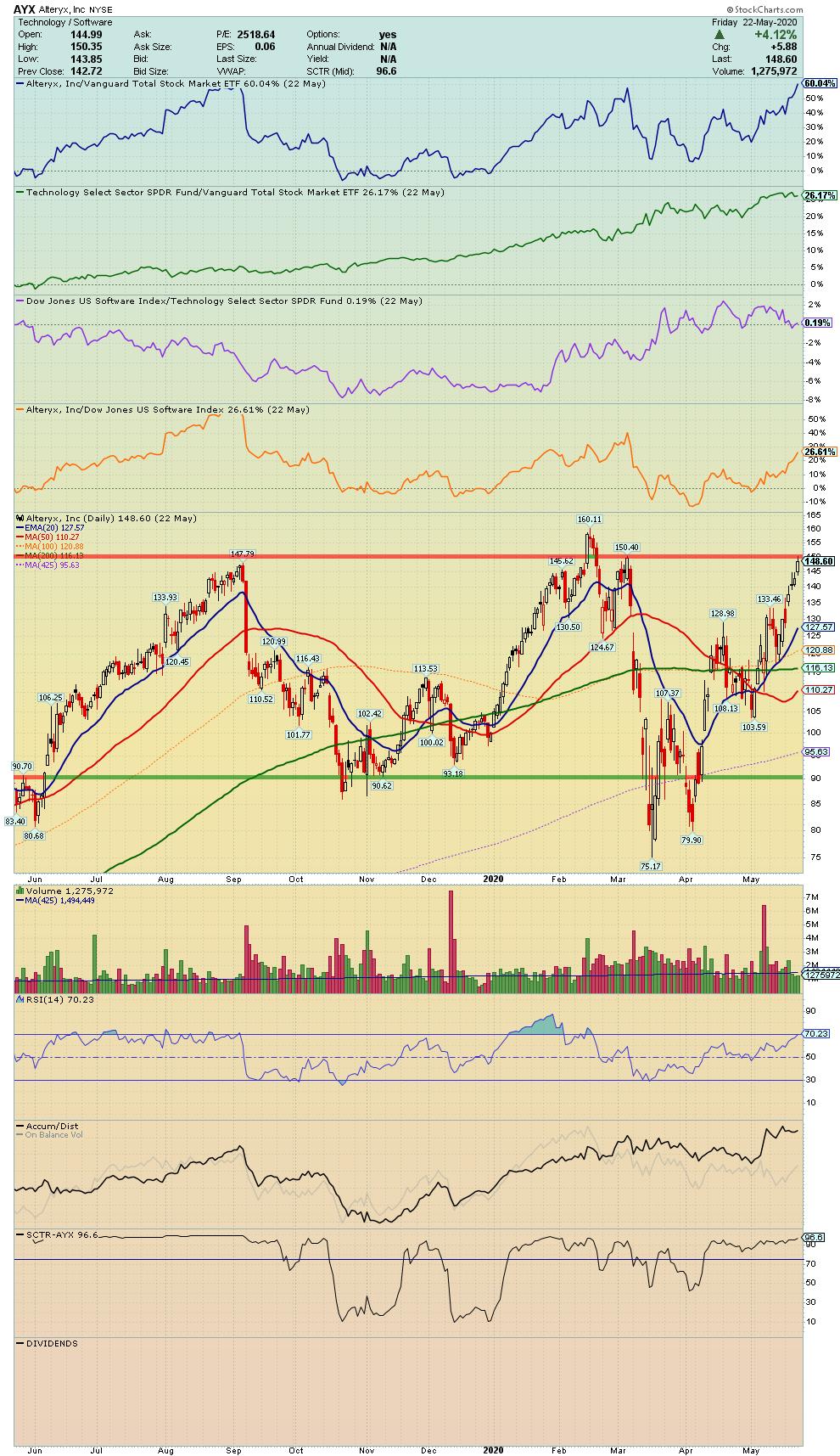 ---
CDNS – Cadence Design Systems, Inc.
"Engages in the design and development of integrated circuits and electronic devices. Its products include electronic design automation, software, emulation hardware, and intellectual property, commonly referred to as verification IP, and design IP."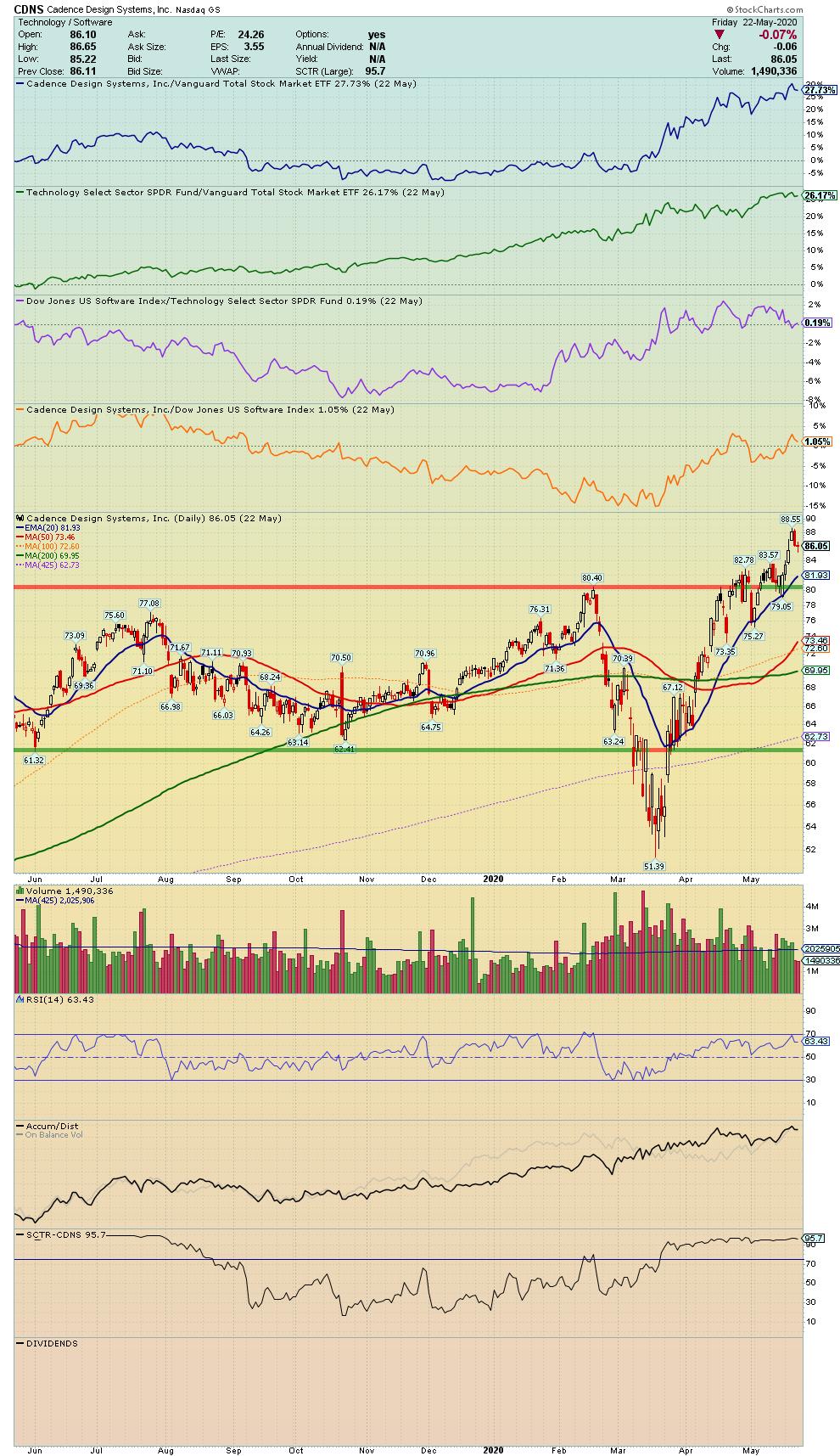 ---
LULU – Lululemon Athletica
"Engages in the designing, distributing and retail of athletic apparel and accessories. It company operates through the following business segments: Company-Operated Stores, Direct to Consumer."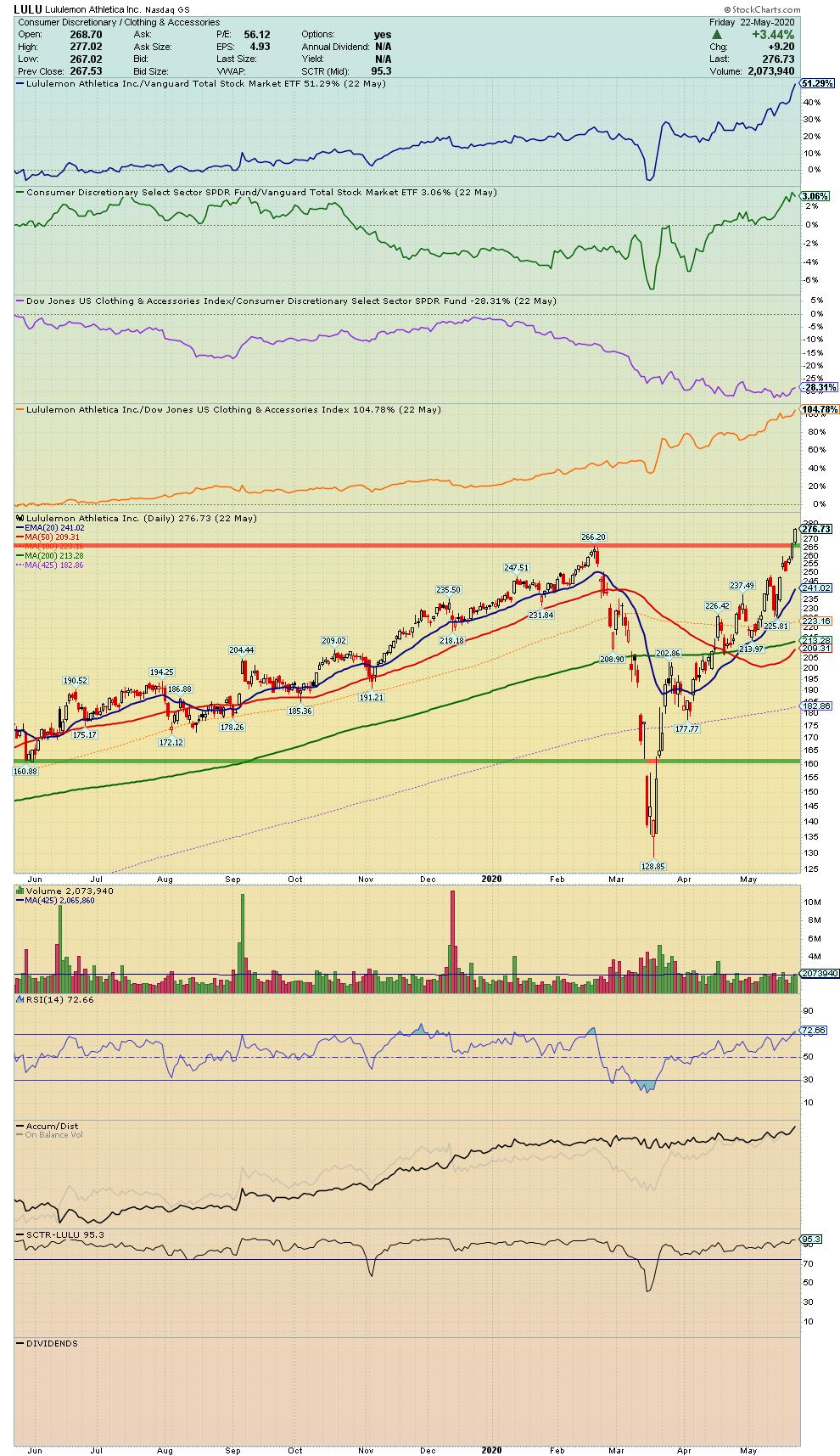 ---
NET – Cloudflare, Inc.
"Engages in the provision of cloud-based services to secure websites. It offers various products for performance and reliability, video streaming and delivery, advanced security, insights, cloudflare for developers, domain registration and cloudflare marketplace."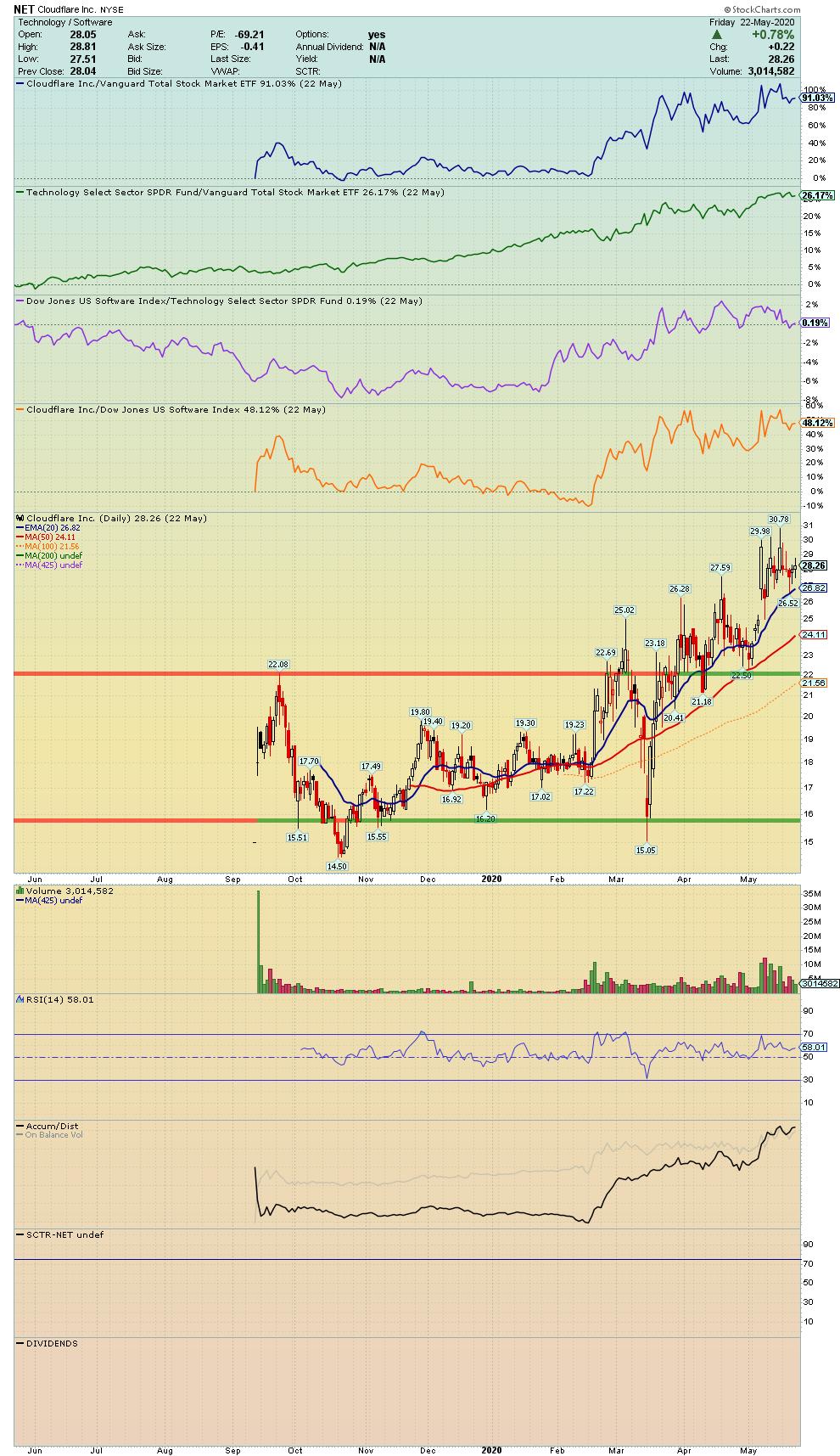 ---
QLYS – Qualys, Inc.
"Engages in the provision of cloud security and compliance solutions. Its products enable organizations to identify security risks to information technology infrastructures; help protect information technology systems and applications from cyber attacks; and achieve compliance with internal policies and external regulations."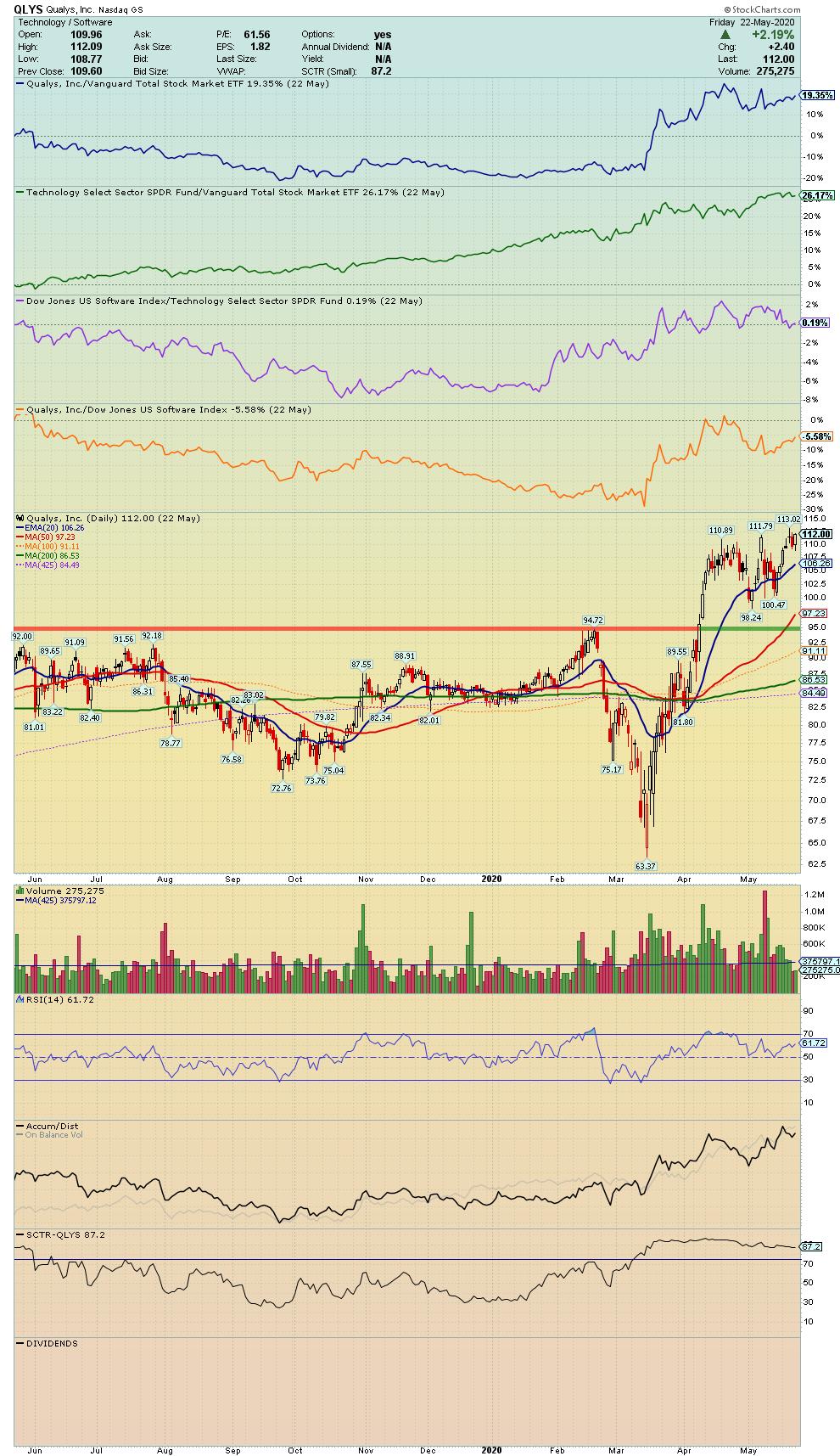 ---
RNG – RingCentral, Inc.
"Engages in the provision of global enterprise cloud communications and collaboration solutions. The firms solutions provide a single user identity across multiple locations and devices, including smartphones, tablets, PCs and desk phones; and allow for communication across multiple modes, including high-definition voice, video, SMS, messaging and collaboration, conferencing, online meetings and fax."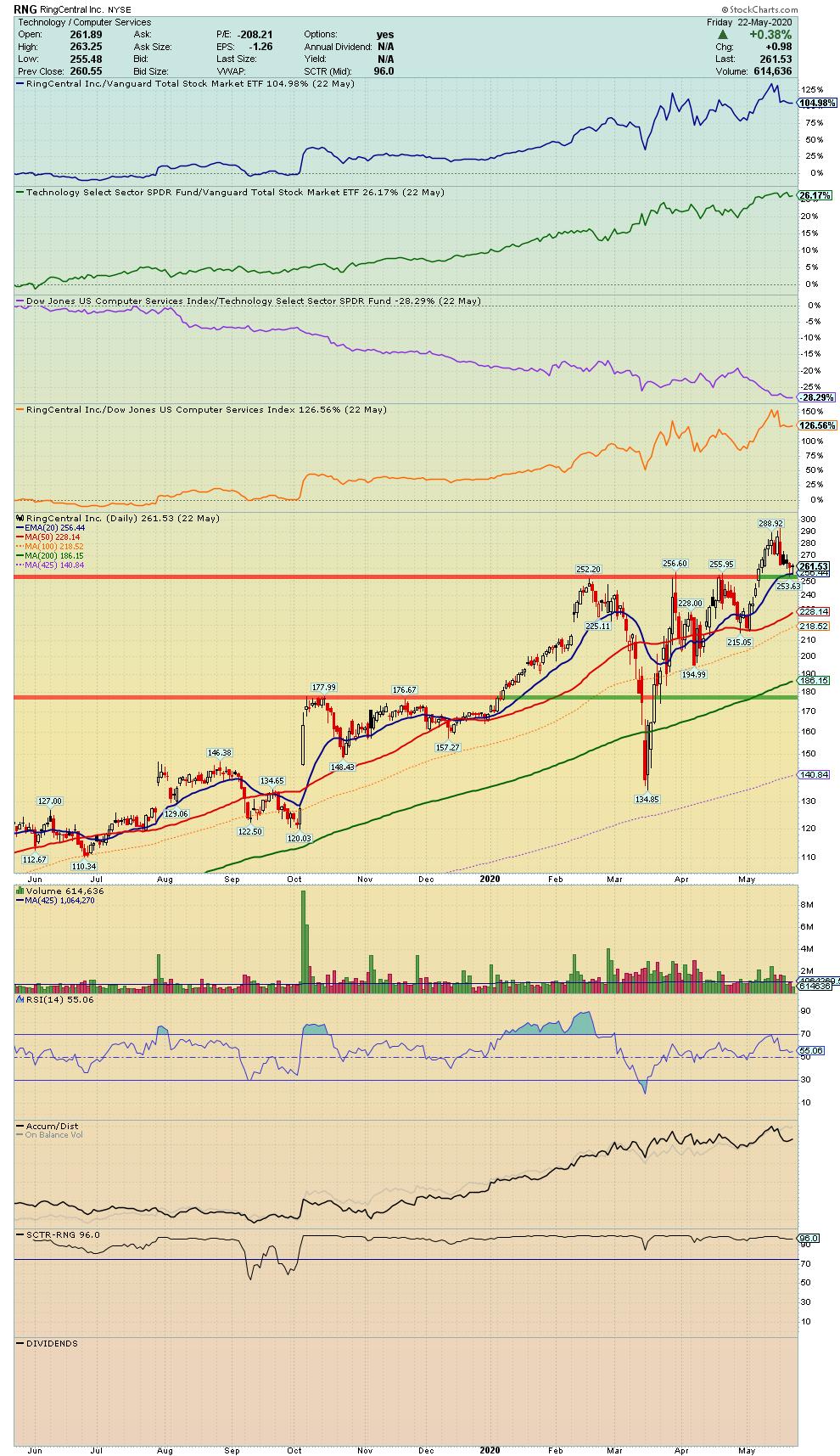 ---
RP – RealPage, Inc.
"Engages in the provision of software and data analytics to the real estate industry. It includes marketing, leasing, living, site management, expense management, and financial solutions."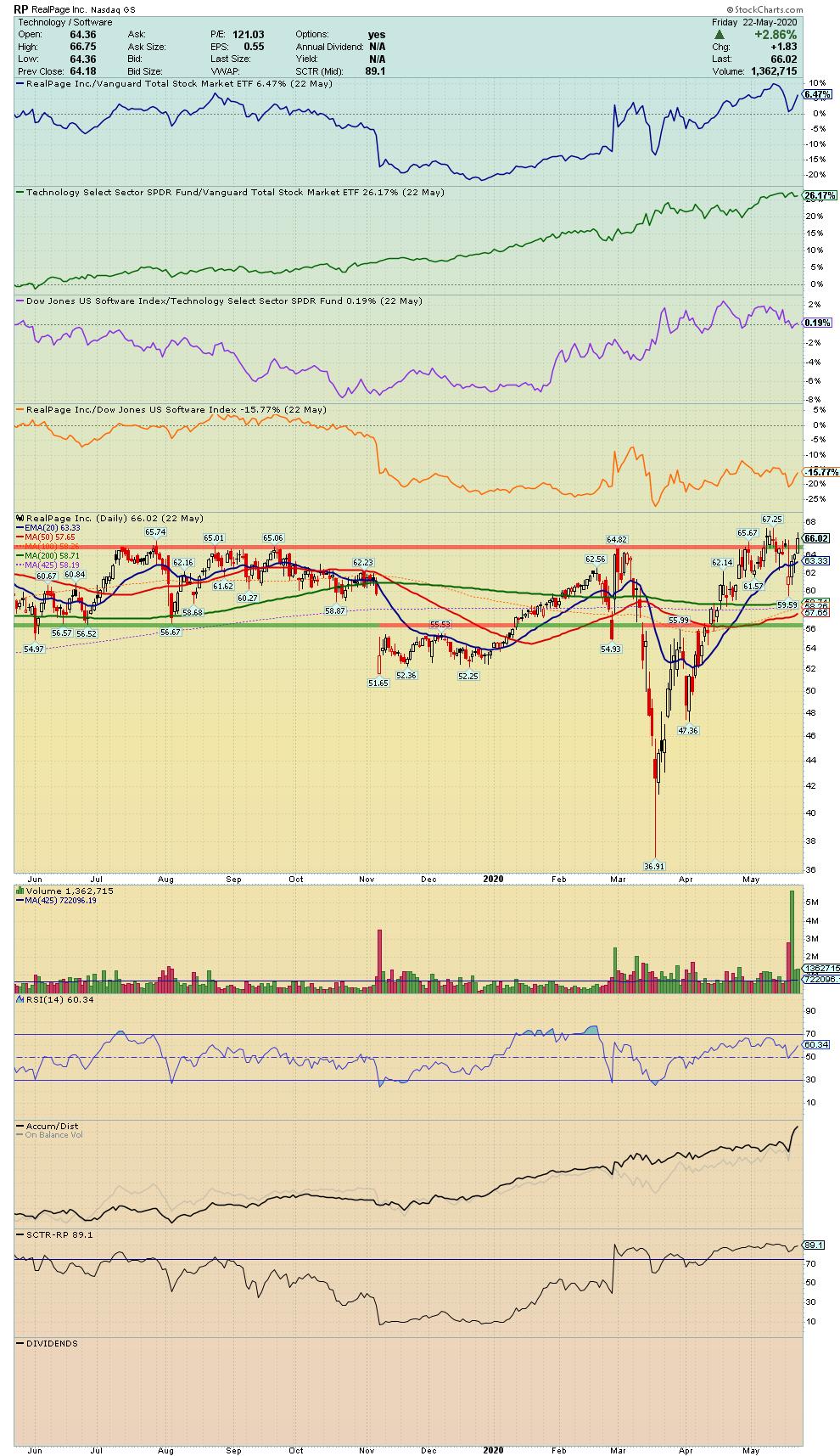 ---
SNPS – Synopsys, Inc.
"Engages in the provision of software products and consulting services in the electronic design automation industry. The firm operates through the following segments: Semiconductor and System Design, and Software Integrity."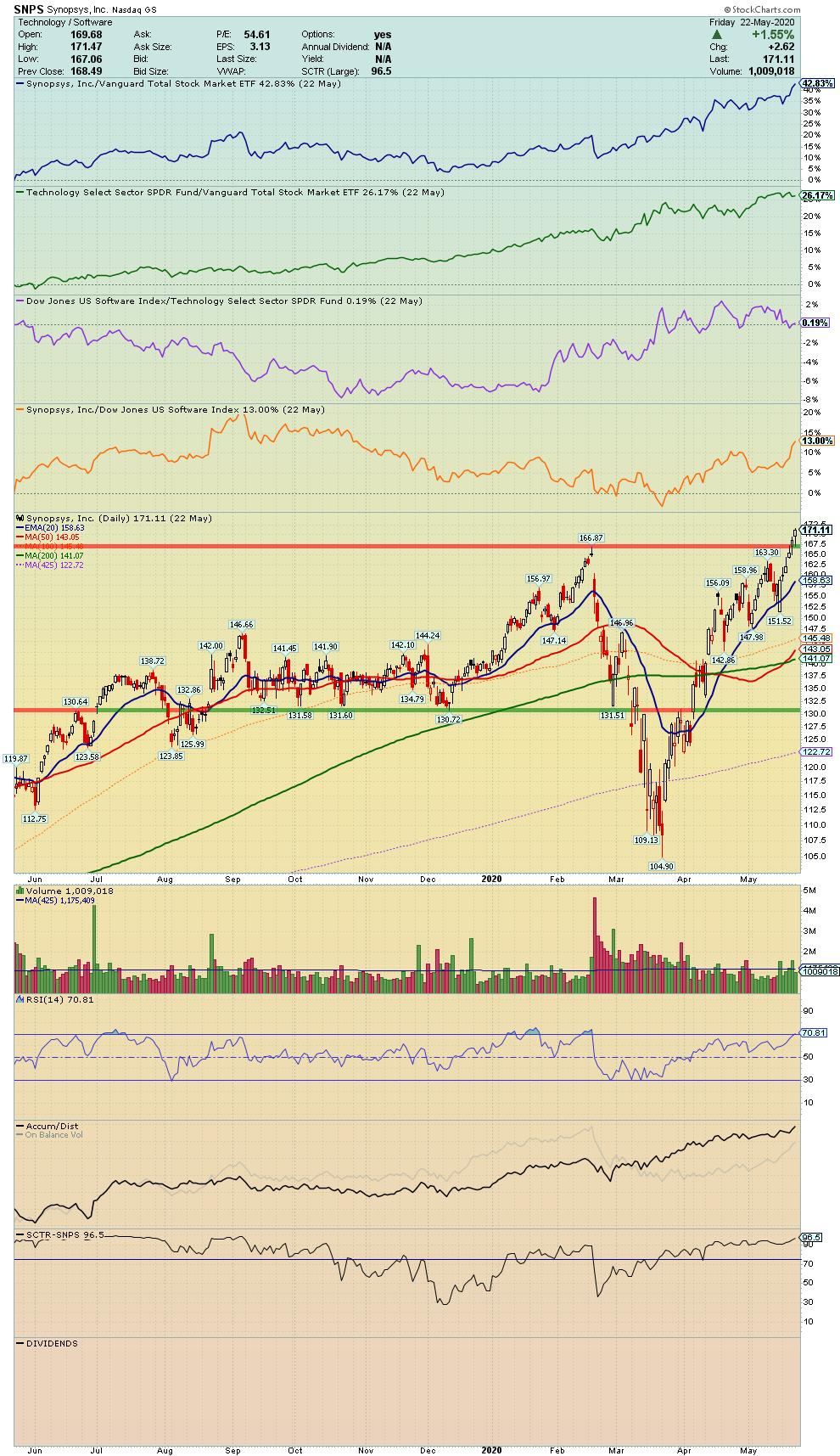 ---
SWCH – Switch, Inc.
"Engages in the provision of technology infrastructure. It specializes in the development of digital platforms for digital media companies, cloud and managed service providers, financial institutions, and telecommunications providers."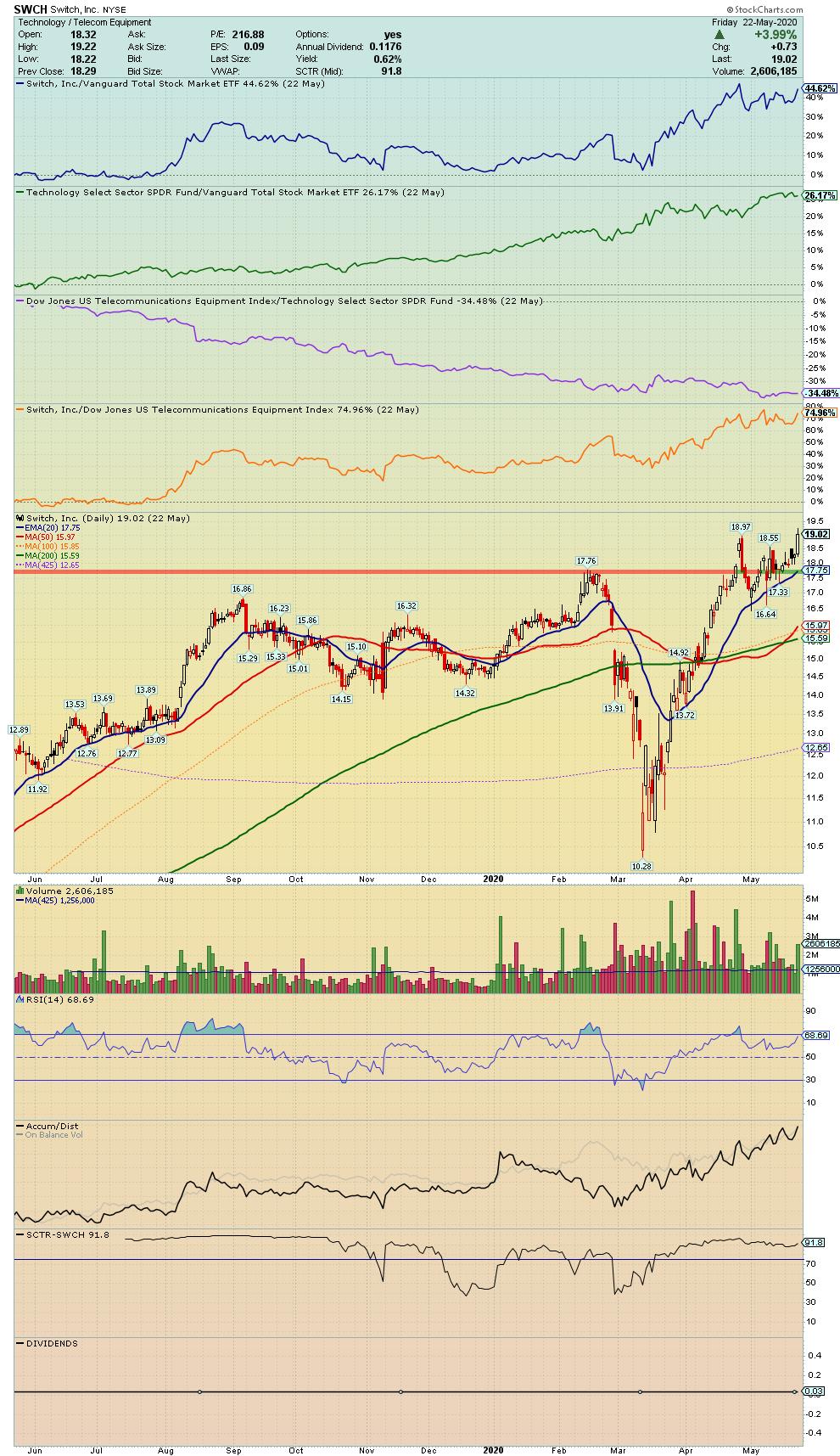 Chart on, my friends.
– Grayson Roze
VP of Operations, StockCharts.com
Author, Trading For Dummies (Wiley, 2017)
Author, Tensile Trading: The 10 Essential Stages of Stock Market Mastery (Wiley, 2016)
Co-Founder, StockMarketMastery.com
Twitter: @GraysonRoze